Athlete Spotlight: Holly Holm
MMA world champion and Hi-Tech–sponsored athlete Holly Holm shares the secrets to her success.
Heading out the door? Read this article on the new Outside+ app available now on iOS devices for members! Download the app.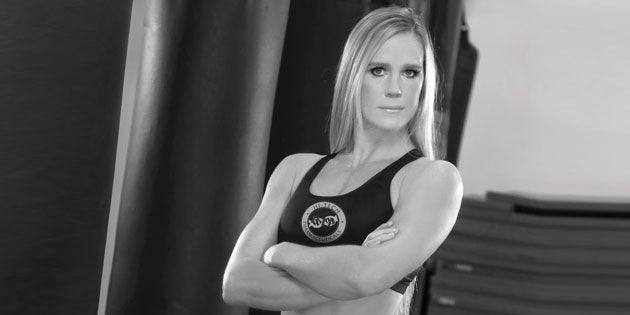 Oxygen: After becoming a boxing champion, what motivated you to take on an even more challenging sport?
Holly Holm: In reality — and without coming across poorly — there simply weren't any more challenges for me in boxing. To find new challenges, I chose to fight in three different weight classes just to get competitive fights.
Oxygen: What sets you apart from other women in your sport?
HH: I have a different perspective on who I am in MMA. I don't like to think of it like that — I just try to be my best with all aspects of my life. With my husband, my family, my sport, my fans, my sponsors. I simply try to be the best I can be and always try to learn more.
Oxygen: Every athlete has a routine they follow before their training day starts. What's yours?
HH: Currently, I like to keep my ritual simple and predictable — no matter the weather, no matter my mood. I really enjoy a great cup of coffee and a spirited run all by myself to prepare myself for that day's training.
Oxygen:What's the best advice you've ever been given?
HH: One of the most forgotten phrases ever uttered: Be true to yourself.
Oxygen:What is one thing you would tell your younger self when you began competing?
HH: Work ethic is something that means a lot to me. During my last week of camp for my fight on July 23, I was nominated for an ESPY. If I had gone, would one day have really made a difference for that fight? Probably not. However, my opponent didn't go either. If I had to choose one thing to tell my younger self, is that your opponent is training harder than you!
Oxygen: How do you remain focused and driven in such a competitive sport?
HH: Again, always learning and surround myself with good people. My team and the people we train with are the best in the business. I am their biggest fan. They help me become a better, more well-rounded fighter and help me improve my training every day and with every fight.
Oxygen: What's the one thing you always have to have with you?
HH: My mobile phone. It's my life at the gym, at home and especially on the road.