Truly Divine Pumpkin Bread
This spicy fall treat is packed with protein and flavor!
Heading out the door? Read this article on the new Outside+ app available now on iOS devices for members! Download the app.
Fall is here, and I'm a sucker for the delicious flavors of autumn. The warm crunchy flavor of pumpkin raisin bread, or the sweet cinnamon and nutmeg spices baked into a soft pumpkin pie.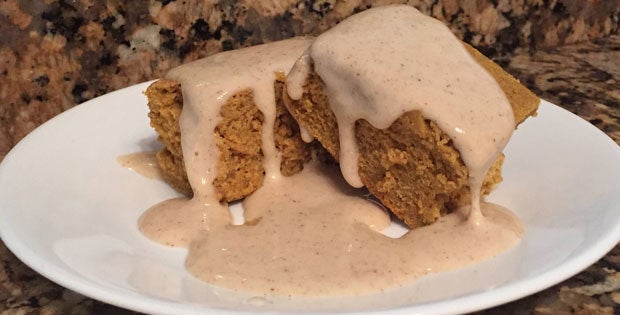 However, devouring these delicious deserts isn't compatible with being a top-placing athlete, so I decided to formulate my very own pumpkin bread that's high in protein, and low in sugar, fat and carbohydrates. This way I can sink my teeth into some of my favorite treats while feeling I am indulging in heaven, while still eating relatively clean.
I try to allow myself to still have all those yummy deserts I grew up with as the seasons change, except now I simply modify recipes into guilt-free treats that I share with my friends, family and Instagram followers to encourage healthier eating. How can you reject eating healthy, if it tastes so good, right?
Here's my favorite recipe that I created, using Divine Nutrition's all-natural, grass-fed whey protein powder in Pumpkin Spice Flavor.
Bread Ingredients
1 ½ cups oat flour
1 ½ teaspoons cinnamon
1 teaspoon ground ginger
½ teaspoon nutmeg
⅛ teaspoon cloves
1 teaspoon baking soda

¼ teaspoon baking powder
½ teaspoon salt
2 eggs
½ cup oil (I used coconut oil)

½ teaspoon vanilla

1 cup pumpkin puree
½ cup chopped tree nuts (optional)

Frosting Ingredients
Instructions
Preheat oven to 350 degrees F.
Mix all wet ingredients together in one bowl and also mix all dry ingredients together well in a separate bowl.
Slowly add wet ingredients to the dry mix slowly folding the batter together. Be careful not to over-mix.
Pour into a bread pan or small oven-safe dish (bread will not rise more than a 1/4-1/2 inch above batter line, so feel free to use any shape or depth dish).
Place in the oven for about 20–35 minutes, depending on your oven.
At 20 minutes, poke the center of the bread with a toothpick to check doneness. For a super-moist bread, remove from the oven when the pick is still slightly sticky in the center, but mostly dry near the edges.
Remove from the oven and allow to cool before devouring.
Meanwhile, in a small bowl, add a very small amount of soy creamer (or any other low-fat or non-fat creamer) to the scoop of protein. You just want enough to make a thick gooey sauce, which you can then pour onto your slice of Truly Divine Pumpkin Spice bread.
This recipe isn't overly sweet because the frosting adds a superb sweet finish. However, if you like your bread sweeter, you can add more Stevia to taste, or you can substitute with sugar.
When all is said and done, this treat is low-calorie, low-carb, low-fat and very low in sugar. So for those of you looking for a healthy alternative this autumn season, try Divine Nutrition's Pumpkin Spice Protein Powder for your baking needs.
Learn more yummy healthy food ideas by visiting my Instagram or Facebook at ALYISMAGIC, and get sweeter savings by using my name ALY as your promo code to save 20% off your orders on Divine Nutrition Products.