Coach Jen's Plant-Based Recipes
Vegetarians and meat eaters alike will be wowed by these bold flavors.
Heading out the door? Read this article on the new Outside+ app available now on iOS devices for members! Download the app.
When it comes to nutrition, I believe the most important thing you can do is listen to and respect your body — it gives us so many clues that we should be paying attention to. For instance, I don't eat breakfast. When I started listening to my body, I realized I wasn't hungry in the mornings. I was only eating breakfast because that's what you're "supposed to do." So I stopped and immediately reaped the benefits of listening to my body.
If you eat something and then feel bloated, or have stomach pain, or feel fatigued and weak, your body is giving you signals. Listen to those signals because they help guide you toward what fuels your body and what you should avoid.
And then instead of focusing on what you can't eat, based on those signals, focus on what you can add into your diet that would make you feel even better. Rather than focusing on restricting and eliminating things from my diet or what I can't eat or shouldn't eat, I like to think what I can eat that fuels me. What can I add in that allows my body and my stomach and my gut to feel fueled, healed and energized? What can I consume that will make me feel more awake and alive? How can I add in more nutrient-dense foods? How can I bring in more vegetables? How can I add in more anti-inflammatory foods that feel good for my body? How can I stock more foods in my household that will properly fuel me?
I grew up with constant stomach aches as a kid, and I was always masking symptoms. I thought that was just my body and that's how life was always going to be for me. But it took me really learning about food and seeing how I could adjust my diet that's really made me more mindful. I don't have to be in pain 24/7. I can change how I feel by paying attention to what I put in my body.
Another practice I like to follow is reaching for more water throughout the day. Instead of automatically grabbing a snack if I feel hungry, I'll start with a water bottle. That helps me determine whether I'm truly hungry or just thirsty.
So my best advice is to start listening to your body's signals because you're worth listening to. Here are a couple of my go-to meals, which always leave me feeling fueled and fantastic — but be sure to sub out anything you know your body doesn't agree with: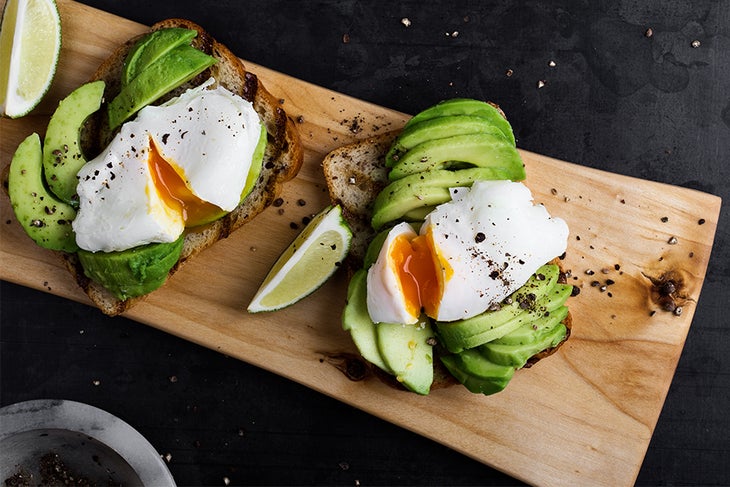 Avocado Cauliflower Toast
Makes: 4 Servings
Ingredients
2 cups cauliflower, riced
3-4 medium eggs
½ cup ground flaxseed
½ cup quinoa flour
1 large avocado
4 eggs, fried
Tip: To make this dish vegan, use 2 to 3 tablespoons of avocado oil instead of eggs.
Directions
Preheat oven to 400 F and spread parchment paper over a baking sheet. To a large bowl, add cauliflower, eggs and flaxseed and stir to combine. Spread "dough" on top of parchment paper and bake 20 to 25 minutes until bread begins to brown around the edges. Slice bread and reserve 4 slices. Store remaining bread in an airtight container and refrigerate for use later on. Serve each with avocado slices and 1 egg.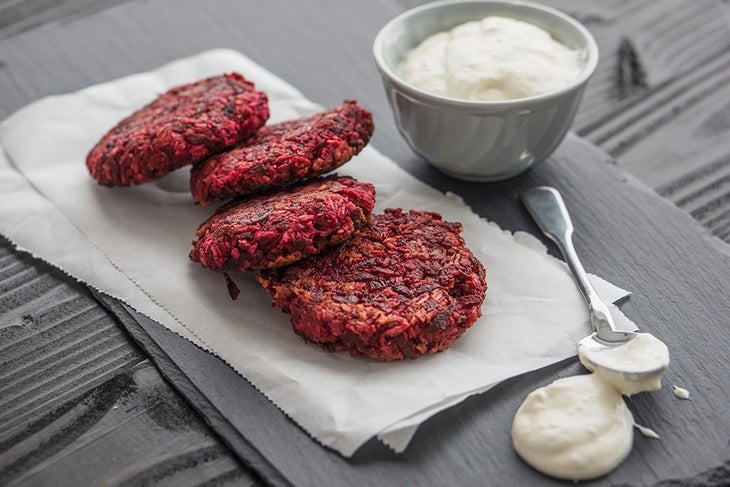 Beet Burger
Makes: 8-10 Servings
Ingredients
3 medium beets, scrubbed and shredded
8 oz mushrooms, chopped
1 (15-oz) can black beans, rinsed and drained
2 tsp smoked paprika
1½ tsp cumin
1½ tsp garlic powder
1 tsp salt
1 tsp pepper
¼ cup coconut flour
½ cup water
Directions
Preheat oven to 375 F. To a large bowl, add all ingredients except water. Mix well, using hands if needed to combine. Slowly add water and mix to combine; use only enough to bind ingredients without being soupy. (You may not need all of it.) Form into 8 to 10 patties. Heat a large pan over medium-high and coat with cooking spray. Cook patties 3 to 4 minutes per side, or until lightly browned. Place on a baking sheet and cook 10 to 15 minutes, or until cooked through.
Now in its sixth year, The Oxygen Challenge has helped thousands of participants around the world transform their bodies and their lives. This summer, we are bringing you two fitness experts focused on strength, empowerment and the mind-body connection: Jen Esquer, doctor of physical therapy and mobility expert, and Nikki Snow, international trainer and professional coach.
So what are you waiting for? Start transforming your life and body today with their 90-day training and nutrition program designed exclusively for Oxygen— it's guaranteed to awaken your inner athlete, buoy your spirit and empower your life! Join the Challenge today.