Cover Girl Confidential: Karina Smirnoff
Heading out the door? Read this article on the new Outside+ app available now on iOS devices for members! Download the app.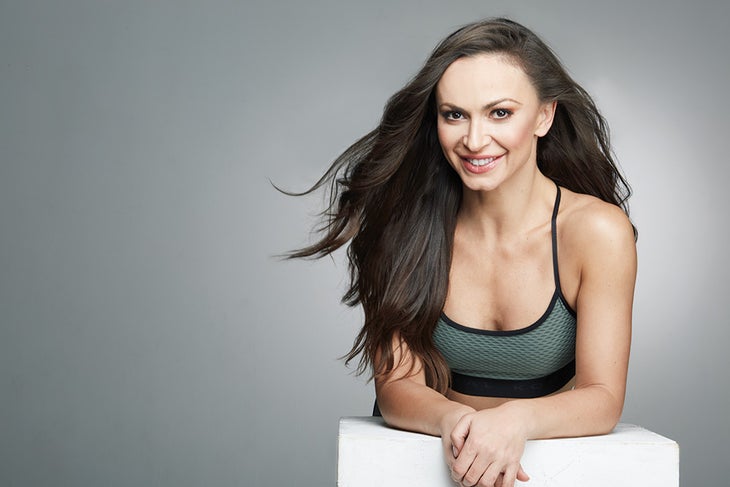 When did you start dancing?
I have ADHD, and my parents were always looking for ways to make me tired! When I was about 9, my grandma took me to a dance studio. I remember walking in and seeing the dresses and the colors and the couples and was like, Wow, I want to do that! But I had to audition. In the Ukraine, you have to qualify for that school. I practiced and practiced and made it!
Did you continue dancing when you moved to the U.S.?
We came when I was 14, but I couldn't take lessons again until I was 16 because we could not afford it. We had to start from scratch when we immigrated — my parents slept on a pool float that they would have to blow up several times during the night because it would deflate, and we ate every other day. Eventually, my dad found an immigrant kids' dance studio in Brooklyn, [New York], and the director would get us little jobs here and there, doing a Russian dance in a restaurant on the weekend, for instance. But for that kind of thing, you could get paid 20 bucks! That added up and eventually I could pay for my classes.
When did you turn pro?
I was in college at Fordham, and the job I was at was actually going to pay for me to go to law school, but then I was approached by a guy from England who wanted to dance with me. He was a pro and was significantly better than I was, and he wanted me to move to England to compete as his partner. I went back and forth about it but eventually realized that this was a once-in-a-lifetime opportunity and I could not pass it up. So I took a leave of absence and went for it. When I was in England, I turned pro.
When did you know you could make a career out of dancing?
As a pro, you start to make money and get jobs coaching and touring and get sponsors. I realized that dancing was not only a passion but that it could be a life. And it was. I even bought my first house when I was 19.
Why did you sign up for Dancing With the Stars?
They had been asking me for a while, but I had always been touring and competing. But at one point, I was between dance partners when they asked again. Up until then, I had only taught other professionals, so I wanted to see if I could do it — to teach a raw beginner with no experience whatsoever. I wanted the challenge. I loved it, obviously — I stayed for 11 years!
Who was your favorite DWTS partner?
I loved them all, really. They are all so different, and all have such personality. J.R. Martinez was definitely a fan favorite, though, and he was the partner I won Season 13 with. He is a war vet who got burned over more than 40 percent of his body while in Iraq. He went through several painful surgeries, depression and PTSD. But once he recovered, he became involved in the Wounded Warrior Project and made it his mission to help other injured war vets on a personal basis. He is truly a hero. And boy, he can dance!
Was it a dream come true to do Broadway?
Of course! My first performance I was like, Someone pinch me — this can't be real! It was super-hard work, though. You performed six days a week, and on Saturdays did two shows. Sundays you didn't dance, but there were all kinds of media things we had to do. There was never a day off for three to four months. But every time you got onstage, there was a live audience, and nothing beats that!
Is it hard to fake chemistry when you're dancing?
Dancing without chemistry does not exist. That being said, you're not going to love everyone you pair up with, and in these cases, you have to be a really good actor. For instance, I did both my Broadway shows with Maks [Chmerkovskiy], with whom I did not have an amicable breakup! But I knew he would be the best man for the role, so I asked him to do it. But if you are a good enough actor, you can fake the passion and the attraction, and fortunately we are both good actors! No one was the wiser.
Who is your celebrity crush?
Probably Oscar Isaac or Chris Hemsworth!
What is your favorite saying?
Overanalysis creates paralysis.
What is your dream vacation?
Being on a beautiful beach with sand that feels like baby powder and soft, lukewarm ocean water. But then also being able to do something active — hiking, sailing, diving or kayaking.
Now in its fourth year, The Oxygen Challenge 4 has helped thousands of participants all over the world transform their bodies and their lives. This summer, we are bringing you two of television's most celebrated experts: Jen Widerstrom of NBC's The Biggest Loser and Karina Smirnoff of ABC's Dancing With the Stars!
So what are you waiting for? Start transforming your life and body now.
Join the challenge today!