Meet The Oxygen Challenge 5 Category Winners
Meet the women who won OC5's four newly-created divisions: Best Team Player/Motivator, Best Masters Athlete (40+), Fittest Mom and Biggest Transformation.
Heading out the door? Read this article on the new Outside+ app available now on iOS devices for members! Download the app.
In previous Oxygen challenges, we awarded a single grand prize to one deserving contestant, who then landed the cover of Oxygen. However, not everyone is interested in being a cover model, and with every Challenge, there are so many amazing athletes, incredible transformations and inspiring stories that we decided there should be more ways to win. Here, then, are the worthy women who won our four newly created divisions — Best Team Player/Motivator, Best Masters Athlete (40+), Fittest Mom and Biggest Transformation.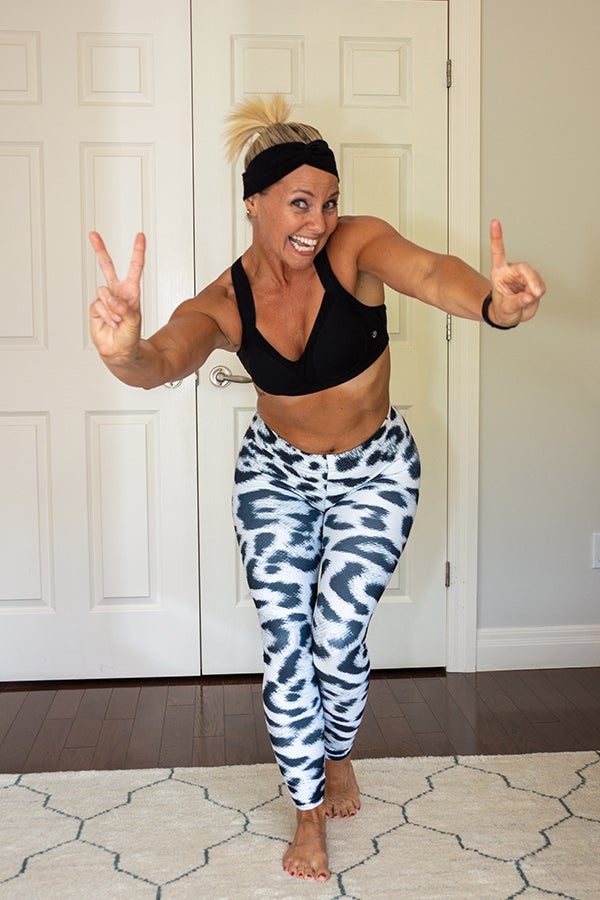 Biggest Team Player/Motivator
Jacky Small
Age: 45
Height: 5'3"
Location: Ontario, Canada
Occupation: Teacher
Inches lost: 18
Team: Both
Going into her fourth Oxygen Challenge, Jacky Small had one goal: to motivate every woman she could to become her best. "As a teacher and a mom, it's important to be motivating and inspiring all the time," Small says. And while each Oxy Challenge has its own vibe, Small marveled at how this particular group of women were so supportive. "You could talk about your best days or your worst days," she says. "I knew the ladies in our Facebook group looked to me for inspiration and would constantly send me messages telling me how my smile — or my crazy leggings — always pushed them to be their best. It is because of those ladies that I was so successful, and I'm so grateful to win this title. In fact, I was so shocked when I won that I cried when I read the email — in front of my class of eighth-graders!"
Small was late to the game when it came to fitness, and growing up in Newfoundland, Canada, didn't help matters much. "There wasn't a lot of opportunity for me to play a variety of sports," she says. Small started running distance at age 35 and has since completed many half and full marathons. "After my second child, I started to lift weights and haven't looked back," she adds.
These days, Small trains at home in a gym she built in her basement and relishes here solo time. "I get up at 3:30 a.m. and have an hour of me time for meditating, journaling, reflecting and praying," she says. "Then I am ready to work out and face the day stronger than when I started."
So what motivates the motivator? "My family, especially my sons," she says. "They are always watching and know my passion for health and working out."
'90's Playlist
Favorite Joke
Q: What did the drummer name his twin girls?
A: Anna 1, Anna 2
Biggest Triumph
I wasn't a big fan of Amber [Dodzweit Riposta's] cobra push-ups, but I was a pro by the end of the 60 days.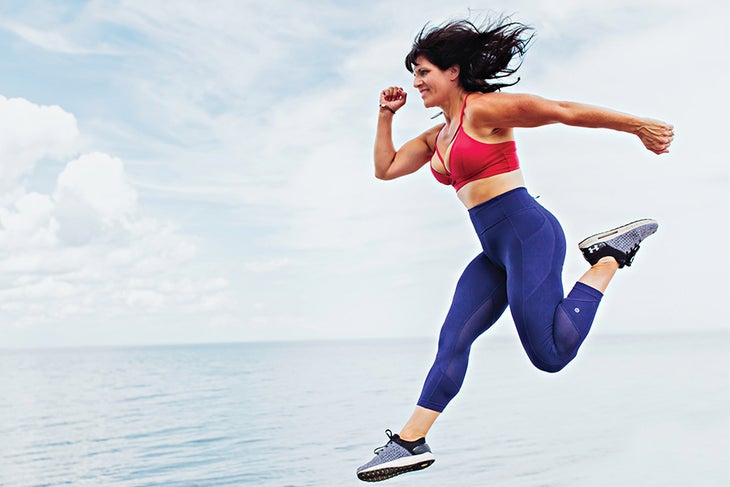 Best Masters Athlete (40+)
Anna Monaco
Age: 50
Height: 5'4"
Location: Ontario, Canada
Occupation: Teacher, Personal Trainer
Inches lost: 8
Team: Both
Having completed all four of the previous Oxygen challenges, it was no surprise that Anna Monaco was eager to sign up for OC5. "The very first challenge I completed was life-changing because it encouraged me to pursue my passion in fitness," she says. "OC5 was different because of the community we built with Amber [Dodzweit Riposta] and Camille [Leblanc-Bazinet] and all the participants. There were so many amazing women involved, and I always love to have a goal to achieve."
Monaco chose to work with both coaches, knowing that Riposta would deliver a familiar style of training, while Leblanc-Bazinet would give her a solid introduction to CrossFit. Her double-dipping paid off, and Monaco was pushed to another level in her fitness and even broke some of her personal bests.
Monaco grew up playing team sports, including soccer and tennis, and recently took up ice hockey and roller derby. "I am working on becoming the best version of me possible, and I enjoy new adventures," she says. But Monaco does allow that being a more mature athlete comes with its own challenges. "I have to be very mindful of form and recovery now," she explains. "When I was younger, I could be a little more reckless without feeling the effects, but now it's more important than ever to be safe."
Monaco is excited to be a positive role model for women 40 and older. "I want them to see what I do at this age is achievable," she says. "I am very proud that I don't rely on surgery or quick fixes to attain my fitness level. I work hard for everything I have. Winning this category makes me feel like I won the grand prize because it is so important to me."
Fun '80s Playlist
Favorite Delicious Dinner
I make grilled salmon with lemon juice, Italian herbs, salt and pepper, and I serve it with steamed vegetables and a tiny bit of butter over basmati rice.
Celebrity Crush
George Clooney — ever since I was a teenager. I'm still waiting for him!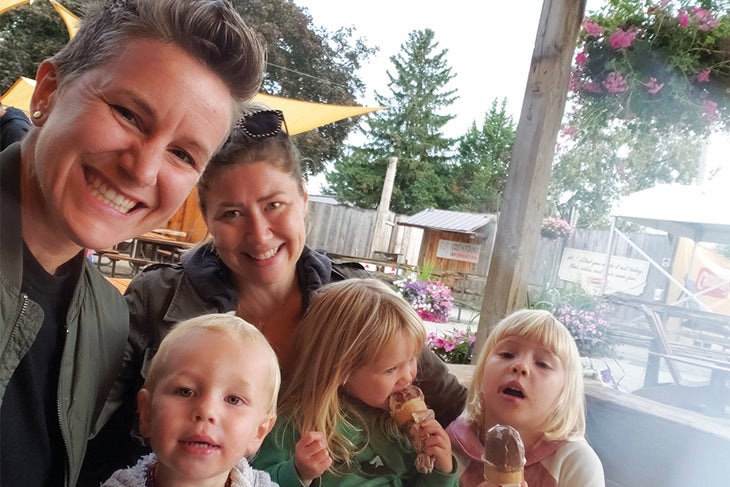 Fittest Mom
Michelle Crispe
Age: 40
Height: 5'9"
Location: Toronto
Occupation: Personal Trainer, Nutritionist and Contractor
Team: Camille
When Michelle Crispe signed up for The Oxygen Challenge 4 in 2018, she and her wife had just decided to split up — and their son was only 12 weeks old. "The Oxygen community provided me with emotional support and the accountability and coaching I needed to heal my body postpartum," Crispe says. "I literally needed to be picked up off the floor and rebuilt. These challenges are a safe haven for me to be vulnerable, share my story and ask for help."
Crispe signed up this year wanting to deliver a stronger, more conditioned package and chose CrossFit icon Camille Leblanc- Bazinet as her coach because she knew Leblanc-Bazinet would push her to improve her conditioning. And Leblanc-Bazinet did not disappoint. "I regularly ended up on the floor and sometimes felt like I was having a heart attack, but I also never felt more alive," says the retired chiropractor. "I always joke that I never run unless something is chasing me, but Camille made me run. A lot. But I loved it and actually ran a 5K by the end — something I would normally never do."
Crispe knows how important it is to lead by example when it comes to her children, and she makes it a priority to engage her kids in physical activity and eat together as a family whenever possible. "I would love to say we have some big, super-healthy family recipe, but with three kids under the age of 6, it's a miracle if they eat what we cook at all," she admits, referencing her newly blended family with partner Chantelle. "I just want my kids to know they are loved, seen and heard [and] that they are enough just as they are. I realize in order to do this, I must feel as though I am enough. I am working on that every day and hope I am showing them. Because your words mean nothing. It is your actions kids pay attention to."
Favorite Playlist
Who Would Win In a Fight — Godzilla Or T-Rex?
Godzilla, hands down. He's 100 times T-Rex's size and breathes fire. I like T-Rex better, however, because he actually existed, which makes him more badass.
Secret Obsession
Investing. I read constantly about it, and I love buying stocks and investing in companies and sectors I like and believe in.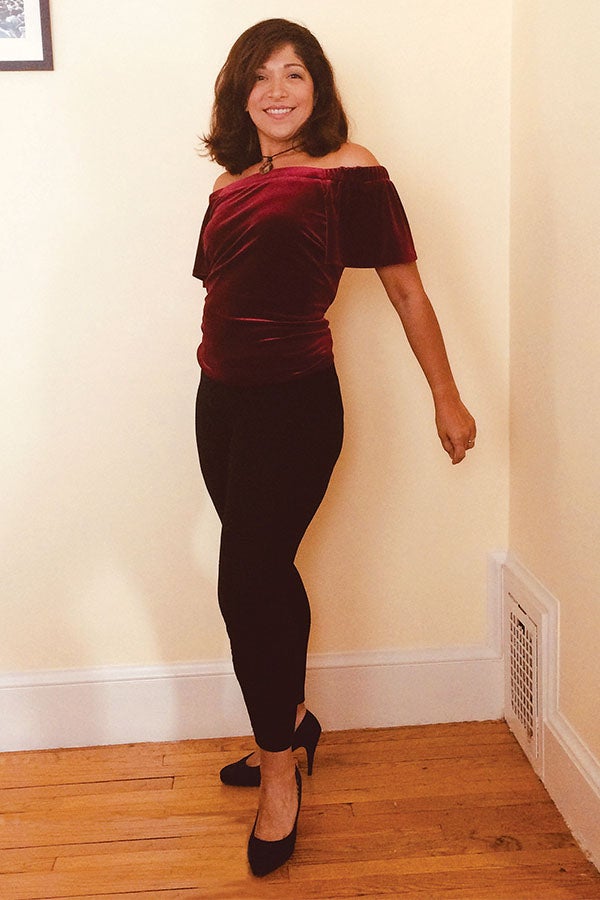 Biggest Transformation
Jennifer Gray
Age: 40
Height: 5'3"
Location: Norwood, Massachusetts
Occupation: Stay-at-home mom
Inches lost: 29.5
Team: Amber
With her 40th birthday quickly approaching, Jennifer Gray decided it was time to lose the 40 pounds she gained during her second pregnancy. "I was looking for a lifestyle change, not just a quick fix to lose weight," she says. "I've always wanted to do one of these challenges, and after picking up Oxygen magazine and seeing the OC5 contest, I decided to go for it."
Gray did not play sports growing up, and though she did a little running and skiing in her past, a program like this was new for her. Though initially she was intimidated — and sometimes cursed coach Amber Dodzweit Riposta for her "insane" moves — the Facebook support group and available exercise modifications in each workout helped Gray push forward, on even the toughest of days.
Integrating workouts with a healthy meal plan was a game changer for Gray, who had never really thought of them as a package deal before. "I was able to set a realistic calorie intake during the Challenge that I still maintain today, which is important for maintaining my weight loss," she says. "I also learned that building muscle is so very important for overall health, especially if you're older." And as a side benefit, the results of the ab and lower-body strength circuits she sweat her way through got Gray some incredible compliments from the person who matters most — her husband.
Making exercise and healthy eating part of her daily routine sometimes meant Gray did her workouts at 10 p.m. "On days that I was feeling beat and drained, I remembered the promise I made to myself at the beginning — don't stop until you reach the finish line," she says. "Exercise and healthy eating should be part of your daily routine, just as is brushing your teeth. I knew that the results I would get out of the program were only going to be defined by the effort I put into it."
Favorite Playlist
Go-To Craving Quencher
A cup of fresh fruit with a graham cracker on the side and some real whipped cream on top. That usually does the trick without destroying all the hard work I put in for the day.
Best Advice for Others
Don't sweat the bad days. Just brush them off and remember that tomorrow you can start over again.