10 Reasons Every Woman Should Try Bouldering
Bouldering, aka indoor rock climbing, is good for your mind and your body. Here are 10 reasons you should try hanging around!
Heading out the door? Read this article on the new Outside+ app available now on iOS devices for members! Download the app.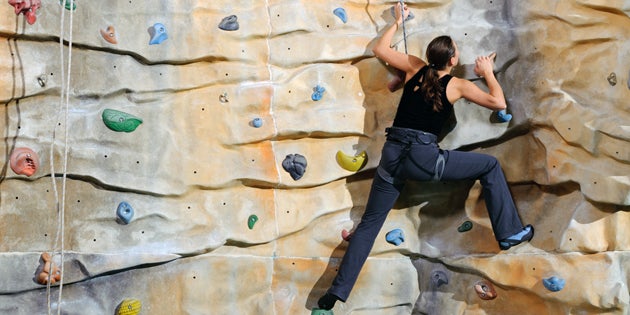 Stuck in an endless cycle of run, lift, spin, repeat? Elevate your perspective (and your heart rate) with a day of bouldering at your local climbing gym.
Bouldering is rock climbing's feisty little sister; it's done at a lower height and without the use of ropes and harnesses. While bouldering requires a decent amount of stamina and upper-body strength, you don't need to be a descendant of Spiderman or a contestant on American Ninja Warrior to reap the benefits and have a great time.
Here are 10 reasons to shake up your routine by incorporating bouldering.
1. Beginners and experts can climb together. Your average bouldering wall looks like a cross between an experimental art installation and a confetti bomb crime scene. But there's actually a purpose to the neon nature of those tags and resin protrusions, or "holds." If you take a closer look you'll notice that the different colors are used to map out climbing routes of varying degrees of difficulty. That means that, as a beginner, you can climb alongside (and learn from) others with a lot more experience.
2. Measurable success. The other benefit to those candy-colored climbing walls? A clear way to track and measure your progress. As you take on increasingly challenging routes and reach the top of the wall faster, you'll be able to see your strength and coordination improve.
3. It's a full-body workout. Climbers may be known for their killer lats and biceps, but they usually have the abs, glutes and thighs to match. That's because bouldering requires you to engage everything from your core to the tips of your fingers. Bouldering primarily taxes the arms, shoulders and back, but you'll also need to use your abs for stability and your legs to boost your body weight as you reach for the next hold.
4. Bouldering = problem solving. You train your brain with word puzzles, brain teasers and second languages, but unless you've mastered the "Sudoku Spinning" workout, you probably keep your sweat sessions separate. Bouldering is a great way to work out your brain and your body simultaneously, as it requires you to plan your course of action and constantly adapt as your body receives new information about your surroundings. In fact, the course a climber takes from the ground to the top of a wall is actually called a "problem," which makes bouldering a (literal) exercise in problem solving.
5. You'll get a grip.Ever notice how you don't think about working your grip strength until it starts to fail you? Like halfway up the stairs with two hands full of grocery bags? Or three minutes into that hour-long kettlebell class? Even though a strong grip is extremely useful in everyday life, we often don't think to work it. With all its reaching, grabbing, pulling and holding, bouldering is a great way to increase hand and forearm strength.
Related:10 Reasons Every Woman Should Try CrossFit
6. It feels like recess. There's something inherently playful and childlike about climbing something simply for the sake of getting to the top. Remember being a kid on the jungle gym at recess? Spend a few hours at the climbing gym and remind yourself that working out can actually be pretty fun. That energy will likely carry over into your more "everyday" workouts.
7. The adrenaline rush. I remember looking at a bouldering wall for the first time and thinking, "Huh. That's it?" While an 8-foot tall climbing wall doesn't initially seem all that impressive, it's a whole different story when you're dangling from the top of it by your fingers. And that first fall to the crash pads below will also get your heart pumping. If you're looking for a little adrenaline fix, bouldering is a good way to get one while still in a safe and controlled environment.
8. Training is available (if you want it). While most climbing gyms offer classes that teach members rope handling, risk management and lead belaying, bouldering is done at a lower height without ropes and a harness and, therefore, requires less instruction. Many gyms will provide beginners with a brief orientation that covers safety measures and the proper way to fall, but, unless you want to take a class, you can hop on the wall right away.
9. It's a healthy substitute for happy hour. The rest time between ascents is necessary for your muscles' recovery. It's also the perfect time to chat with your fellow climbers and make new friends. The vibe at climbing gyms tends to be social and community-oriented, and many gyms encourage this by installing cafes and programming social events in addition to classes.
10. You'll build confidence. There's a reason for all those clichéd "climb every mountain" poems and pop songs — the sense of triumph that comes with summiting a peak (or a wall) is undeniable. Completing an ascent with nothing but your own strength and coordination builds confidence that you can tap into the next time you're facing a seemingly insurmountable challenge — in or outside of the gym.