9 Ways to Shake Up Your Home Fitness Routine
Working out at home comes with numerous advantages, but it can be tough to stay motivated and excited. Trainers weigh in on ways to shake up the repetition.
Heading out the door? Read this article on the new Outside+ app available now on iOS devices for members! Download the app.
Working out at home has never been more in vogue than it is now. And there are plenty of reasons to embrace home workouts. Not only do they save time (translation: no more having to trek to the gym and back), but they're also budget-friendly and allow privacy that working out in a gym doesn't afford, says Dyan Tsiumis, ACE-certified MYXfitness trainer in New York City. 
Yet without the camaraderie or offerings of a gym atmosphere, it can be easy to fall into a rut and get bored relying on a home fitness routine. Unless, that is, you follow these strategies from trainers to keep those home workouts not only exciting but also motivating.  
1. Find workouts you love.
Sounds kind of obvious, right? Yet you'd be surprised how many people do a workout just because they think they "should" be doing it or because all their friends are doing it and seeing success. Truth is, though, if you don't love the workouts you're doing, you're not going to stick with that, Tsiumis says. That's especially crucial at home where you're going to need a little more motivation to stay with that exercise program than you might if you were going to a gym.
2. Try new apps.
Fitness apps are hotter than ever, and many offer free trials. If you're already using one and getting bored, why not try another one, especially if it offers completely different workouts than what you're currently doing? Not into using apps? Do searches online for free fitness classes on YouTube and try a new one every day or every week.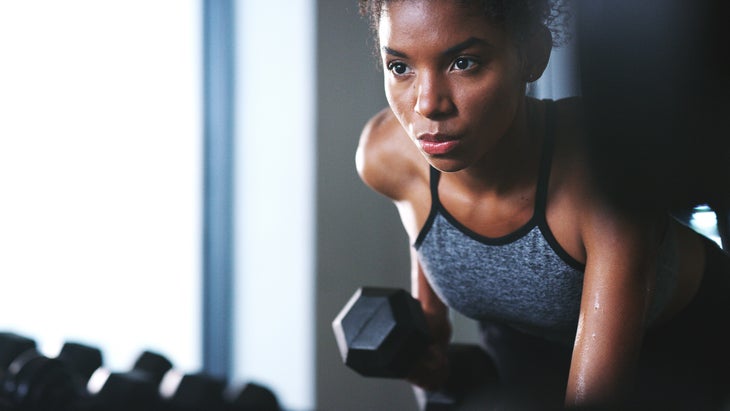 3. Switch up your workouts.
You could easily say the same is true if you were working out at a gym, but varying how long and what type of workouts is even more important at home where you need to find creative ways to boost the fun. As you do this, embrace a simple guideline: "Not every session needs to be an hour," Tsiumis says. For instance, you might target your core 20 minutes one day and do 30 minutes of kickboxing the next, maybe a 45-minute bodyweight workout the next. 
4. Stick to a schedule.
Working out at home does come with advantages as mentioned above, but the one downside is that it's easier to be pulled away by distractions in the form of kids, pets, work and even social engagements. That's why putting the time in your calendar — and then keeping that appointment with yourself — is even more critical for home exercisers. "By booking time with yourself, you'll stay committed," says Cory George, NESTA-certified trainer and F45 athlete in Los Angeles. 
5. Look for instructors who move you.
Using a streaming fitness app? An instructor can make or break a class, so make sure you're trying lots of different instructors on that app. You won't like every one of them, and that's OK, Tsiumis says. But note which ones you do like because they'll be just as important for keeping your motivation going.   
6. Keep your workout space neat and tidy.
It's a no-brainer that you want your workout area to be cleared of obstacles to prevent yourself from tripping or getting tangled up in things, George says. Not to mention, of course, that a clean workout area is just more visually appealing — and hygienic. 
7. Get some new gear.
Permission granted to buy yourself some new workout clothes. "Looking and feeling fresh are essential for a good workout," George says. Besides, it's always fun to don new workout clothes, even if the only ones seeing them are your pets and family.
8. Create challenges with friends.
Thanks to platforms like Zoom, staying connected has never been easier. It also means you can connect with workout buddies, something that's often lacking in a home fitness routine. George recommends sending a Zoom link and getting friends together to sweat together. You might even create some fun challenges you can complete together. 
9. Change your environment.
Working out in the same environment, day in and day out, can be mentally exhausting, not to mention seriously de-motivating. That's why George recommends switching your environment from time to time. For instance, move from your basement to your backyard or your workout room to your family room.