Barbell Bench Press
The barbell bench press builds size and strength in the chest, triceps, and shoulders. Here's how to do it.
Heading out the door? Read this article on the new Outside+ app available now on iOS devices for members! Download the app.
Lamest gym pickup line ever: How much do you bench? Well, how much do you bench? Most of us don't know because we're not as obsessed with our chests as men are (ours and theirs both!) In any case, perfecting your bench press could be key in terms of upper-body development and strength, improving your entire kinetic chain while building size and shape in your pecs. Here's how to do a perfect bench press and get great results.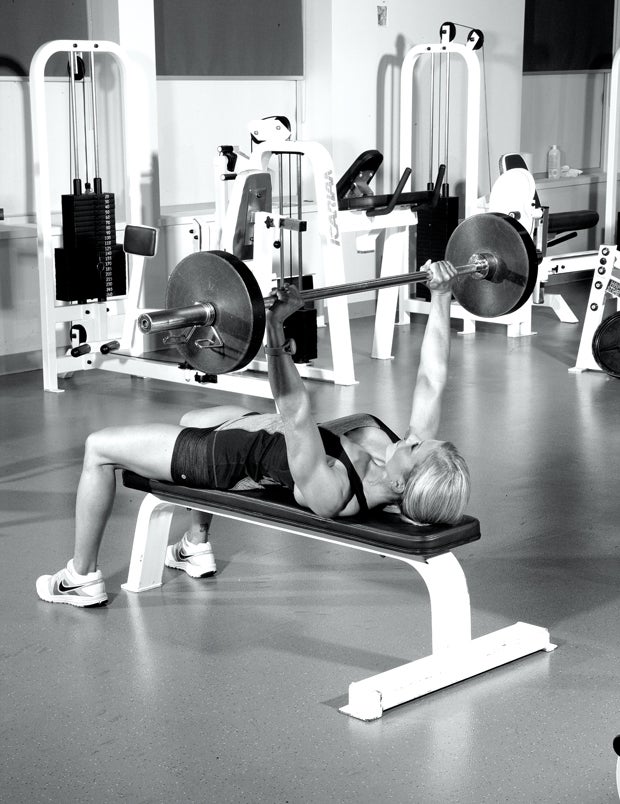 >> Lie on the bench with your back arching naturally and your feet flat on the floor for stability. Do not put your feet on the bench. This decreases stability and puts you at risk for injury. If you're height challenged, place a plate or two on the floor on either side of the bench for your feet.
>> Shift up or back on the bench until your eyes are under the bar and your neck is neutral.
>> Pull your shoulder blades down and together before you grab the bar to create a stable base, then take a moderate-width overhand grip on the barbell.
>> Make sure your wrists are vertical, not hyperextended.
>> Once you've gripped the bar, pretend you're trying to rip it apart. This engages and activates your lats, shoulders and back, further stabilizing you and protecting you from injury.
>> Have a partner help you lift the bar off the rack and position it over your chest. If you are training solo, pull the bar forward off the rack rather than pressing it up and back. Pressing will cause you to lose tension in your shoulders and upper back, diminishing your power potential and undoing the stable base you've just created.
>> Slowly lower the bar between your sternum and your nipples. As you lower, imagine you are bending the ends of the bar downward, which pulls your elbows in tighter, putting them in the proper position.
>> Lightly touch the bar to your body. Do not bounce or use momentum.
>> Drive the bar up using your whole body, digging your feet into the floor and extending your arms with force to return to the start.
>> Inhale on the descent, and exhale on the exertion.
Beginner Tip: If you're unsure of your form, try benching on the Smith machine, which allows you to set the safety stops at a certain height and moves in a preset trajectory.
More Bench-Press Variations
>> Smith-machine flat/incline press
>> Flat/incline dumbbell press
>> One-arm flat bench dumbbell press
>> Stability-ball barbell/dumbbell press
>> Incline-bench barbell/dumbbell press
>> Decline-bench dumbbell/barbell press
>> Cable one-/ two-arm press
>> Seated machine press