Celebrity Trainer Harley Pasternak's Fitness Myths
From counting calories to crunches, celebrity trainer Harley Pasternak sets the record straight on many popular fitness myths.
Heading out the door? Read this article on the new Outside+ app available now on iOS devices for members! Download the app.
MYTH: "Crunches are the quickest and most effective way to get abs."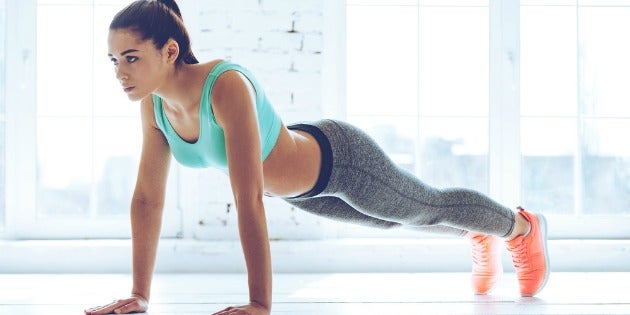 Harley Pasternak: If you're dreaming of abs of steel, crunching isn't going to do it — you can't spot-reduce fat! Focusing too much on the front surface of your midsection can actually create bad posture and create the illusion of a belly. Crunches mimic the posture we use when we're sitting for much of the day, and the last thing we want to do is further develop that hunched position.
Instead, lengthen your abs and give your midsection a total overhaul by focusing on core exercises like a pike plank, trunk twist for your corset (transverse abs), side bends to work your obliques, and Superman to work the all-important (and often forgotten) lower back.
MYTH: "Gyms are too expensive and I can't find time to work out."
HP: You don't need expensive equipment, a gym or a ton of time to exercise, so finding time shouldn't be an excuse. All you need to do is keep moving throughout the entire day. Use a Fitbit or any fitness tracker to make sure you're logging at least 10,000 steps a day (strive for 14,000 if you're trying to lose weight) and commit to at least five minutes of resistance training each day.
Moving more throughout the day helps you stay accountable, and you can monitor your progress with a fitness tracker. It really is as easy as making small changes throughout your day, like getting off the subway one stop early or taking walking meetings — they all add up.
MYTH: "Juice cleanses are a great way to drop pounds fast."
HP: Skip the juice cleanse and make a smoothie instead. Contrary to popular opinion, juicing actually has only a fraction of the nutrition of a smoothie — you're removing all the good fiber (a key component of weight control), so all that's left is water, sugar, and only a few vitamins and minerals. Blending your meals into a smoothie has some major nutritional benefits, and I try to drink at least one a day. It allows your body to access more nutrients from your food, increase your fiber intake and reduces belly bloat.
MYTH: "A healthy diet means constantly counting calories."
HP: Healthy eating isn't all about calories, and constantly counting them isn't the answer. It's crucial to remember that not all calories are created equal — 1,200 calories of white bread isn't the same as 1,200 calories of a lean protein and vegetables. That's why I tell all my clients to track what they are eating, as people who track their diets are also 85 percent more successful at sticking to them.
My advice is to eat three meals and two snacks with protein (e.g., chicken, seafood, nonfat Greek yogurt, eggs, lentils, beans) and fiber (e.g., vegetables, whole grains, fruits, nuts) each day. Eating fiber-rich foods is important because fiber keeps your blood-sugar levels low, which in turn moderates your insulin levels. Simply put, high insulin makes your body store fat, so a high-fiber diet is a key component of weight control. At the end of the day, if you're burning more calories than you're consuming, you're going to lose weight, counting calories or not.
MYTH: "Skipping out on sleep to get in a workout won't affect my weight-loss efforts."
HP: Don't sacrifice your sleep. It will help you stay lean. It's tempting to skip out on some shut-eye to get a workout in, but if you don't get at least seven hours of quality sleep every night, you're not doing yourself any favors when it comes to your health. Not only do you end up eating more, but you also crave the wrong foods and tend to be less physically active if you're not getting enough sleep.
Each day before bedtime, I encourage my clients to take a few minutes to de-stress and calm their bodies and minds. I also ask my clients to wear a Fitbit or activity tracker to bed. Tracking your sleep really helps open your eyes to how much and how well you're sleeping. It can help you determine how hard you are able to work out the next day or whether you might need to take it easy and focus more on recovery.