How to Choose a Sports Bra
Shopping for a new sports bra? Here's how to find one that fits well and looks great.
Heading out the door? Read this article on the new Outside+ app available now on iOS devices for members! Download the app.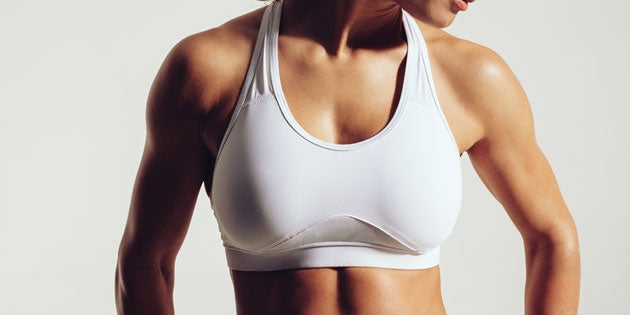 Consider this: When you run, the average A-cup breast travels 2 inches in each direction — up and down, side to side — in a figure-8 pattern. Increase your cup size to a D and we're talking 6 total inches of travel to and fro, round and round. That's one crazy 8.
Fortunately, a good sports bra can control the crazy more than 50 percent and will vastly improve your overall exercise experience. To help you find the best support for "the girls," we queried stylist Jandi Grand and Jennifer Ferguson, CEO and founder of Handful. They gave us the A to DD scoop on what to look for — and what to avoid — when shopping off the rack for your rack.
Your Options
Compression bras work by holding breast tissue close to your body, cinching it in place like a big rubber band.
Upside: little to no movement of the girls.
Downside: uniboob city.
Constructed (or encapsulated) sports bras "lift and separate" and come in cup and band sizes like a regular bra.
Upside: great support for larger chests and a more flattering look.
Downside: elaborate underwires, paneling and hooks. Plus, they require you to have the perfect cup size to fill out the capsule.
The Band
>>The majority of support comes from the band — the area around the bottom of the bra. It should be tight enough to support your breasts without restricting your breathing.
>>You should be able to slide a finger under the band between your breasts and pull it no more than an inch away from your body.
The Straps
>>The straps are really only there to hold the cups in place and should stretch very little in order to reduce movement. If your straps are really tight or digging into your shoulders, the band is not doing its job; go for a smaller band size.
>>Larger-chested women should wear a bra with thicker, adjustable shoulder straps to distribute the weight better.
>>Racerback and crisscross-back bras anchor the bra closer to the body and often provide more support, making them good for more high-impact activities.
The Cups
>>Your cups should not runneth over. If your breasts are bubbling out the top or sides of the bra, it's too small.
>>On the flip side, the cup fabric should be smooth with no wrinkles or puckers. This indicates the cup is too big.
Fit and Care
>>Even though the bra should be snug, it should not chafe around the armholes, shoulder straps or seams.
>>Putting on a bra should not be an Olympic event. It should be stretchy enough to get on without having to be a contortionist.
>>Try it on in the store and jump around. Make sure it does its job before whipping out the plastic.
>>Choose a bra with moisture-wicking fabric that dries quickly.
>>Hand-wash your bras to help them last longer, and replace them every year to help your girls defy gravity for as long as possible.
A Bra That Has It All?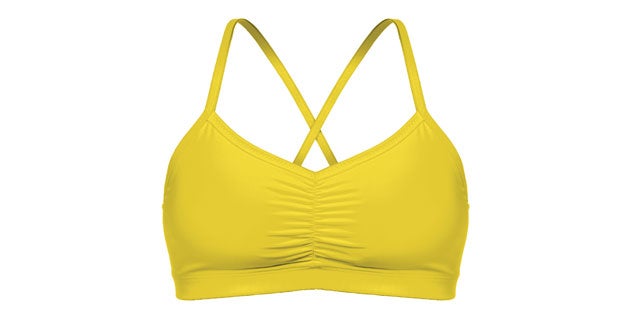 Want a bra that offers support and shape? Try a Handful bra — a hybrid of structured and compression bras that work to flatter, not flatten, while giving you support no matter what activity you're doing.
Handful.com, adjustable bra $50; Y-back bra $54