Build a Better Squat: Part 2
Surpass your #squatgoals with these tips to improve ankle and hip stability and mobility.
Heading out the door? Read this article on the new Outside+ app available now on iOS devices for members! Download the app.
If you read my first article Build a Better Squat: Part 1, you know all about my obsession with not only the beauty and virtuosity of the squat but also its functionality. I discussed some of the basics for improving form and depth of the squat.
As a physical therapist and athlete, I can't encourage my clients enough to use their entire range of motion. You were born with it for a reason. I encourage clients to move in the ways the human body was made to function. These movement patterns are vital to preserving joints and promoting tissue health. Through moving well, we optimize our ability to perform everyday activities without pain as we age.
Here, I'll focus specifically on ankle and hip mobility and stability in the squat. I learned early on in my education and clinical work that it's far, far better to be less flexible than hypermobile (extra flexy). You cannot have mobility without first having stability. Meaning, an extra mobile ankle poses just as much of a risk of injury as an ankle lacking adequate dorsiflexion, or the ability of the ankle to translate forward.
Here are some basic tests and exercises you can perform on your own to build a better squat and become a master in understanding the mechanics of your body.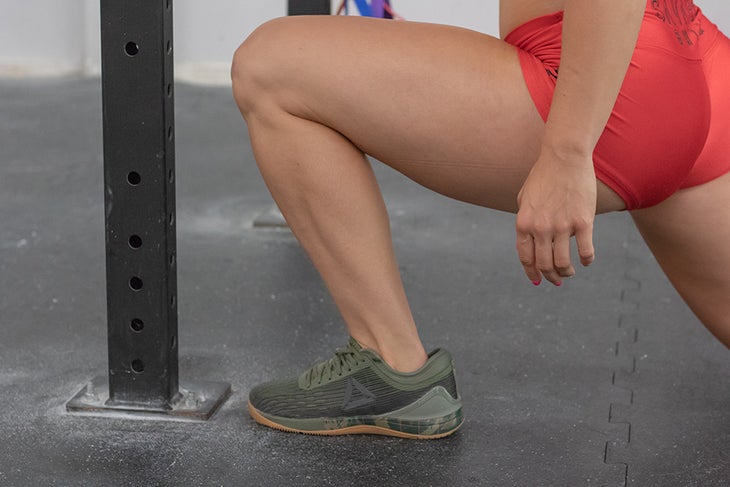 Ankle to Rig to Check Dorsiflexion
Set your foot 4 inches back from a wall or rig. In a kneeling position, attempt to touch your knee to the wall or rig without bringing your heel up to assess your ankle mobility. About 10 degrees is optimal for basic activities like climbing stairs and walking. Therefore, a little bit more flexibility in a squat is indicated.
Kneeling Band Exercise
Limitations stemming from the ankle joint can be addressed by mobilizing the hip capsule. Attach a band with moderate resistance to a rig or other stable surface and bend forward into the band to create space in the capsule, open up the front of the hip joint, and increase range of motion.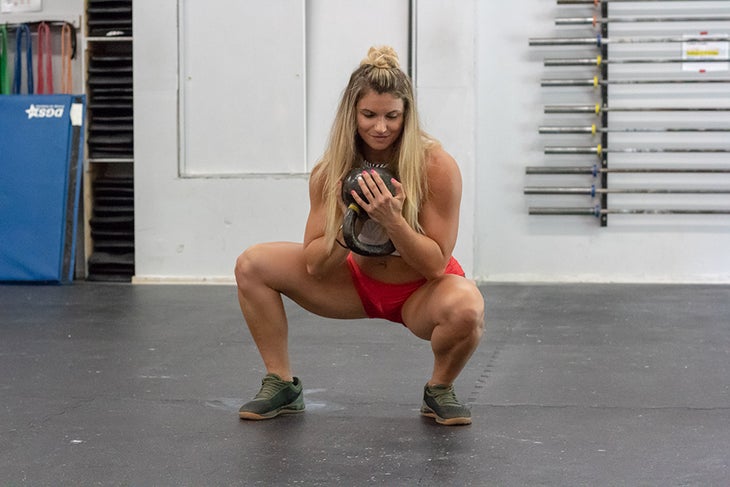 Kettlebell Ankle Stretch
Use a light kettlebell or dumbbell in the front rack position. Resting your elbow on your knee, shift your weight forward and backward over your ankle to increase mobility.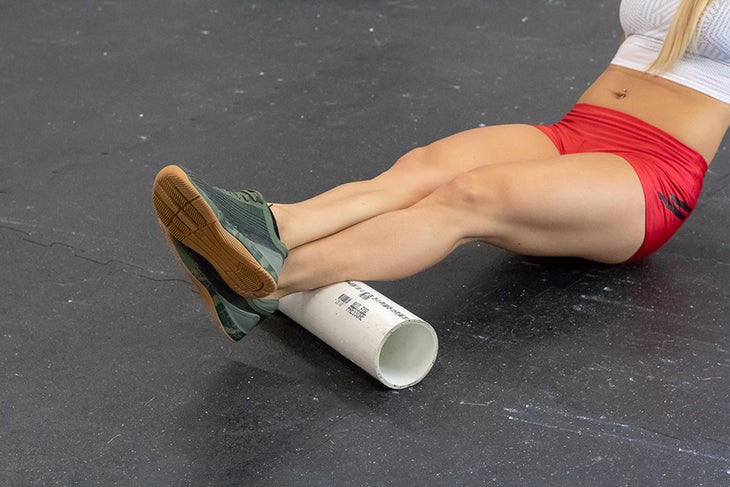 Soft-Tissue Mobilization to Calf
If your limitation is more of a soft-tissue restriction, self-myofascial release using a foam roller or PVC pipe will break up your tissue. Start by using just one leg on the mobilization tool, progressing to two for a more aggressive tissue mobilization. While this may be a little bit uncomfortable, it should not be so painful that you are sore several hours later. Many of my clients make the mistake of being too aggressive with this and end up increasing inflammation. When the body is overwhelmed with noxious stimuli (aka a mobilization tool), it will go into a protective state, which will prolong the tissue from releasing.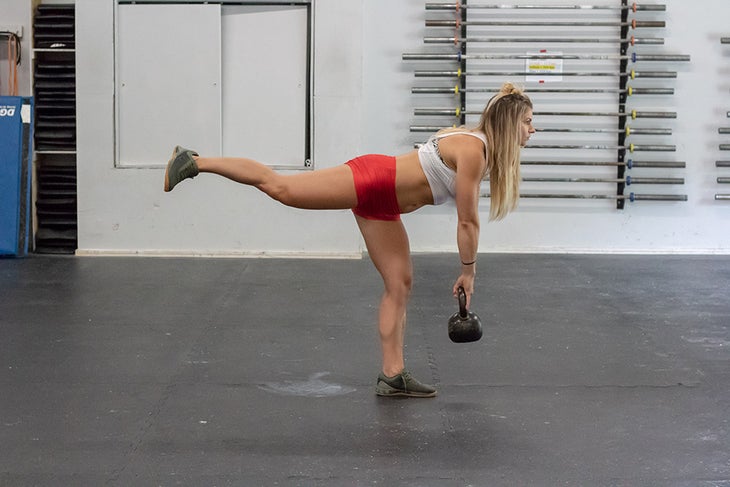 Single-Leg Bird Dip
Another common problem seen in the squat is ankle stability. Your body's ability to perform a squat well is affected by its ability to stabilize at the ankle, hip and midline. Strength deficits at any of these points will negatively impact your squat. Performing closed-chain exercises, such as a single-leg bird dip when your foot is in contact with the ground, are more effective than open-chain exercises, where the foot is not in contact with the ground, because the squat occurs in a closed-chain environment.
When performing a bird dip, your ability to dip forward and maintain a good position will be impacted by hamstring flexibility. Since this is not a hamstring exercise, dip as far as you comfortably can with a light weight while stabilizing on one foot. Try this for three sets of 10 reps while gradually increasing weight as your stability improves.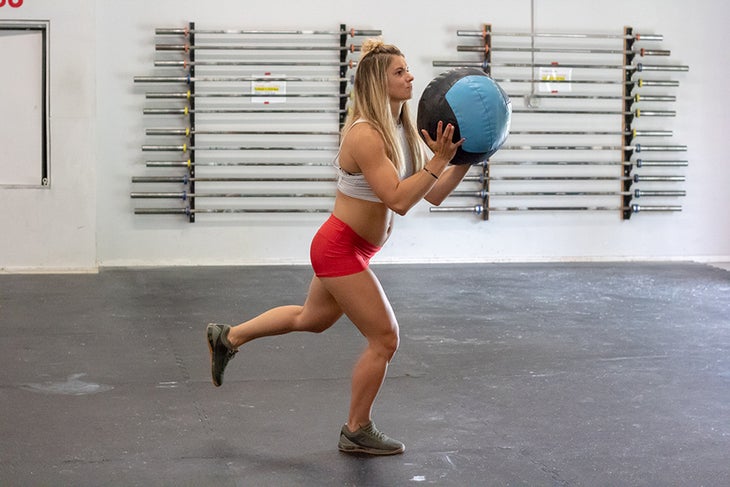 Single-Leg Medicine-Ball Toss
Another good exercise to address dynamic ankle movements and improve stability is a single-leg medicine-ball toss with a partner. This exercise will also address midline stability while keeping your weight over one foot. Start with a lighter ball and then progress to a heavier ball, changing the surface to a foam pad or by removing your shoes to make it more challenging.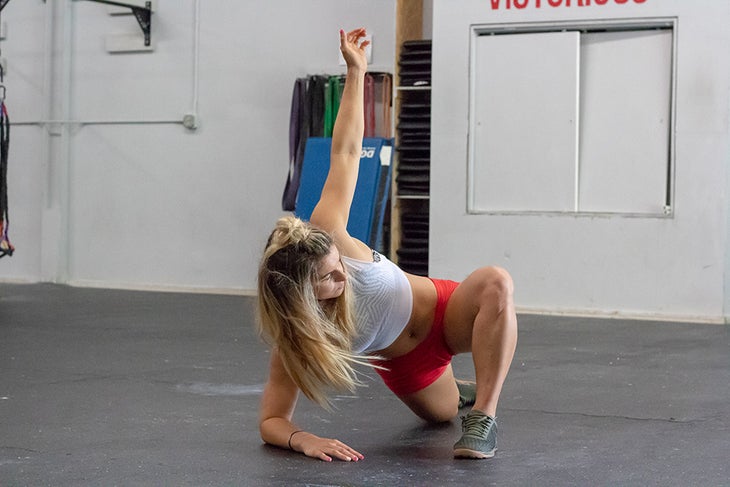 Hip Stretch
What you have going on at the hip will directly affect the knee and the ankle, in terms of strength and mobility. If you find your knees collapsing inward during a squat, you could have a strength deficit stemming from your glutes. Try these hip openers (the world's greatest stretch and Pigeon Pose) to address tissue mobility for three 30-second static holds, keeping in mind that stretching should never be painful. Pain is the bodies warning sign of increasing inflammation.
Pigeon Pose Pro Tips: Attempt to maintain a 90-degree angle with your shin for best results. And remember, it takes at least 30 seconds to create tissue elongation, so hold this stretch for at least that long!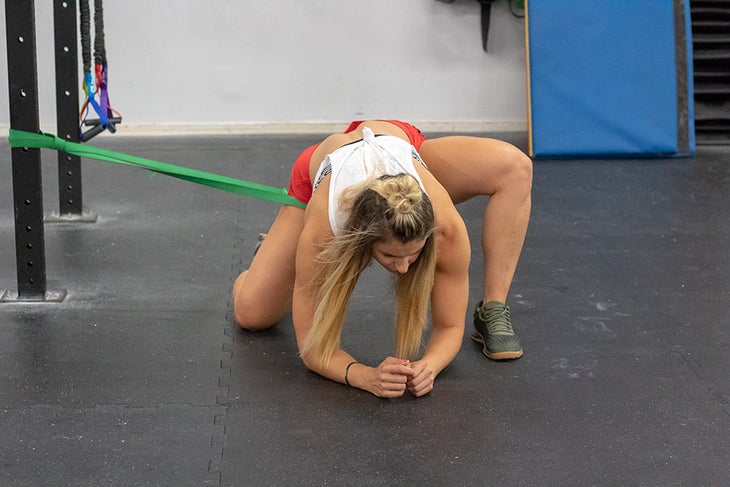 Hip Distraction
Set up a band on a rig or other stable surface to perform a hip distraction. Start mobilizing to the side and the front to increase range of motion within the hip capsule. When performing mobilizations, have a partner stand to the side of your banded knee to block it for a more aggressive stretch in the capsule.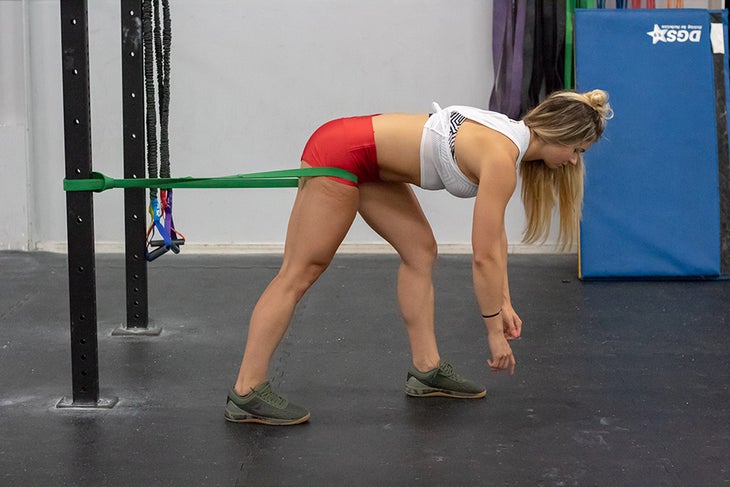 Hip Distraction Bend Forward
For a more aggressive stretch, bend at the waist and continue to mobilize forward. Try each of these variations three times for 30 seconds to begin to open the hip capsule before squatting.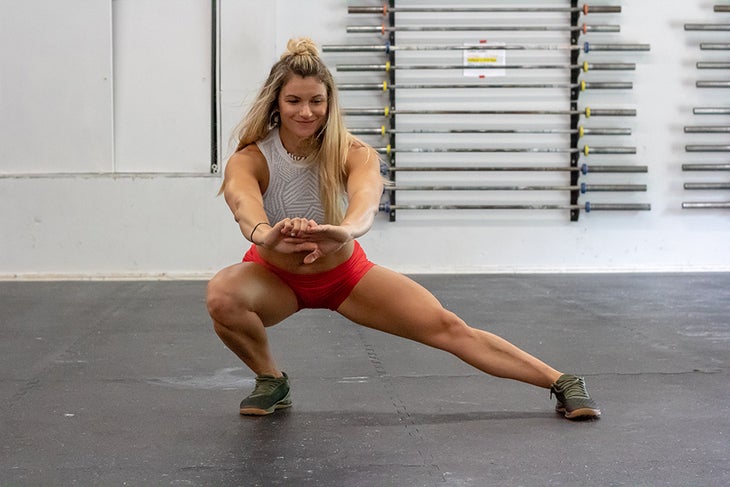 Dynamic Side to Side
Use this dynamic exercise as a warm-up to increase mobility. Hold a kettlebell or dumbbell and try three- to five-second pauses in each direction for a deeper stretch without allowing your foot to leave the mat. I always promote dynamic activities over static-hold stretching if you are pressed for time. These accessories mirror the activity more than open-chain static stretching and prime muscles for the work they are about to do.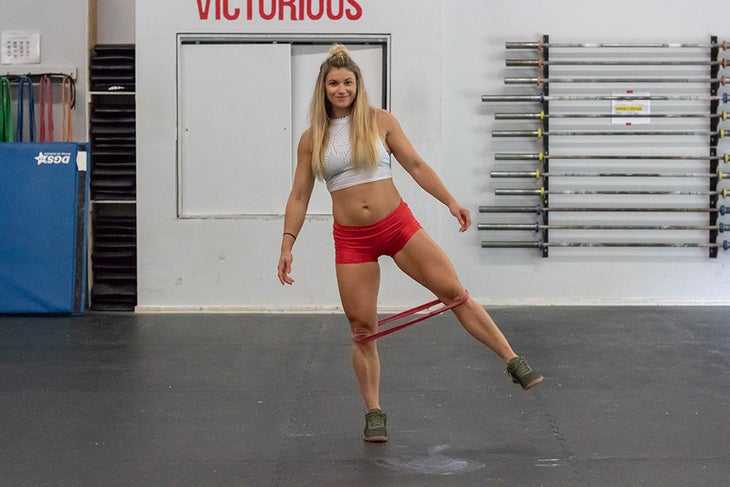 Banded Lateral Kick
Promote glute activation, specifically gluteus medius, with banded lateral kick-outs. This will prevent knee collapse in the squat and create greater stability at the hip. Wrap a lighter band two to three times and perform six to eight on each side. These will be a burner and have you primed for any squatting component of your workout.