Gear Report: Frugal Fitness
Cancel your gym membership — there are better ways to spend your get-fit dollars. Use these alternative ideas to reignite your love of movement and get you that much closer to reaching your goals.
Heading out the door? Read this article on the new Outside+ app available now on iOS devices for members! Download the app.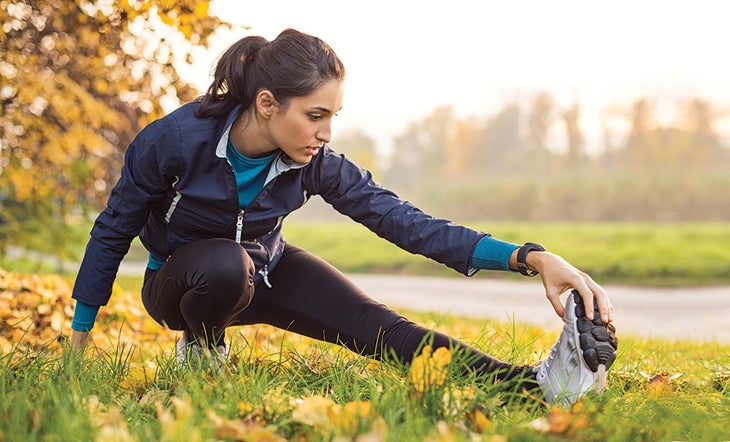 According to the number crunchers, Americans spend an average of $58 per month — or $696 a year — on gym membership fees. If you make it through the door on a regular basis, that dough is a worthwhile investment. However, if your gym key fob has grown cobwebs or if you're weary of the same old machines and split routines, it might be time to reinvest.
Using that aforementioned $696 as a baseline, we assembled the best apparel, gear, gadgets and apps for each of these five non-gym activities, as well as some ideas for DIY recovery. Get ready for your fittest year yet — no membership required.
Shift into high gear
If your last bicycle had training wheels and a basket covered in plastic flowers, you're due for an upgrade. Low on impact but high on calorie burn, cycling is the perfect exercise for athletes of all levels. Whether you plan to zip through city streets or knock out a few leisurely loops in the park, this swag will have you cruising in style.
1 | Raleigh Route 1
This seven-speed hybrid bike is lightweight enough for the bike lane but rugged enough for the trail. It's easy to put together if you're the handy type, but you also can have it shipped fully assembled. Either way, you're in the saddle in short shrift.
raleighusa.com, $500
2 | Electra Commute MIPS Bike Helmet
Safety first — but fashion second! This helmet's sleek design will protect your noggin without giving you a bubblehead and is certified for e-riders. Additional features include a removable reflective visor and a magnetic mount for a light or camera.
rei.com, $130
3 | Ready 2 Ride + Starter Bike Tool Kit
Handle flats and minor repairs like a pro with this basic kit from Diamondback. In addition to a standard floor pump, you get a portable kit that includes a mini hand pump, a patch kit, tire levers, a multi-tool and a saddlebag.
diamondback.com, $38
4 | Strava App
A favorite among runners and cyclists, Strava tracks your activity using your phone or GPS-enabled watch, allowing you to measure your speed and performance, analyze your progress, or just brag about your early-morning ride on Instagram using the sharing function. Beacon, the built-in safety feature, offers peace of mind by keeping your emergency contact updated on your real-time location.
strava.com, free
Lace up
Escape the confines of a big-box gym and hit the open road. Running is one of the most effective and economical ways to stay in shape, and all you need is a solid pair of shoes and a few pieces of go-to gear and you're ready to log some miles and get your fit on, fast.
Pounding the pavement is more appealing in a super-springy shoe. The Levitate's midsole uses a special technology that gives the wearer energy return with every step. The soft-fit knit upper is snug and comfortable, which means zero breaking-in blisters.
brooksrunning.com, $150
2 | Outrun the Storm Jacket by Under Armour
Running becomes an all-weather activity with this waterproof jacket: It's snug fitting but not too tight, and a hood and thumbholes help keep every inch of skin protected from the elements.
underarmour.com, $90
Stop wrangling tangled wires and slippery earbuds. These sweatproof headphones stay put — even in the rain — and use Bluetooth technology to connect to your phone. Bonus: The open design allows you to hear your surrounding environment, making these a safer choice for outdoor athletes.
plantonics.com, $130
A well-constructed sports bra is a nonnegotiable for athletic women, and this one promises to "flatter, not flatten," while providing full-coverage support. Made from ultra-soft, sweat-wicking material, the Handful has adjustable straps, allowing you to tailor the fit to suit your shape.
handful.com, $54
5 | Lululemon Speed Up Tıght Full-On Luxtreme
We love our Lulus, and these cute running pants wick sweat, stay put and flatter your booty. The patented fabric keeps you cool on hotter days, and reflective details mean increased visibility during twilight or early-morning runs.
lululemon.com, $108
6 | Kukimbe App
Whether or not you're competitive, training for a race is great for motivation and accountability. This free app pinpoints your location to help you find local races ranging from 5Ks to marathons — no Googling required.
kukimbe.com, free
8 | Lympo App
Need a little incentive to get moving? Lympo has you covered: Complete various healthy lifestyle-related tasks, such as going to the gym regularly or eating healthfully, and get rewarded with LYM tokens. These hold real monetary value and can be exchanged for fab sports and wellness products. You also can track your personal fitness goals, contact personal trainers and challenge your friends and family.
lympo.com, free
7 | Couch to 5K App
Perfect for absolute beginners, this app coaches you through an expert-designed 5K training program, providing audio prompts during your workouts while still allowing you to hear your music with an in-app player. Using your GPS, the app logs every run and tracks your progress over time.
active.com, $3
Ad-venture out
Cardio routine getting stale? Take it outside! You'll burn just as many calories on a challenging hike or river paddle as you would in the gym — and the vitamin D and sense of adventure are completely free! Before you leave civilization for the wilderness, gear up with these essentials.
1 | Merrell Chameleon 7 Mid Waterproof Hiking Boots
The trails can be unpredictable, but you'll be prepared for rain, mud, uneven ground and slippery gravel in these ultra-durable (yet remarkably comfy and lightweight) hiking boots. A built-in air cushion aids in shock absorption, while the molded heel creates a snug, stable fit.
merrell.com, $170
2 | Wigwam CL2 Hiker Crew Socks
Foot love begins with a pair of well-constructed socks. These cushioned, midrise crew socks are designed to protect your tootsies from all the perils of outdoor adventure, including blisters, sweat and foot funk.
wigwam.com, $16
This lightweight daypack gets an A+ for comfort, thanks to a padded waist belt and its Futura Yoke, which allows you to adjust the fit according to the length of your torso. A three-zipper design and stretchy external pockets make it easy to access your gear with minimal digging.
mysteryranch.com, $169
4 | Outdoor Research Sombriolet Sun Hat
Made with UPF 50+ fabric, this sun hat provides all-day coverage for the trail, summit or open water. Its wide brim shields your face, eyes and neck, and a combination of sweat-wicking fabric and vents keeps your head cool in heat and humidity.
outdoorresearch.com, $42
If lack of storage for a traditional kayak is keeping you landlocked, this inflatable (and super affordable) option will change your weekends. Constructed from durable vinyl, the Explorer K2 supports up to 400 pounds and is ideal for lakes and gentle rivers. It comes with a repair patch, two aluminum oars and a manual hand pump.
intexcorp.com, $120
6 | AllTrails App
This easy-to-use app provides more than 50,000 hiking trails and mountain bike routes for people of all fitness and experience levels. A GPS tracker keeps you on the right path and allows you to record and share your activity.
play.google.com, free; AllTrails Pro, $30/year
7 | America the Beautiful Annual Pass
If you've ever dreamed of hiking through the Grand Canyon, seeing Mount St. Helens up close or exploring the Red Rocks National Conservation Area, this is (literally) your ticket to adventure. This pass gives you — and anyone else in your vehicle — access to more than 2,000 national parks, wildlife refuges and forests.
store.usgs.gov/pass, $80
Hit the mat
Most private yoga studios outprice a standard gym membership, but establishing a home practice has never been easier or more affordable. All you need is a few feet of floor space, some basic props and a little instruction. Set yourself up with these basics to get your ohm on.
1 | YogaGlo App
There's no shortage of available yoga apps and sites, but YogaGlo outshines the competition when it comes to quality and variety. Subscribers get unlimited access to thousands of online classes that range from five to 120 minutes in duration. Search according to experience level, preferred style, bodypart or focus, and take classes with some of the biggest names in the yoga community like Elena Brower, Rod Stryker and Tiffany Cruikshank.
glo.com, $18/month
If you're going to invest in one prop, it should be a block. This one has an ergonomic design that fits the curve of your hand, giving you optimal support in balancing and bending poses.
prana.com, $22
3 | Manduka Mat Pro
Manduka doesn't just claim to make the world's best yoga mat, it backs it up with a lifetime guarantee. This high-density mat will withstand years of Sun Salutations while offering extra support and cushioning for your joints. Its closed-cell surface repels moisture, meaning it won't smell like a foot after a few sweaty sessions!
manduka.com, $120
4 | Prana Misty Legging and Lilliana Top
Technically, you can do yoga in any comfortable clothing, but there's magical motivational power when you're wearing a cute outfit. These midrise leggings are supportive and flattering, and the top is fitted, not tight, with a built-in shelf bra and partially open back for breathability.
prana.com, $69 top, $75 leggings
Track It
Activity trackers have come a long way in the last decade. These high-tech wearables provide the data you need to get the most out of your workouts and recovery. Here are a few of our favorites.
The award for the most wearable wearable goes to Garmin's Vivosmart 4. The slim, lightweight band is very comfortable, which means more accurate and consistent nighttime monitoring. Athletes looking for advanced metrics may need a more robust product (Garmin offers dozens), but the Vivosmart will accurately track your walks, runs, swims and strength sessions, and it provides continuous heart-rate monitoring and real-time notifications for phone calls, emails and text messages.
buy.garmin.com, $130
Attention data nerds: This tracker was made for you. The Polar Vantage M syncs with Polar Flow, an app that can track and analyze up to 100 different sports. The Smart Coaching feature uses your metrics to provide feedback, gauge progress, and offer customized training programs for events like 5K races and marathons. Recreational athletes will love the Vantage M for its GPS, step and sleep tracking, heart-rate monitoring and large color display.
polar.com, $280.00
Fans of the Fitbit Ionic will notice that the Versa is significantly lighter and less bulky, yet it retains nearly all the same features: GPS, activity and sleep tracking, heart-rate monitoring, on-screen workouts and guided breathing exercises. With crisp graphics and easy touch-screen navigation, the Versa feels like a smartwatch. It also can access Pandora playlists and up to 300 songs for phone-free listening, and a built-in NFC chip links to a credit or debit card for on-the-go payments.
fitbit.com, $200
Home-schooled
Got a spare room, basement or unused living room corner and you can set up a home gym. If money and space aren't an issue, go ahead and spring for a couple of cardio machines and a full set of weights. Otherwise, stick to these versatile, affordable pieces. You'll save a ton of cash, and your workout will be just as effective.
1 | TRX Home2
You can use the TRX Suspension Trainer for full-body strengthening and cardio, and because the TRX is easy to set up, you can take it outside or on the road. This home kit includes a door anchor, a suspension anchor (for attaching to trees, fences, poles and playground equipment) and a one-year subscription to the TRX app, which is packed with workout moves and ideas.
trxtraining.com, $200
2 | TRX Kettlebell
Free weights are pricey, but you'll get the most for your money with a kettlebell. You can lift, press and pull it just like a dumbbell, but you also have the option of performing heart-revving, dynamic movements like swings, cleans and snatches to get your sweat on. This one from TRX has a flat anti-wobble base and a smooth finish for a more comfortable grip.
trxtraining.com, $40 (6 kilograms)
Believe it or not, you can generate up to 25 pounds of resistance with the bands in this kit! Detachable handles and a door mount allow you to do everything from biceps curls and overhead presses to running drills and resisted lunges. It also includes a downloadable workout guide and a storage bag for portability.
perfectonline.com, $20
Step-ups, box jumps, triceps dips, elevated push-ups — with a solid plyometric box, the possibilities are endless. Far sturdier than a bench or plastic step, this wooden box can be placed on any one of its six sides, giving you three different height options. Built-in handles make moving and stacking easier, and your shins will definitely appreciate the rounded corners.
garagegym.net, $87
5 | Keelo
If high-intensity interval training is your thing, Keelo is your app. Similar to a metcon or CrossFit WOD, the workouts are pretty straightforward, but HD instructional videos and a built-in timer ensure you're keeping proper form and aren't skipping reps. Keelo also tracks your workouts and integrates with the Apple Watch.
keelo.com, free; Premium, $90/year
6 | ClassPass
Even with a fully tricked-out home gym, you may want to drop in on a Spin class or boxing session from time to time. And after all these years, ClassPass is still your best bet. For $45, you can jump into two to three classes each month, depending on price. Newbies get their initial month for free, and anyone can cancel at any time.
classpass.com, $45 for 1 month (2-3 classes)
Home healing
Whether your significant other won't do you the favor or you can't spring for a weekly professional rubdown, massaging your muscles can accelerate recovery and promote relaxation. Here are some at-home DIY options that are good for your bod — and your wallet.
PROcure Epsom Salt Rub
No time for a bath? Use this concentrated spot- treatment gel formulated with aloe vera and essential oils to soothe tension, aches and pains and improve recovery where it hurts most — without a bath.
Walmart, Walgreens and Amazon, $8
Woman, massage thyself with this lightweight vibration device. With four attachments and three speeds, this cordless device is perfect for accelerating recovery, relieving sore muscles, promoting circulation and improving range of motion.
hyperice.com/hypervolt, $350
This device uses electronic muscle stimulation to improve and facilitate muscle performance by decreasing recovery time, soreness and fatigue. Regular use helps remove metabolic waste, deliver nourishment, and remodel and repair your tissues.
marcpro.com, $650
KT Recovery + Ice/Heat Massage Ball
Get the benefits of ice therapy, heat therapy and deep tissue massage all in one compact product. Interchangeable gel inserts allow users to quickly switch between therapies.
kttape.com, $40