Indoor Cycling Tips for Newbies
From a proper warm-up to the right class tactics, here are some basic guidelines to follow for your first indoor cycling class.
Heading out the door? Read this article on the new Outside+ app available now on iOS devices for members! Download the app.
Indoor cycling is a phenomenal workout for women of all ages. Each 45-minute class can burn between 500 and 800 calories, and it's one of the best, low-impact cardiovascular workouts available. More than just a killer calorie-burning cardio workout, cycling also increases muscular endurance, tightens the core, and strengthens surrounding tendons and ligaments. Most important, it's a fun and exhilarating way to get your daily sweat in.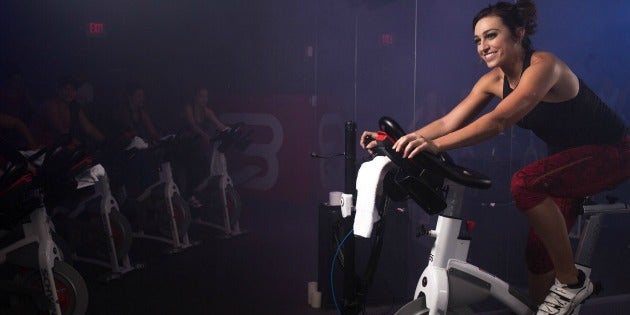 Preparation
Hydrate before, during and after class.
Eat a small meal one hour before working out, preferably something that is easily digestible.
Make sure you stay for the stretch after class. You will be sore, typically in your glutes, hamstrings and core area. If the class includes choreography and weights, you will have some upper-body soreness in the triceps, shoulders, chest and biceps.
Warm-Up/Cool-Down
Make sure you take the time to warm up. I recommend getting on the bike before class starts to pedal slowly for a few minutes, increasing to a more moderate pace until class begins.
Many people jump off their bike right after class and leave, but I recommend slowing your legs down and breathing for a good two minutes. Stay and stretch with the class, which will give you another four to five minutes to cool down.
Tips for First-Timers
Always let the instructor know it's your first time. If you have any injuries or limitations, let the instructor know so that he or she can give you modifications to stay safe on the bike.
Make sure you have a water bottle and a towel.
Don't attempt to do everything the instructor tells the class to do; stay in your comfort level for the first class or so. Indoor cycling is a great workout, but it takes time to condition your body to do the entire class as instructed. If you need to stay seated for the entire class, you can.
It usually takes about three to four classes to get in the groove of indoor cycling. Yes, your rear end might be a little sore after the first few times, but that fades away when the post-session endorphin rush hits.
Tevia Celli is a pioneer in the studio cycling industry, longtime Los Angeles cycling instructor and director of Class Experience & Programming atCycleBar.