5 Ways Chiropractic Care Can Boost Your Gym Performance
A chiropractor can help with far more than an occasional tweaked neck — regular visits can make all the difference during your workouts and recovery.
Heading out the door? Read this article on the new Outside+ app available now on iOS devices for members! Download the app.
Snap, crackle and pop — no, we aren't referring to the jingle of that rice-based cereal, but rather the unmistakable symphony heard in chiropractic offices around the world. Whether you love the sweet sounds of those adjustments or find them a bit intimidating, chiropractic care may be the key to leveling up your gym performance and reaching your long-term goals.
"At its foundation, chiropractic care makes sure that you are moving optimally," says Steven Knauf, D.C., who sits on the Arizona Board of Chiropractic Examiners and serves as the Executive Director of Chiropractic and Compliance for The Joint Chiropractic. "It provides the body with the ability to best respond to stresses in its environment, such as physical stress — especially as it relates to beating your body up in the gym."
He explains that the nervous system is at the center of organizing your body's ability to recognize and respond to stress, and that chiropractic care helps take pressure off the nervous system so that your body is better able to recognize stress and adapt to it or heal appropriately from it. "When you take stress off of the nervous system, your brain is better able to coordinate recovery efforts," says Knauf. 
Chiropractic Care Can Offer a Handful of Helpful Benefits
There are at least five important ways in which chiropractic care can boost gym performance:
Balancing your body's movement.

Have you noticed that when you're working out in the gym, you tend to favor one side of your body over the other? Knauf says that chiropractic care can help you move more symmetrically throughout your activities, both in and out of the gym. 

Helping to prevent injury.

If you're moving better, and therefore are properly coordinating your movements versus favoring one side, then you're less likely to wear out muscles or joints unevenly. This is crucial for

injury prevention

. 

"Athletes don't want to have to take time off trying to recover from an injury they've sustained," says Knauf. "When you're moving well, you can better react to different stress and movements."
Aiding recovery by lessening DOMS.

Recovering quickly helps any gym-goer stay motivated, but sometimes delayed onset muscle soreness (DOMS) gets the best of us all and threatens to sideline our efforts. "For example, one of the things we see following a chiropractic adjustment is a

reduction in the chemical that's responsible for causing inflammation

in the body," says Knauf. "So you're able to recover a bit more quickly."

Staying consistent with workouts.

If you're new to working out, it can be impossible to keep a consistent schedule if you're constantly feeling sore or dealing with injuries. "If you get laid up for a while, you're already out of the habit," says Knauf. "Chiropractic care can help your body recover quickly from the physical stress you're adding."

Coordinating proper movements.

Want a more efficient workout? "This is really done through

optimizing your range of motion

and making sure that you're able to achieve the correct posture," says Knauf. "If your body is compensating, or you don't have the right posture, or if your muscles aren't firing in the correct pattern, you may not be able to lift as much weight." 
So how exactly does chiropractic care help with these five issues? "It's really about restoring motion back into joints and relaxing sore and tight muscles," explains Knauf. "There's also a mental piece to chiropractic care, too. Anecdotally, we have patients who report being in a better mood after their adjustments. And when you're in a better mood and not stuck in a place of chronic injury or losing out on quality of life, you're more likely to engage in the activities and hobbies that make you happy."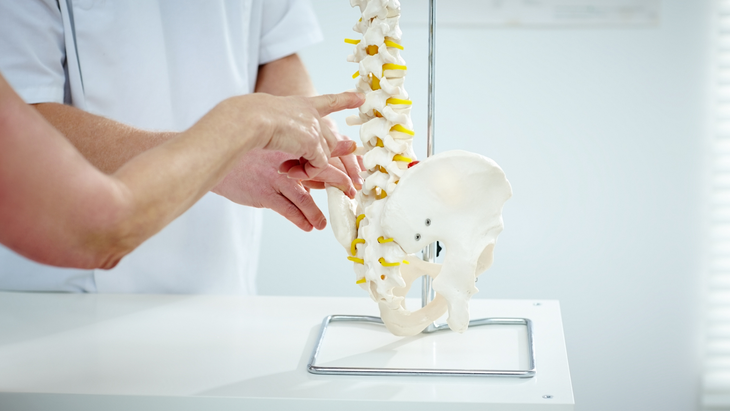 How to Find the Right Chiropractor
Sold on the benefits of chiropractic care? As with anything medical, finding the right specialist makes all the difference in the outcome. "It's definitely not like getting a massage, where you walk in and have minimal conversation," says Knauf. "It should very much be like any other experience with a healthcare professional, because their job is first to determine if you're even a good candidate for chiropractic care."
With that in mind, you want to find a chiropractor who takes a keen interest in your health and medical history. "Some athletes have had previous injuries, maybe they've had surgical interventions like spinal fusions or ACL tears," says Knauf. "This information is vital in tailoring the care to that individual. Understanding the history of each patient is critical to making sure we're treating them properly."
Next, you want to make sure your chiropractor is a good fit for your needs. "Especially for active people, you really want to cover what your goals are," says Knauf. "That way, they have an understanding of what you want to get from your care, so they can help deliver that to you."
Finally, don't be shy about asking questions. To assess how interested they are in you as an individual, Knauf suggests asking if they have any experience working with athletes. Or if you're just getting started in a gym habit, ask if they have experience helping people build a new health and wellness routine. "You really want them to be on the same page as you as a patient," he says. "If you're looking for someone to help maintain you as a CrossFitter, for instance, then it's worth asking if they see a lot of CrossFit patients and what they've helped them with."