Think Pink: Breast Cancer Awareness Gift Guide
In honor of Breast Cancer Awareness Month, we've collected 14 fabulous philanthropic products that support the search for the cure.
Heading out the door? Read this article on the new Outside+ app available now on iOS devices for members! Download the app.
Since one in eight women will be diagnosed with breast cancer this year, chances are either you or someone you know has been directly affected by it. There is no known cure, and early diagnosis is critical to survival. In honor of Breast Cancer Awareness Month, we compiled some of our favorite products that directly give back to the cause through a charitable organization. Feel good about purchasing these fitness, fun and luxury items either as early holiday gifts or "just because" for someone special who has been impacted by breast cancer.
Mizuno Pink Wave Rider 21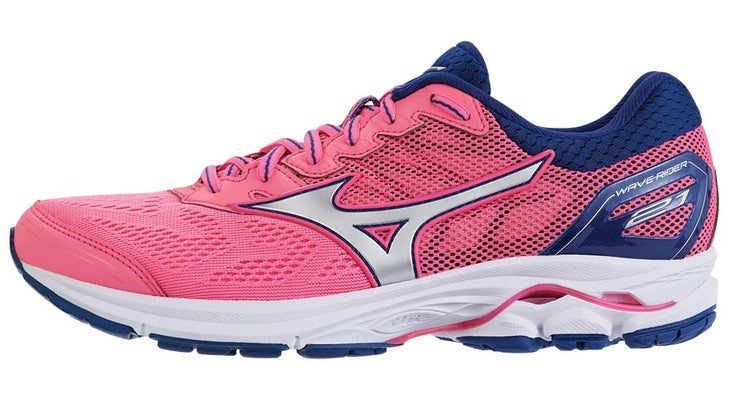 Perfect for the runner in your life, this is the 21st iteration of Mizuno's signature shoe that offers a classic fit with a smoother ride. Featuring breakthrough CloudWave technology, the Wave Rider has more cushion on initial heel impact and better guidance in the transition from heel to forefoot. Triple-zone engineered mesh provides breathability and hold throughout your run.
$120, mizunousa.com
Also check out some of the other BCRF pink items that give back on Mizuno's website!
Charity: For every pair of shoes sold, $10 will go directly to the Breast Cancer Research Foundation whose sole mission is to bring an end to breast cancer through research and discovery. Mizuno is also partnering with BCRF on #projectzero, an initiative to raise funds for breast cancer research, highlighting survivor stories and showcasing the role sports play in transforming lives affected by cancer.
Crystal Love Bath Salts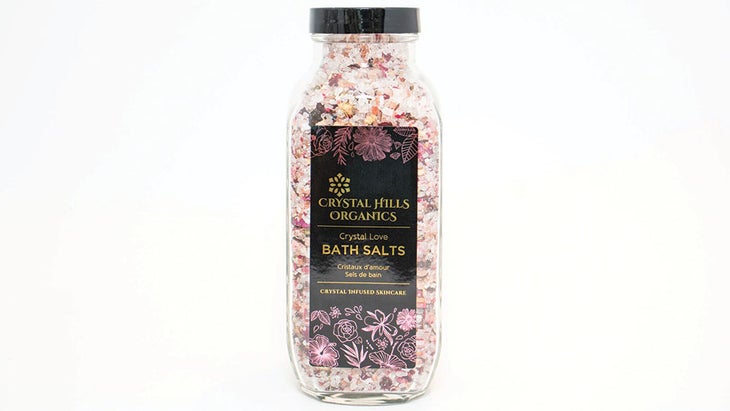 Relax and rejuvenate after a hard workout with this synergistically blended bath product by Crystal Hills. Made with 60,000 flower petals per ounce — including rose, hibiscus and fireweed — a unique blend of sea salts, crushed rose quartz crystals and a proprietary blend of essential oils, these salts promote a relaxed inner and outer state of mind and peace.
$44, crystalhills.com
Charity: During the month of October, 50 percent of the proceeds from any product in the Crystal Hills Love Collection will be donated to The Pink Fund, providing financial support to help meet basic needs, decrease stress levels and allow breast cancer patients to focus on healing while improving survivorship outcomes.
The Encouragement Bouquet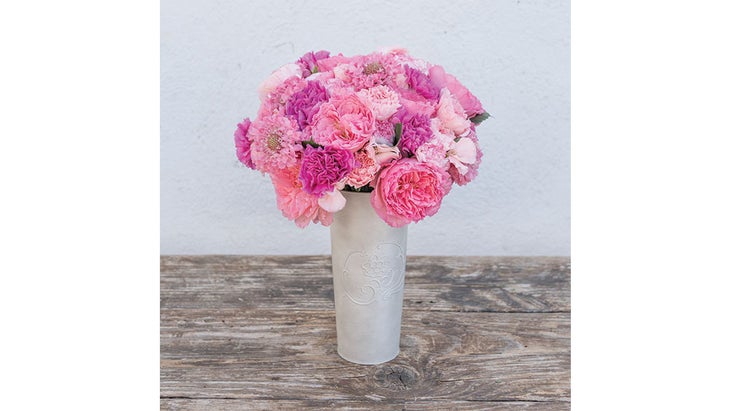 This gorgeous all-pink flower arrangement by Bouqs features roses, carnations and pincushion flowers. This bouquet originates in Columbia from Farmer Manuel who owns a Rainforest Alliance–certified farm, which boasts nearly 500 acres of flower-growing fields.
$40-$70, bouqs.com
Charity: For the month of October, Bouqs will donate 20 percent of the purchase price for any bouquet from their Breast Cancer Awareness Month Collection to The Pink Agenda, a not-for-profit organization committed to raising money for breast cancer research and care and also raising awareness of the disease among young professionals and redefining breast cancer as a gender-neutral cause. They are a beneficiary partner of the Breast Cancer Research Foundation.
Beautiful Breast Elixir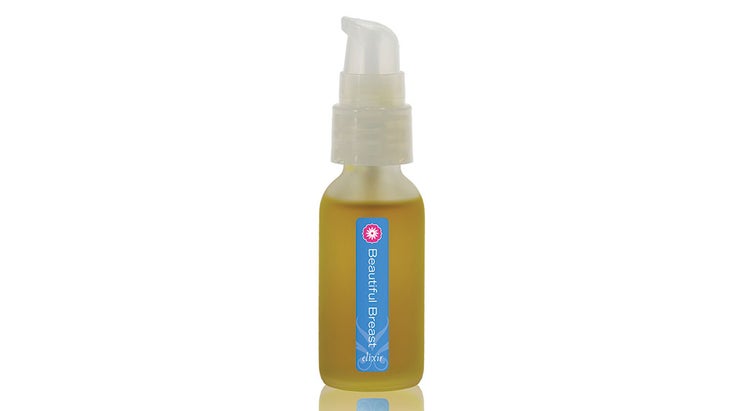 This body oil by BodyMantra is a healing mix of vitamins, essential oils, powerful antioxidants and anti-inflammatories to deliver potent wellness to the skin, tissue and cells of the breasts. This is the perfect gift for survivors, those undergoing treatment and those simply focused on good breast health.
$42, bodymantrablends.com
Charity: For every bottle sold, $2 will go to BreastCancer.org, a nonprofit dedicated to providing the most reliable and up-to-date information about breast cancer.
The Pia Tank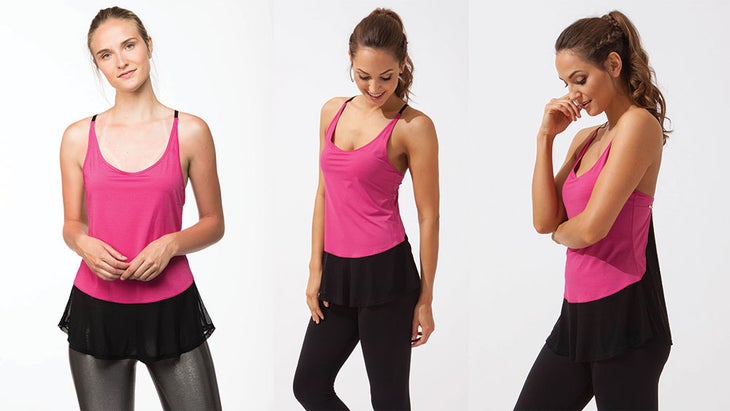 This form-flattering pink and black tank by Mira Rae is made with cooling fabric and an open-mesh back to keep you fresh even during your toughest workouts. Made of nylon and spandex, the Pia tank moves with you, whether you're strolling to lunch or HIITing it at the gym.
$54, mirarae.com
Charity: For every Pia tank sold, Mira Rae will donate 20 percent to the Maple Tree Cancer Alliance, working to improve the life for those going through cancer treatment by offering free exercise programs, emotional support and nutritional guidance to help alleviate some of the side effects of treatment.
Krave Pink Peppercorn Jerky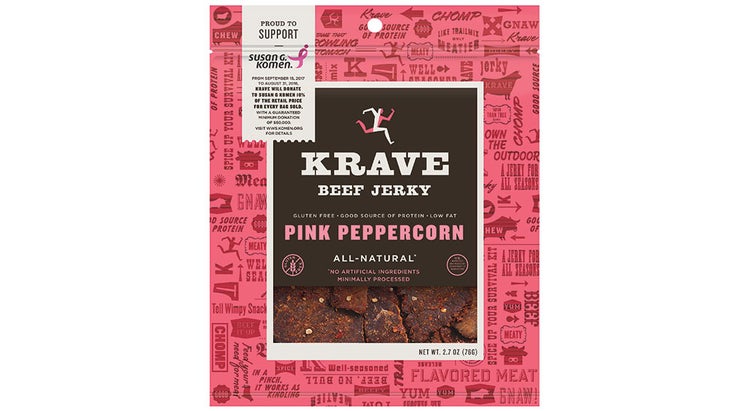 Refuel postworkout or get a healthy energy boost midday with this super snack. The pink Himalayan salt and zesty pink peppercorns help balance the meatiness of this beef jerky — adding a little bite and a little sweetness that will put protein lovers on cloud nine. Made with tender, high-quality ingredients, this will become your new fave gourmet snack on the go.
$6 for 2.7 ounce at kravejerky.com; Target, CVS, Kroger
Charity: Krave has partnered with the Susan G. Komen foundation and will donate 10 percent of all retail sales from each bag from September 15, 2017 to August 31, 2018, with a minimum guaranteed donation of $50,000. Susan G. Komen is dedicated to saving lives by meeting the most critical needs of communities and investing in breakthrough research to prevent and cure breast cancer.
The Madison Set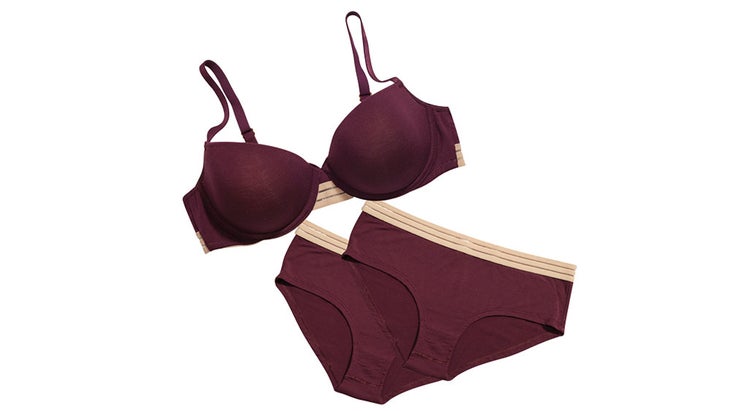 Constructed with sustainable bamboo fabric, these ethically made intimates by White Rabbit New York will be your new favorite bra and panty set. The Madison bra flatters your natural shape with soft, lined cups and sheer detailing, while the two pairs of Leroy Boyshort underwear are moisture-wicking and anti-microbial.
$80, whiterabbitny.com
Charity: Twenty percent of profits from the sale of the Madison Set, as well as any other burgundy item(s), during the month of October will go to the Susan G. Komen foundation, saving lives by meeting the most critical needs of communities and investing in breakthrough research to prevent and cure breast cancer.
Marc Pro Plus: Hope Edition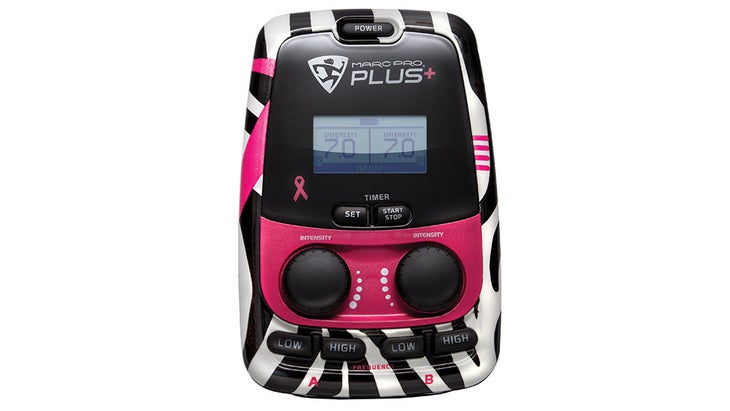 Electronic stimulation helps with recovery, and Marc Pro uses patented technology to flush metabolic wastes and deliver nourishment to your hardworking muscles. The Marc Pro Plus features additional modes for pain relief, helping reduce soreness, prevent fatigue, enhance performance and maximize results.
$950, marcpro.com
Charity: For every Hope Edition Marc Pro Plus purchased, Marc Pro will donate $50 to the National Breast Cancer Foundation, a charity that provides help and inspires hope to those affected by breast cancer through early detection, education and support services. The foundation also provides free mammograms to women in all 50 states through a network of hospitals.
The Magic Mitt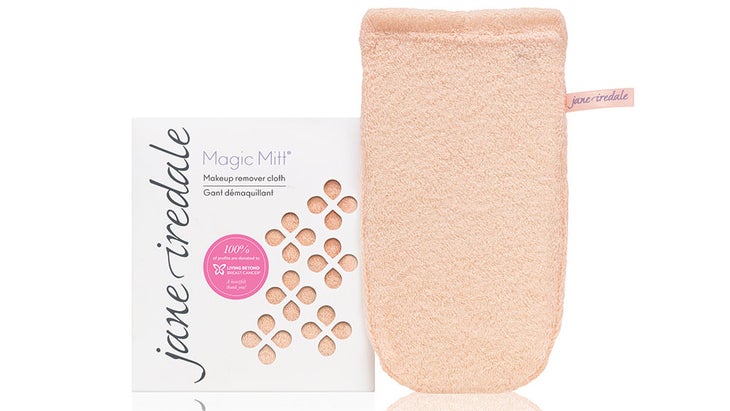 Perfect for a quick cleanup postworkout, the Magic Mitt by Jane Iredale is made of millions of microfibers, thinner than a human hair, which penetrate surface oils to lift away dirt, sweat and all traces of makeup — even mascara! — leaving behind healthy, fresh skin.
$15, janeiredale.com
Charity: For the 10th consecutive year, Jane Iredale will donate 100 percent of all profits from the Magic Mitt from September 5 through December 31, 2017, to Living Beyond Breast Cancer, a national education and support group that connects people touched by breast cancer to information and a community of support.
Vionic Beach Noosa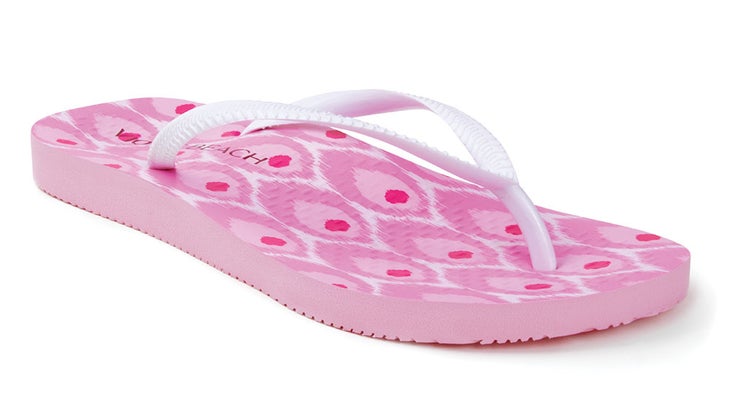 The perfect antidote for sore feet, this special-edition bright and happy flip-flop has a contoured arch for optimal support, promoting natural alignment from the feet up. The premium EVA-injected foot bed offers the same cushioning and comfort as Vionic's athletic shoes.
$40, vionicshoes.com
Charity: For every Pink Palm or Pink Ikat Noosa pair purchased, $5 will go to Living Beyond Breast Cancer, a charity dedicated to connecting people with trusted breast cancer information and a community of support.
Rehband Rx Knee, Calf, Wrist and Elbow Sleeves — Pink Series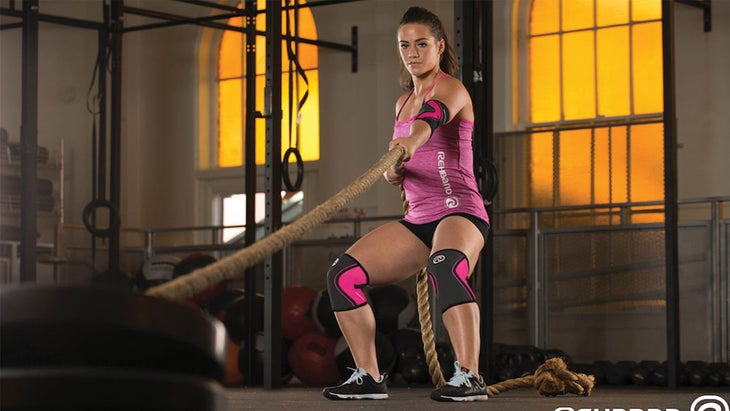 Need some support? Rehband has you covered. With a patented anatomic fit developed by a team of dedicated engineers and researchers, Rehband is backed by 60 years of industry experience and is the sleeve of choice for professional athletes such as CrossFit champions Camille Leblanc-Bazinet and Rich Froning Jr.
$45 for one, $90 per pair; amazon.com
Charity: During the month of October, 5 percent of all sales of Rehband Rx pink products purchased on Amazon.com goes to Barbells for Boobs, a resource for early detection services and support post-diagnosis for those living with breast cancer, with an emphasis on fitness and wellness for anyone affected.
Fragrance.com Perfumes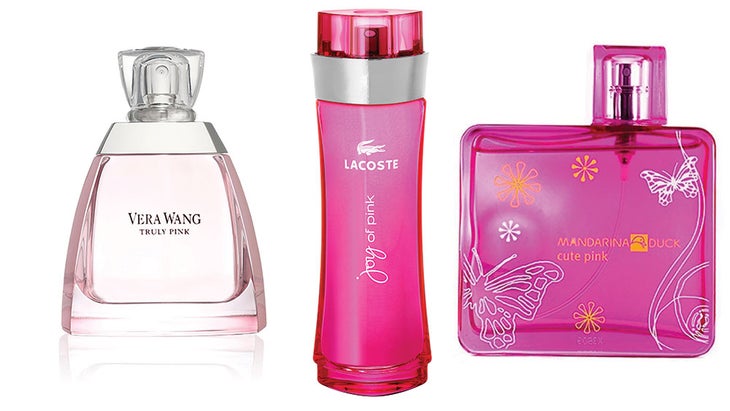 A time-trusted company, Fragrance.com offers brand-name scents, skin-care, makeup and hair-care products, and even candles at discount prices. During the month of October, the site is featuring four fragrances that give back:
Vera Wang Truly Pink: Inspired by the scent of rose, freesia and lily of the valley. $33
Lacoste Love of Pink: Hints of orange, lemon, magnolia, cedar and vanilla. $60
Lacoste Joy of Pink: Zesty, citrusy and bright. $42
Mandarina Duck Cute Pink: Floral with notes of black currant, raspberry gardenia and sandalwood. $30
(All are available at Fragrance.com.)
Charity: For each purchase of one or more of these perfumes, Fragrance.com will donate 15 percent of the proceeds to the Breast Cancer Research Foundation, whose sole mission is to bring an end to breast cancer through research and discovery.
Wear It to Heart (WITH) Hyper Dots Apparel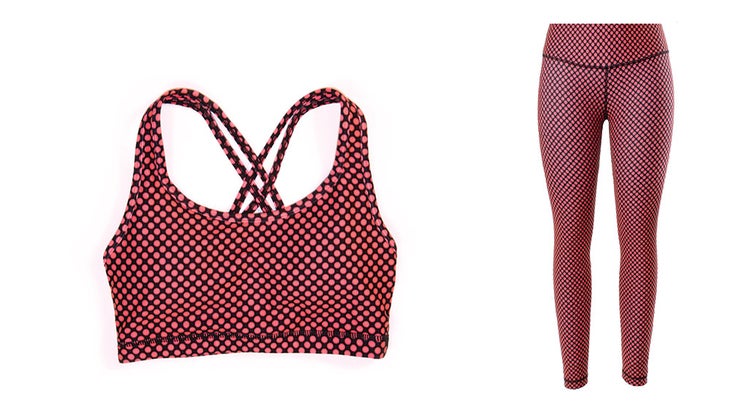 This ethically manufactured sportswear line features Salutex, a super-soft four-way stretch fabric that moves with you, whether you're training at the gym or running errands. The shorts and leggings incorporate technical features such as hidden pockets, and all pieces are moisture-wicking to keep you cool and dry.
bras $45, leggings $82; wearittoheart.com
Charity: Twenty percent of the purchase price will be donated to the Dr. Susan Love Research Foundation, a California-based nonprofit dedicated to research focused on the causes of breast cancer.
The Monceau Tunic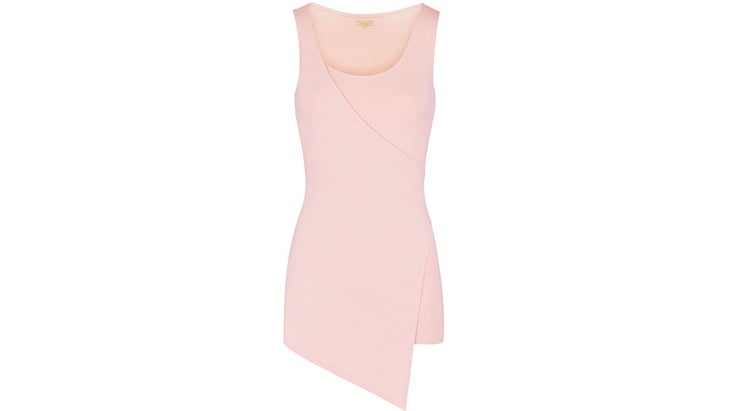 Cozy up postworkout and run errands in style! Inspired by Parisian design, this super-soft wrap-style top by Les Lunes calls attention to the waist while elongating the legs. The light bamboo-cotton blend is environmentally friendly and ethically crafted, and it pairs perfectly with your favorite leggings.
$82, leslunes.com
Charity: Les Lunes will donate 20 percent of all proceeds raised to the Young Survival Coalition, which serves more than 13,000 women under 40 who are diagnosed with breast cancer each year.