Candice Lewis-Carter: Next-Level Lady
Former track athlete and IFBB Figure pro Candice Lewis-Carter dishes on life after competition, PCOS and her Oxygen-exclusive online course Next-Level Lifting.
Heading out the door? Read this article on the new Outside+ app available now on iOS devices for members! Download the app.
Candice Lewis-Carter discovered two big things in life by accident. The first was Figure competition. "We were out celebrating a friend's first competition and I was intrigued by the process," she says. "I decided to do a show on a whim six weeks later, and even though I ate Chinese food the night before, I actually ended up taking first place and winning overall!"
Her second discovery wasn't as opportune: Lewis-Carter went in for a routine physical and came out with a life-changing diagnosis — polycystic ovary syndrome. "I had been struggling to lose weight even though I was eating super clean, resistance training and doubling up on cardio," she says. "I thought I was [having trouble] just because I was getting older, and even though irregular periods are a symptom of PCOS, I had always been irregular because of athletics — I never realized there was a problem with my hormones."
The diagnosis came just two years into her pro career and four months before her wedding, which was devastating on both fronts. To continue competing, Lewis-Carter would have to work twice as hard and be twice as diligent about her nutrition. "I had to learn how to balance my carbs because I am carb-resistant," she says. "This was a challenge because when I was competing at the highest level, I was always fatigued — whether it was from eating too many or too few carbs." Even more difficult was the realization that she might not be able to bear children. "PCOS causes infertility because your hormonal imbalance interferes with the growth and release of eggs, and if you don't ovulate, you can't get pregnant," she says. And as one of 10 siblings, Lewis-Carter had always imagined her future family would hold the same promise.
For information on and support with PCOS, check out these resources:

pcosaa.org
pcoschallenge.org
What's Next?
Professionally, Lewis-Carter went on to become one of the most decorated Figure competitors in history, with 13 total IFBB wins in her 12-year career, including seven Figure Olympia and four Arnold Classic Figure titles. She retired in 2018 to focus on family, and though she and her husband, Wahhab Carter, are still trying for a baby naturally, they are also open to adoption.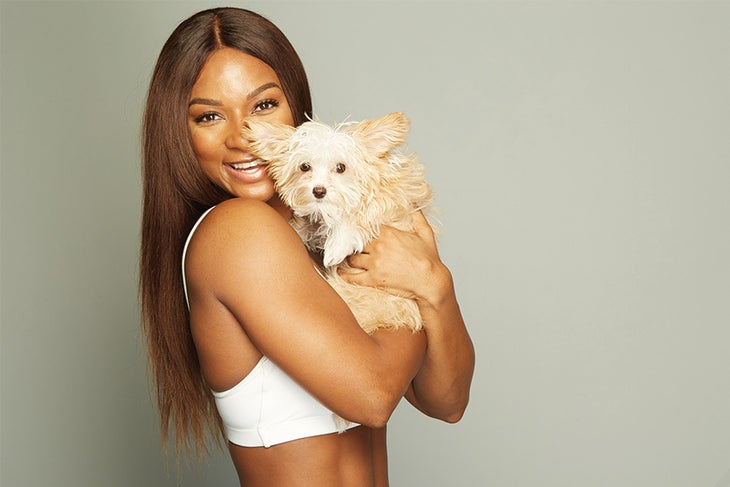 In the meantime, Lewis-Carter is expanding her professional sphere and is focused on training and mentoring other women. "My approach is that of a trusted family member or big sister," she says about her coaching style. "I know what it takes to be the best, so I am able to push people out of their comfort zones to help them succeed."
She has also ventured into the realm of video and most recently partnered up with Oxygen to create an eight-week online education course called Next-Level Lifting. "Every aspect of this course is influenced by how I train myself, and the workouts incorporate all kinds of moves, including yoga poses, track drills, strength moves and more," Lewis-Carter says. "The goal is to build and sculpt your muscles, of course, but you'll also increase strength and improve speed, because yes, you will be running! Throughout the course, you'll do a timed 1-mile run so you can mark your improvement." You'll also take your measurements at various points so you can gauge your progress and make changes where necessary.
Lewis-Carter designed Next-Level Lifting to suit any fitness level, and all you need on hand are a few sets of dumbbells and some resistance bands. "But because I personally love to use machines in my own training, I offer substitute exercises so dedicated gym rats will be able to take this course with them to their club to train." she says. "I encourage you to sign up and give this course a try. It will be a fun adventure!"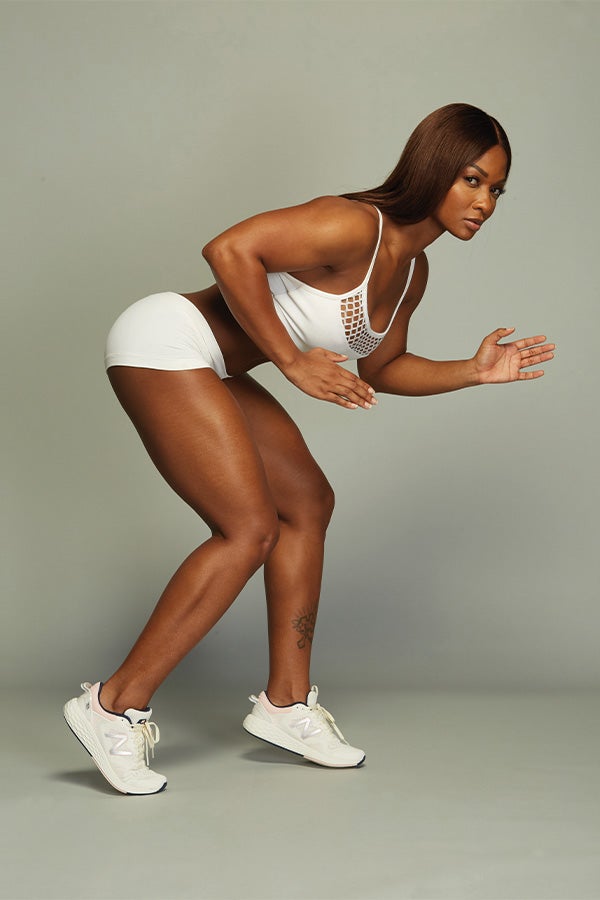 Birth date: July 27, 1984
Current residence: Houston
Height: 5'5"
Weight: 130
Instagram/Twitter/Facebook: @icandyfitbeauty
Website: icandyfitbeauties.com
Competitive Highlights: 
13-time IFBB Figure champion
Seven-time Olympia Figure champion
Two-time Arnold Classic Figure champion
Two-time Arnold Classic Australia Figure champion
Sponsors: TLF Apparel, Trifecta Organic meal delivery, BSN supplements, Species Gym, FloatSpa and Gymwrap headbands
Q&A With Candice Lewis-Carter
Q: You were a track and field athlete growing up — how did you get into that?
A: I was introduced to it by a family friend when I was 11 who had started a track club called the Arizona Cheetahs. We formed a sisterhood and ran track together all through high school. I got a scholarship to a community college but eventually left because it wasn't the same — instead of having my friends and family around, I was by myself. Plus, it was more serious because I was on scholarship and felt more pressure. I believe that if you aren't 100 percent committed to something, then why go through the motions? I was just ready for a change.
Q: What is your favorite memory from Figure competition?
A: First and foremost was meeting my husband at the Arnold Classic in Columbus, Ohio. It was my first time attending the show, and we met at an after-party. Another favorite was meeting Arnold Schwarzenegger after winning the Arnold Classic. He's done so much for the health and fitness industry — he's a living legend and for me to win four of his titles is truly a dream come true.
Q: Do you miss competing?
A: I miss being in the best shape of my life, but it can be very taxing mentally and physically, and I don't miss the grind and the wear and tear on my body. Fortunately, I am still able to live vicar-iously through my clients, and I truly enjoy helping others reach their goals.
Q: Who is your favorite sibling?
A: My first sister Brittany because we are closest in age (she is two years younger), and she always answers my FaceTime calls! We used to fight the most when we were little, but now we are the closest.
Q: Does your hubby Wahhab work out, too?
A: Yes, he is definitely a gym rat — probably even more than I am! He was a former Division I athlete and played professional basketball overseas for a short stint, and he can't live without going to the gym.
Q: Do you train together?
A: We do NOT train together! I end up trying to coach him like he's one of my clients, and we both think we know more than the other when it comes to training.
Q&A: Fill in the Blanks
Never would I ever go skydiving!
Beyoncé is the only celebrity who could get me tongue-tied.
The most embarrassing thingin my purse right now is doggy treats — I spoil
my pup.
The weirdest thing a fan has ever said to me is "I love your toes."
When it comes to music, I know all the words to Beyoncé's Irreplaceable.
I am a secret shoe hoarder. I own over 200 pairs of shoes!
Next-Level Lifting
You're only eight weeks away from your best-ever body!
Candice Lewis-Carter's new course launches in the fall of 2020! Go to oxygenmag.com/nextlevel to register for the course.