Your Ultimate Summer Fit List
Ready for your fittest, healthiest, happiest, most inspiring summer ever? Oxygen helps you make great memories with this fun checklist.
Heading out the door? Read this article on the new Outside+ app available now on iOS devices for members! Download the app.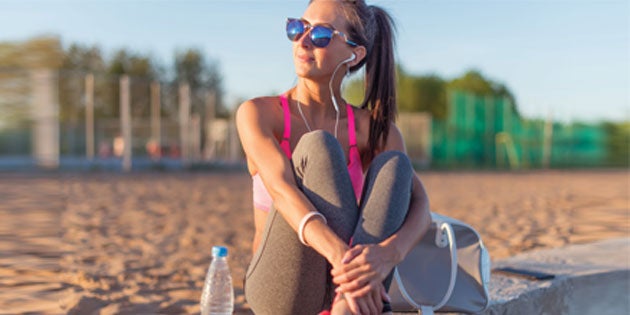 We rounded up the healthiest ways to move, eat, read and play this summer. You're welcome!
1. Try a hot new fitness trend.
Hit the weights and the heavy bags or get serious about meditation. A study published in Psychology & Health found that ditching your go-to workout for a novel sweat session can up the fun factor and even make you more likely to work out. Tap into your inner Ronda Rousey with a mixed-martial arts class, try hot Pilates (yes, it's a thing!) or Zen out in a sound bath class, which uses auditory cues to help you relax. Sign up for the The Oxygen Challenge and get ready to rock the weights! oxygenmag.com/oc2
2. Get a new bikini for your new bod.
Bodies change, bathing suits stretch, styles evolve —all dang good reasons to get yourself a new killer swimsuit. Pick a style that enhances your hiney, gives you great cleavage, flatters your best feature (go halter if your delts dazzle!) and keeps up with your beach moves.
3. Unplug.
It's time to break up … with your phone! Researchers have found that being too attached to your tech devices can cause stress, sleep disturbances and depression and also can decrease next-day productivity. How to unplug: Designate a Wi-Fi-free day or go to a far-flung place with no cell service. At the gym: Stop texting and start lifting!
4. Get Internet famous.
Hashtag away! Posting your summer fitness efforts can give you an extra shot of motivation. Sharing selfies and updates on your progress — maybe your abs are popping or you finally nailed that handstand — can get you to the gym and help you lose more weight, according to research.
5. Upgrade your playlist.
The rhythm is going to get you! Not only does music make you run farther and bike faster, science says it also can elevate mood, improve immunity and even boost metabolism.
6. Make DIY frozen pops with protein.
Move over smoothies — homemade frozen pops can deliver the protein, too! Add chocolate protein powder to chocolate pops, chia seeds to mango pops or Greek yogurt to peach pops for more of the muscle-building stuff.
7. Hit the (healthy) road.
Road trips are a summer fixture, but those convenience-store car snacks don't have to be. Better bets: dried seaweed, pre-portioned trail mix, low-sodium jerky, and peanut butter and jam sandwiches on Ezekiel bread. Or pack a cooler with Greek yogurt, hard-boiled eggs, apple slices and plenty of water.
8. Be spontaneous.
Goofing around isn't just child's play. Tapping into your inner kindergartener can improve your health, happiness, memory, productivity and even relationships. But that mud run you signed up for doesn't cut it; the definition of play is time spent without purpose, agenda or a finish line. Jump on the trampoline, run through the sprinkler, climb on those monkey bars and delight in the moment.
9. Try a clean eatery in your hood.
Finding healthy eating options has never been easier: Hop on HappyCow.net for veg-friendly finds; visit the free HealthyOut app to locate Paleo, gluten-free or low-carb menu items; or download Food Tripping to find farmers markets, juice joints, and healthy eateries at home and on the road. And then start exploring!
10. Read, listen and learn!
Finally, extra downtime to catch up on life's pleasures: Inspirational reads:
• Rising Strong by Brené Brown
• Faster, Higher, Stronger by Mark McClusky
• Hardwiring Happiness by Rick Hanson
Motivational podcasts:
• The Rich Roll Podcast
• TEDTalks Health
• Shredded by Science
11. Drink up in style.
You sweat more in the summer, which can hurt your workout (muscle cramps!) and your waistline (bloating and weight gain). Time to upgrade to a hip hydrator: KOR Delta Water Bottle, $17 (korwater.com), S'well bottle, $35 (swellbottle.com)
12. Try a new summer veg. (Cherimoya, anyone?)
Veggies are the bomb, but you can't blame a gal for getting sick of baby carrots. Branch out: Hit up the farmers market for heirloom tomatoes (colorful caprese), zucchini (grill it!) or watercress (burger fixin!).
13. Make a summer goal list.
Don't underestimate the power of writing down your goals. Not only do you get to ask yourself what you want, research says jotting down healthy vows also can keep you accountable. A study by Dominican University found that those who wrote down their goals accomplished 50 percent more than those who didn't.
14. Try forest bathing?
Permission to skip the gym, granted! Getting outside is good for the soul as well as the body — and science agrees. Japanese researchers found that forest bathing, or mindful hiking in the forest (breathe in and notice nature as you go) can kick stress, boost immunity and improve your mood.
15. Do something that scares you.
Eleanor Roosevelt was onto something when she said, "Do one thing every day that scares you." Stepping out of your comfort zone can improve resiliency, performance, focus and creativity. Courage boosters: Take a modern dance class, sing karaoke or strike up a conversation with a stranger.
16. Get out of the kitchen!
Stove, schmove! Give your oven a holiday by adding easy, healthy no-cook summer meals to your arsenal: Roll precooked lentils, cucumber, grated carrot and tahini into a whole-wheat wrap; toss together canned tuna, cannellini beans and diced tomatoes for a hearty salad; or top rice noodles and sliced red bell pepper with shredded rotisserie chicken and peanut sauce. Mmmm!