Wall Squat With Stability Ball
This move is a great way to strengthen and firm your butt with added support from a stability ball.
Heading out the door? Read this article on the new Outside+ app available now on iOS devices for members! Download the app.
The wall squat strengthens your lower body, targeting the quadriceps muscles (one of the largest muscles in your body), the glutes and hamstrings. Using the stability ball allows you to develop balance and good posture. To make sure you're using the right size ball for you, sit on the ball and make sure your knees and hips are at a 90-degree angle.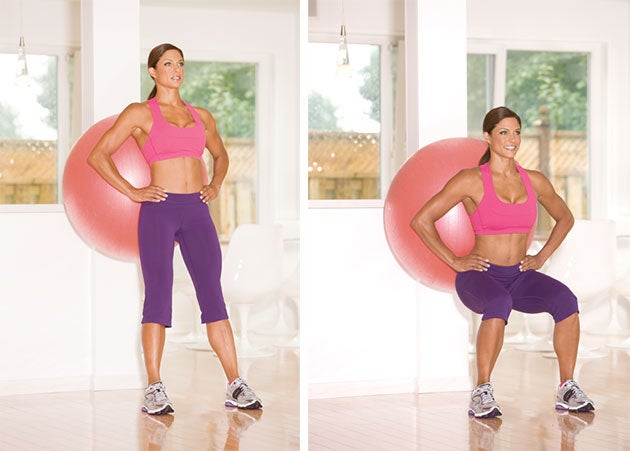 Setup: Stand with your feet hip-width apart with a stability ball between your lower back and a wall. With your hands on your hips, gently lean against the ball.
Action: Bend your knees and lower your body until your thighs are parallel to the floor, allowing the ball to roll down slightly. Hold for a count of five, then push into your heels to slowly return to the start position.
Beginner's Tip: Try to get into a squat a little at a time before bending your knees all the way. Lower your hips down toward the floor a little at a time until your confidence grows.
• Keep your eyes forward and weight against the ball at all times.
• When you push into your heels to get back up, press against the ball for more stability.
• Keep your feet forward throughout the move.
• The ball should always have contact with your lower back, even as it rolls down the wall when you squat.