Women Strong 2019: Erin Stern
This former Division I track athlete and two-time Figure Olympia and 14-time IFBB champion shares training, nutrition and lifestyle philosophies that have molded her into such a powerful role model for women.
Heading out the door? Read this article on the new Outside+ app available now on iOS devices for members! Download the app.
Meet Erin
Erin Stern is a two-time Figure Olympia champion, a 14-time IFBB champion, a self-coached lifetime natural athlete, and a former Division I track and field Junior All-American. Her mission is to educate, empower and enrich the lives of people through healthy living methods and sustainable athletic training protocols.
Stern strives to help others achieve balance, find happiness and uncover their own unique strengths. Stern is the author of three books — MPower Your Life (April 2015), The Bodybuilder's Kitchen (Alpha, April 2018) and Train Like a Bodybuilder (Alpha, July 2019) — and she is a sponsored Dymatize, MTI Biotech and TSI athlete. She says being strong is a choice — often a difficult choice — but like anything, when practiced over time, it becomes a habit.
Follow Erin: Instagram | Facebook | Twitter | YouTube
What It Means to Be a Strong Woman
Erin's Favorite Supplements
Morning: Dymatize L-Carnitine Xtreme
Preworkout: Dymatize PreW.O. — with 3.2 grams of CarnoSyn (handspun cotton candy)
Postworkout: Dymatize Glutamine (unflavored) + Dymatize ISO100 (fudge brownie)
Nighttime: Dymatize GABA powder and ZMA
Erin's HIIT Workout
Erin's Leg Workout
Erin's Plantain Pancakes Recipe
"Plantain pancakes are one of my go-to recipes for breakfast or for postworkout. Plantains are high in resistant starch, which can help regulate blood sugar levels and can help with digestion. They're also readily available year-round and are delicious," she says. "Since the plantain is starchy, it makes a perfect flour substitute. Egg whites and ISO100 pair perfectly with the plantain and provide muscle-building protein. For this recipe, I prefer pasteurized egg whites. It's easier to measure out, and the yolks aren't wasted. Simply add the ingredients to a blender and blend on high for two minutes. The mixture should be light and frothy."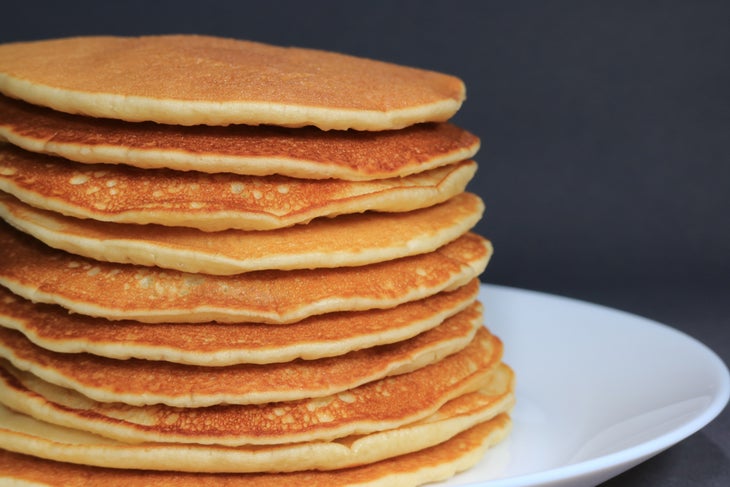 Ingredients
½ large plantain
½ cup liquid egg whites
1 scoop ISO100 (I like cinnamon bun)
½ tsp baking powder
½ tsp cinnamon
10 drops liquid stevia (optional)
Directions
Spray a skillet or griddle with nonstick coconut oil spray and set to medium. Pour batter onto griddle a ¼ cup at a time. You can set the oven to 250 F and place cooked pancakes in the oven to keep them warm, if you'd like.
Erin's Summer-Ready Tips
Erin's Favorite Workout Playlist
"The songs I have chosen all have great beats. Whether it's through the lyrics or the flow of each song, I feel stronger when I listen to these songs," she says. "I like how many of the artists are independent — it shows that you can be successful by sticking to your ideals and making your own way!"
Erin's Cool-Down Playlist
Want more Women Strong inspiration and guidance? Get to know our entire team of amazing athletes. Their stories are equally empowering, and they each openly share their strength, wisdom, compassion, and training advice!