Women Strong 2019: Nathalia Melo
This former IFBB Bikini competitor, Olympia champion and NFPT-certified trainer has a lot on her plate — including being a mother of two! Here, she shares her personal journey of resilience, as well as training and nutrition wisdom she's learned along the way.
Heading out the door? Read this article on the new Outside+ app available now on iOS devices for members! Download the app.
Meet Nathalia
As a former IFBB Bikini competitor, Olympia champion and mom of two small children younger than 3, Nathalia Melo has experienced all the extremes in fitness, from spending three or more hours in the gym to not even having 30 minutes to exercise.
The NFPT-certified trainer developed a forum — the Mother Strong League — to help moms feel strong and confident and find a happy balance through fitness, nutrition and family life. Melo is also a prenatal and postnatal certified trainer, and she lives in Texas with her husband and kids. She says she is not strong because she never fail. She is strong because she never gives up.
Follow Nathalia: Instagram | Facebook | Twitter
What It Means to Be a Strong Woman
Nathalia's Favorite Supplements
Dymatize PreW.O. (cherry watermelon): She takes this preworkout. "I also use it if I had a rough night with the kids!" she admits.
Dymatize ISO100 (chocolate peanut butter): She takes this anytime. "Shakes are great when time is limited and I can't get in a proper meal or when I feel like I am falling short on my protein intake for the day," she says.
Dymatize AmpliFire: "When I have a special event, I start taking AmpliFire a few weeks out to give me an extra push," she says. "I've noticed it makes me feel a bit less hungry, too."
Nathalia's Shoulder Workout
Nathalia's Nuts-About-You Protein Balls Recipe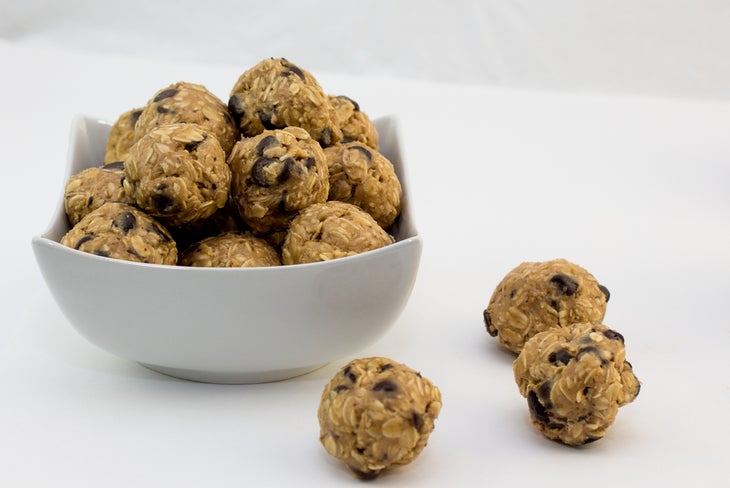 Ingredients
2 Scoops Dymatize ISO100 (vanilla)
2 cups old-fashioned oats
1 cup peanut butter or almond butter
½ cup honey
2 tbsp dark chocolate chips
Directions
Mix all ingredients in a bowl. At first, it might look a bit too thick, but just keep mixing it. You can use your hands to mix it all up, if it is easier for you. When all the ingredients are combined, roll them into little balls with your hands (it might get a bit messy). Place the balls in a container and then in the fridge for a few hours.
Nathalia's Summer-Ready Tips
Nathalia's Workout Playlist
"I love my workout playlist because each one of these songs are from a different stage of my life and somehow they bring me back there — to a place where I was either struggling and managed to overcome whatever the struggle was or they are from a period of my life of extreme happiness and motivation. … And remembering where I have been and seeing where I am now is definitely my daily motivation."
Nathalia's Relaxation Playlist
"I have to be honest here … I am not a person who 'relaxes' a lot!" she says. "My idea of relaxation is going to the gym and killing my workout or doing an hourlong Spinning class. However, sometimes when I am in my car and the kids are screaming in the back seat, I have to do something to not lose my mind and stay … relaxed (as relaxed as I can be given the circumstances. Ahaha). So that's when this playlist comes in handy."
Nathalia's Tips for Busy Moms
Healthy Snacks for Busy Families
Want more Women Strong inspiration and guidance? Get to know our entire team of amazing athletes. Their stories are equally empowering, and they each openly share their strength, wisdom, compassion, and training advice!