Women Strong 2019: Taylor Gallagher
This NASM-certified health and fitness coach defines strength, both physically and mentally. Here, Gallagher shares her positive mentality and killer training and nutrition tips.
Heading out the door? Read this article on the new Outside+ app available now on iOS devices for members! Download the app.
Meet Taylor
Taylor Gallagher is an NASM-certified health and fitness coach with 14 years of experience. She specializes in functional training, injury recovery and overall wellness. Gallagher is an IFBB pro athlete and medical diagnostic sonographer. She strives to help individuals who are recovering from injury and physical limitations, and she uses fun and creative ways to instill the importance of healthy living in adolescents. Gallagher also helps people of all ages reach their full potential through physical fitness, nutrition and mental strength. She believes being strong is an everyday mission and every woman owes it to herself.
Follow Taylor: @taylor_gall
What It Means to Be a Strong Woman
Taylor's Favorite Supplements
Dymatize All9 Amino (juicy watermelon): Take one scoop postworkout to replenish and recover. "My workouts involve high levels of cardio, and living in the Florida heat, I sweat a lot!" she says. "All9 Amino is great for recovery and building lean muscle."
Dymatize ISO100 (chocolate peanut butter): Take one scoop in the morning before work/training. "My mornings are early and time is limited, so I like to start my day with a shake using ISO100 to get in 25 easy grams of protein," she says. "It's a great way to get my metabolism going and gives me the energy I need to start my day."
Taylor's Core Workout
Taylor's Power Oats Recipe
"I love this breakfast (or late-night) recipe because it's quick and easy and fits my busy morning schedule," she says. "It's a great source of protein and carbs, and it really gets your metabolism cranking. It's super filling, low-calorie and a great start to any morning or finish to any late night."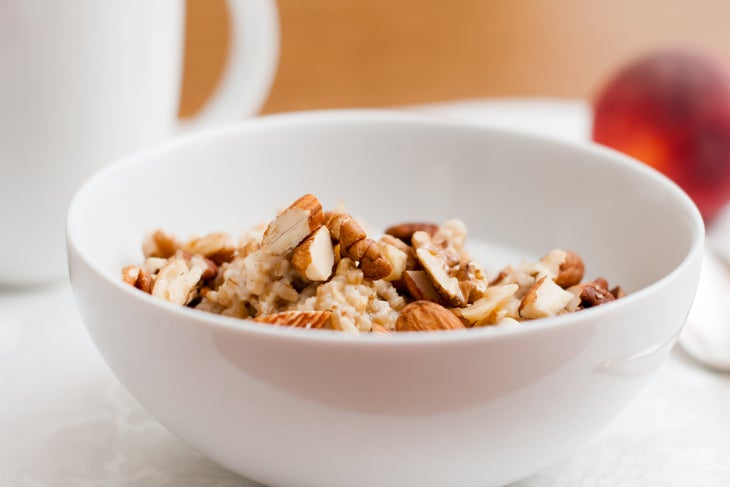 Ingredients
1 cup of steel-cut oats
1 scoop Dymatize ISO100 (cinnamon bun)
¼ cup of almond or coconut milk
handful walnuts (optional)
Directions
Boil 1 cup steel-cut oats. Add 1 scoop Dymatize ISO100 and ¼ cup almond or coconut milk. Top with walnuts.
Taylor's Protein Yogurt Recipe
Taylor's Summer-Ready Tips
Taylor's Motivational Playlist
"Music is something that can shift your mood in an instant! It's an amazing motivational tool that can take your day and your training to the next level," she says. "I chose this playlist because it has a wide variety of genres that can get me in a highly inspired state of mind. I love upbeat instrumental music when I'm dragging and trying to find that extra push. 2CELLOS is one of my favorite groups and gets me going every time!"
Taylor's Lifting and Cardio Playlist
"My lifting preference is a mix between rap, heavy metal and Latin music," she says. "We all need a solid list of a few songs that no matter the circumstance gets us going in a positive direction."
Taylor's Relaxation Playlist
"My cool-down relaxation music is some of my favorite. Ole Frank Sinatra and Adele can calm me down and help me reach a relaxed state," she says. "It's always nice to finish a tough workout with a cool-down session, deep stretch and a mental reset."
Want more Women Strong inspiration and guidance? Get to know our entire team of amazing athletes. Their stories are equally empowering, and they each openly share their strength, wisdom, compassion, and training advice!