Women Strong: Elspeth Dana Q&A
Building foolproof self-confidence and not worrying what other people think has fueled this NPC bikini competitor's success.
Heading out the door? Read this article on the new Outside+ app available now on iOS devices for members! Download the app.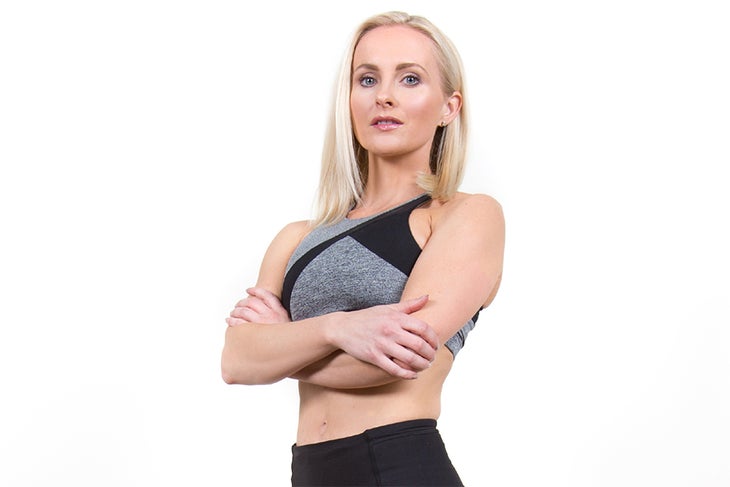 BIO
Name: Elspeth Dana
Hometown: Alton, New Hampshire
Current residence: Boca Raton, Florida
Birth date: July 7, 1986
Height: 5'
Instagram: @elspeth_katherine
Competitive status/division: NPC bikini
Oxygen: Were you athletic growing up?
Elspeth Dana: Yes, I've been very active my whole life — skiing, swimming, team sports, dance — you name it, I'll try it! I played softball through elementary and high-school years and volleyball from middle school through college. To this day, I still enjoy team sports and learning new skills. It keeps fitness fun.
Oxygen: How did you get into working out?
ED: Being active has always been a part of my life, but it wasn't until after college sports ended that I began working out in a gym. I started with group fitness classes and eventually built up the courage to try out the weight room. Fitness has helped me in so many ways. To be honest, I'm a pretty private person, very introverted, but fitness helps me break out of my shell. I was very shy growing up, but playing sports helped me find confidence, something that has continued through my adult life.
Oxygen: How did you become a fitness competitor?
ED: I sort of stumbled into the competition world of fitness. I worked at a gym while attending cosmetology school, and one of the trainers introduced me to the world of weightlifting. I signed up for her boot camp, and at the end of the eight weeks, she suggested that we all join her to compete in a fitness show. Clueless, I agree, but 10 years later, I'm still at it!
Oxygen: Have you ever encountered any road blocks during your career related to gender?
ED: As a female in this industry, I do not feel that I have ever been victimized, whether it be by another person or by my own insecurities. My journey over the past 10 years as a competitor, fitness model, fitness instructor and athlete have at times been hard but have given me lifelong lessons that have impacted all areas of my life. There are many times that I could've walked away, but instead of letting my failures defeat me, I became more resilient and persistent in achieving my goals. By staying positive and never letting the bad outweigh the good, I've allowed myself to continue to grow and stay motivated by the people and circumstances around me.
Oxygen: Did you have any strong female role models growing up?
ED: My mom. She always made me feel that nothing was out of reach. Even if she didn't agree with or understand a goal I was set on, she was there to support and cheer me on. That support has helped me to continuously chase goals and cultivate friendships that are as supportive as our relationship.
Oxygen: If you could give yourself any advice as a child what would it be?
ED: I would tell myself to be less self-conscious and not to worry what other people think. It's taken me a very long time to learn these lessons. I would tell her to never be afraid to take the big chances and never stop being a student — keep an open mind and always continue to learn.
Oxygen: If you could meet any female athlete in the world who would it be and why?
ED: I have two: Kerri Walsh [Jennings] because she is a true athlete and a class act, and Billie Jean King. I never played tennis, but she was a pioneer for female athletes and paved the way for more gender equality. It would be interesting to hear the point of view of a woman so brave and strong.
Oxygen: What is something that scares you that you are determined to overcome/try?
ED: Public speaking. It used to absolutely terrify me, but slowly it's becoming easier.
Oxygen: What is your favorite empowering quote?
ED: "It took me quite a long time to develop a voice, and now that I have it, I am not going to be silent." — Madeleine Albright.
Elspeth Dana shares the full story of how she got to where she is today — physically, mentally and emotionally — in the May/June issue of Oxygen on stands now. She also created a customized Women Strong workout exclusively for OxygenMag.com! Follow the slideshow or watch the video.