Koya Webb's Daily Go-To Recipes
To enhance your health, start each day with a green smoothie and end it with a kale salad.
Heading out the door? Read this article on the new Outside+ app available now on iOS devices for members! Download the app.
I believe that your body carries your soul and essence while you are on earth — so it's important to treat it right, and that means healthy food, regular exercise and a good amount of sleep.
Fifteen years ago, I realized that I felt so much better and more vibrant when I skipped processed foods and instead ate food from the earth. So even though I was raised in the South and taught to eat everything that was put in front of me, I transitioned to a vegan, plant-based diet to support my optimal health and the health of the planet — and I've never looked back.
For anyone who's looking to incorporate healthier eating habits into their lifestyle, I encourage you to bring more plant-based foods into your diet while also reducing the amount of processed foods you consume.
I love to cook for variety, special occasions or just because for friends — but there are two items I eat every single day: a smoothie and a salad. I find that a smoothie is the best way to mix vitamins, nutrients and deliciousness all in one glass. I'll have one for breakfast or as a snack or meal replacement, and I love to experiment with a mix of fruits, superfoods and protein powder. Oftentimes, I drink a green smoothie in the morning for an extra kick of energy to jump-start my day — I've included my go-to recipe below.
For lunch or dinner, I enjoy a salad because it's a great way to add more veggies to my day. I start with a base of leafy greens; my favorite is kale. Then I pick five or so vegetables (or mix it up with a combination of veggies and fruits), add some protein (such as lentils or nuts) and sprinkle on some seeds for a little crunch.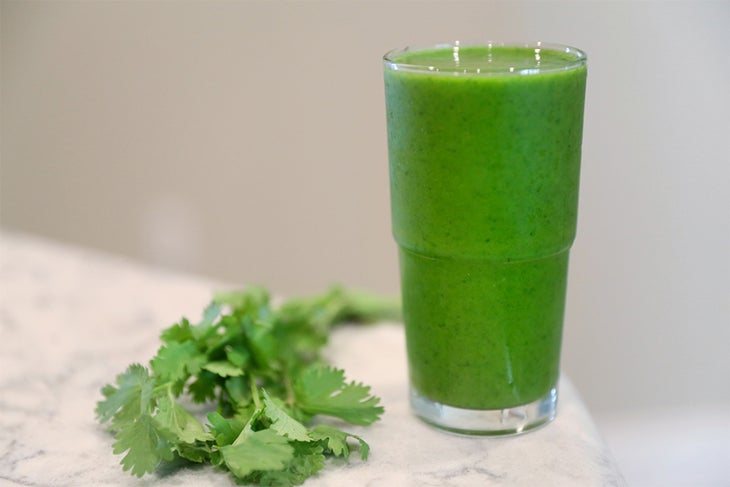 Green Machine Smoothie
INGREDIENTS
½ cup fresh red grapefruit juice
1 cup destemmed dinosaur kale
1 large sweet apple, cored and chopped
1 cup chopped cucumber
½ cup chopped celery
1 scoop natural or vanilla protein powder
¼ cup frozen mango
⅛ cup fresh mint leaves
3-4 ice cubes
DIRECTIONS
Juice half a large red grapefruit and add ½ cup grapefruit juice to a blender.
Add remaining ingredients and blend until smooth. (Add additional water if you want a thinner consistency.)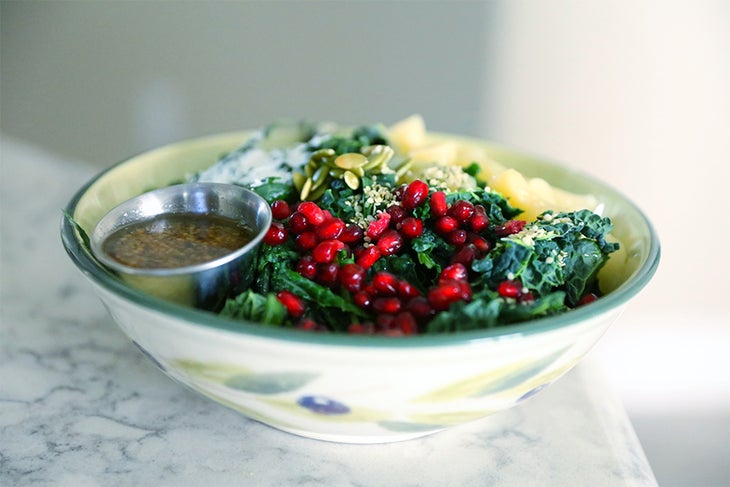 Quick Kale Salad
INGREDIENTS
5 cups curly kale
¼ cup dried cranberries
1 avocado, chopped and diced
½ cup shredded carrots
½ cup chopped and diced cucumbers
¼ cup sunflower seeds
1 cup chopped cherry tomatoes
½ cup shredded purple cabbage
Dressing
1 tbsp coconut oil
1 lemon, juiced
salt and pepper, to taste
2 tbsp coconut nectar or maple syrup
1 tsp balsamic vinegar
DIRECTIONS
In a bowl, mix salad dressing ingredients with a fork.
In a large bowl, prepare vegetables. Start by destemming and washing kale. Let dry.
Mix in the rest of the ingredients.
Top with dressing and mix together.
Could your strength and stamina use a boost? Are you looking for ways to better connect your mind and body? Let Koya Webb — an internationally recognized yoga teacher, holistic health coach, author, speaker and vegan activist — be your guide. She's partnered with Oxygen to create Wellness Warrior Workout, an exclusive six-week program that includes progressive workouts, weekly guided yoga flows, guided meditations, breathwork and mindfulness prompts. Plus, she's sharing more than a dozen of her favorite plant-based recipes. Sign up today!