A Beginners' Guide to Kettlebells
It's hard to deny the benefits of kettlebell training. Here's why kettlebells are a great tool to have in your training arsenal.
Heading out the door? Read this article on the new Outside+ app available now on iOS devices for members! Download the app.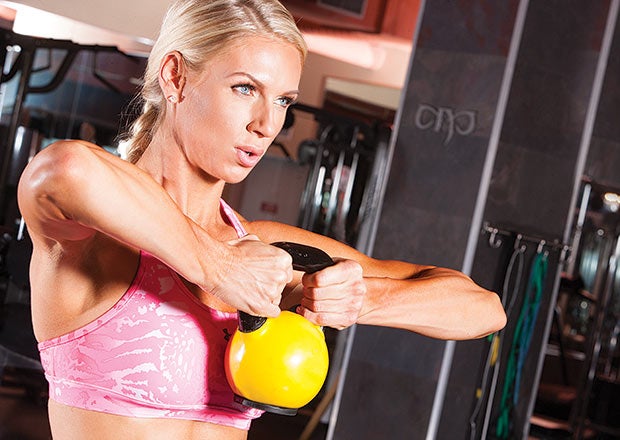 If you're one of the many still discovering kettlebells, here's the gist: a kettlebell is a cast-iron weight that provides cardiovascular, strength and flexibility benefits via ballistic movements (accelerating and releasing of the weight). It can seriously cut down on your gym time!
Work up a sweat with kettlebells and you can expect:
Increased endurance
Fat loss
Improved core strength
Firm and lifted glutes
Increased lean muscle mass
Gains in muscle strength
Greater flexibility, balance, coordination and stability
Improved sports performance
Like any piece of training equipment, kettlebells are only safe if used properly. When a kettlebell swing is done correctly, the inner stabilizing muscle of the core must fire properly to maintain the correct lower-back, trunk and neck posture, thus allowing the superficial core muscles – the abs and back – to safely perform the movement. If your core is too weak to complete the exercises properly, there's no benefit gained and your risk of injury is heightened.
Trainer Lauren Brooks, who is a Level 1 and 2 certified Russian Kettlebell Instructor, author of the book Kettlebells for Women and creator of The Ultimate Body Sculpt and Conditioning with Kettlebells DVD series, strongly recommends that first-time users consult a trainer – specifically, one certified in kettlebell training – before diving in. She even suggests that newbies begin by mastering the movements without a kettlebell. "The kettlebell is just an extension of the body. So first, learn all the exercises, and if that pattern is correct, you can graduate to adding the kettlebell," she explains.
Ready for the workout? Read Kettlebell Workout: Your Full-Body Burn.