A Sprintroduction
Erin Stern teaches you how to do your cardio in less time with sprint drills.
Heading out the door? Read this article on the new Outside+ app available now on iOS devices for members! Download the app.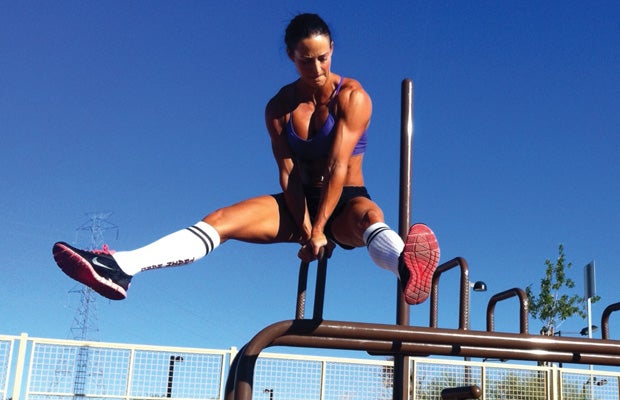 Since my college days, sprints have been a staple to my training program. I love the challenge of bettering my previous bests in endurance and speed. I feel that sprints can also improve the aesthetics — muscles that train together tend to flow together. Sprints take less time to complete than traditional cardio. The intense nature of the workouts increases excess post-exercise oxygen consumption (EPOC). EPOC is the scientific term for the afterburn effect. This means that you can burn calories up to 24 to 48 after you leave the gym. Sprint workouts also take less time than most traditional cardio workouts. Before beginning, here are a few things to keep in mind:
Choose a soft, level surface to run on. This can be a rubberized track or field. Try to avoid running on pavement, because it can be hard on your joints.
Workouts can be broken into 100-meter increments if you don't have access to a 400-meter track. This means you'll run 100 meters, take a timed break, and run again. A broken 400 is simply 4x100m.
It's important to build a foundation before sprinting all-out. This can be running a few 200- to 400–meter repeats (or ½ a lap to one full lap) at around 60 percent of your maximum speed, and building up from there. A good starting point is between 18 and 22 seconds per 100 meters.
Mechanics are important: Swing your elbows through your hips, drive your knees up to parallel and stay on your toes.
Spend time on warming up, doing sprint drills (see video below) and performing dynamic stretches. Some examples of dynamic stretches are leg swings, arm circles and any other movement that increases mobility without holding a stretch. Static stretching, like toe-touch holds or standing quad stretches, should be done after the workout. This routine will prevent micro-tears in the muscles, which can lead to pulling a muscle during a workout.
From the beginning, keep track of your times. You're looking for a steady improvement — and not to compare yourself to what others are running. If you're challenging yourself, you're getting a great workout.
A timer watch or GymBoss is helpful for pacing yourself.
Sprints can be done once or twice a week.
Two of my go-to workouts are 4x200m and 10x100m. For the 200-meter workout, the recovery should be a walk back to the start of the 200m, or around three minutes between sprints. The 10x100m can be done by running the straightaway and walking the curve.
If you're not able to make it to the track, or if you're working through an injury, sprints can be done in the pool or on a bike. The pool is great for improving speed, as water has 12 times the resistance as air. Either sprint in chest-deep water or use an AquaJogger flotation belt. I prefer the AquaJogger — it allows me to fully sprint without touching the bottom of the pool. Yes, it does look silly, but it's effective!
Bike sprints should be done at a challenging resistance, while keeping turnover as high as possible. Both bike and pool workouts should last a little longer than outdoor sprints. For example, an outdoor sprint might take 30 seconds. The equivalent on the bike would be closer to one minute to see the same results.
Recovery time between sets should be a little less, too. I like working off of ratios — 1:1, 2:1, etc. An example of 1:1 would be 12 sprints: one minute on, one-minute recovery and repeat. Or you might do 30 seconds on and 30 seconds recovery. A 2:1 ratio could be one minute on, 30 seconds recovery.
The time spent on the actual workout should be between 15 and 20 minutes. With a 10-minute warm-up and 10-minute cool-down, it should be less than 45 minutes total. We'll go over additional workouts and ways to maximize training next time!
Thank for reading, and train hard, y'all!
Change your life today. Join Erin's 90-day Challenge online course today!