Partner Workout: Get to the "Core" of It All
Every relationship needs a solid foundation. Practice these exercises as a couple to strengthen your core.
Heading out the door? Read this article on the new Outside+ app available now on iOS devices for members! Download the app.
You and your partner know the importance of a solid foundation in keeping your relationship strong. Likewise, in your health and fitness, a strong core is essential to allow your body to move effortlessly in the gym and throughout your day. More and more couples are seeing the benefits of living a healthy lifestyle together, and that includes exercise. So let's start on the right foot with some great partner exercises that you can do together to help build a strong core, the foundation to a healthy physique. Do these exercises together and you will both notice an improvement — in the gym and everywhere else.
| | | |
| --- | --- | --- |
| Exercise | Sets | Reps/Time |
| High-Five Plank | 4 | 30-46 seconds |
| Sit-Up Ball Pass | 4 | 15-20 reps |
| Partner Leg Toss | 4 | 10-12 reps |
| Partner Leg Circle | 4 | 30-45 seconds |
| Squatted Rotation Ball Pass | 4 | 10-12 reps |
Perform this core-strengthening workout with your partner in a circuit style for a real challenge!
High-Five Planks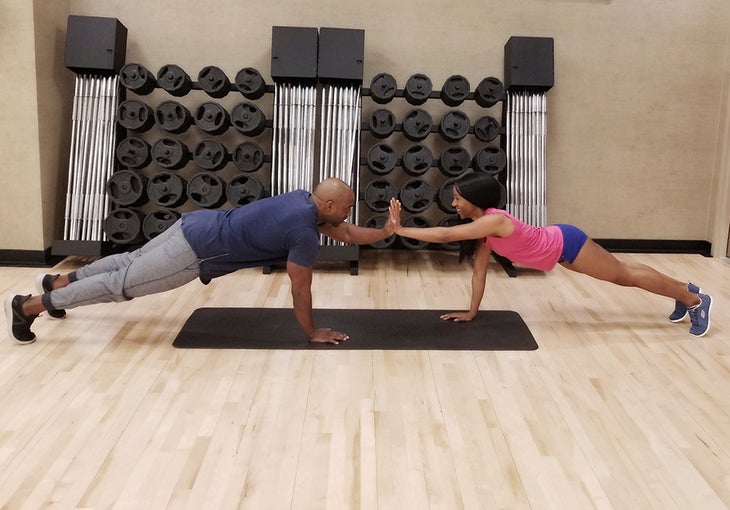 You and your partner start in a plank position facing each other. From here, alternate giving your partner a high-five with your right and left hands, all while maintaining a tight core in your plank position.
Pro Tip: Feel free to start on your forearms in the beginning until your core is strong enough for you both to hold the plank on your hands.
Sit-Up Ball Toss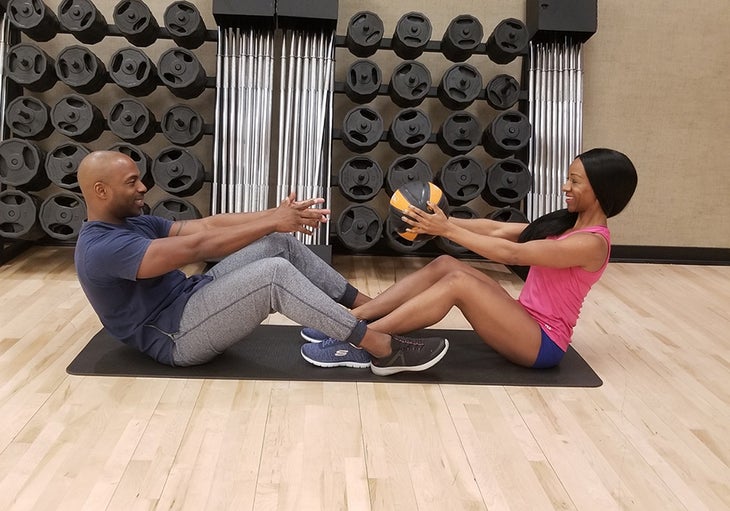 You each lie on your back with your knees bent. One partner has his legs between his partner's legs. The other partner starts with the ball in her hands over her head. As you come up into a sit-up, the partner with the ball tosses the ball to her partner. That partner grabs the ball, and both partners return to the starting position. Repeat this movement passing the ball to each other.
Partner Leg Toss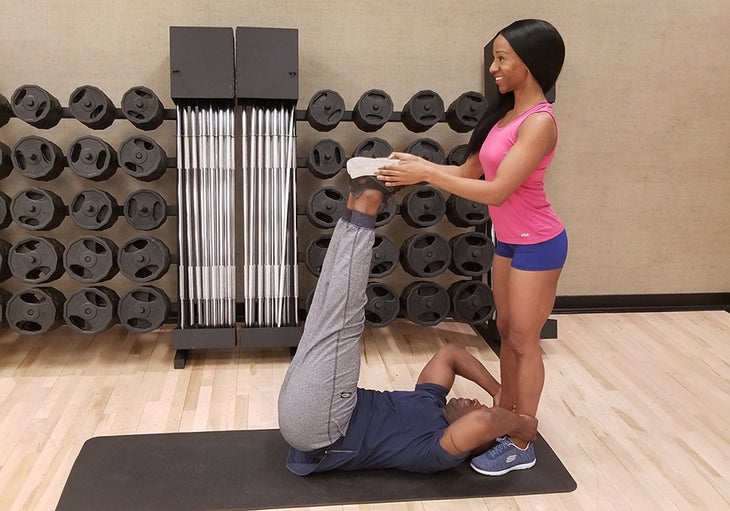 One partner lies flat on her back with both legs straight up in the air. The other partner stands facing his partner with his feet at his partner's head. The partner standing grabs his partner's legs at the ankles. The partner lying down reaches back and grabs hold of her standing partner's ankles. The partner standing and holding the ankles tosses his partner's legs down simultaneously. The partner lying down brings her legs down as far as she can, keeping her legs straight, and does not allow her legs to touch the ground. The objective is to use your core to bring your legs back up as quickly as you can. Repeat this move several times before switching with your partner.
Pro Tip: For the partner standing, feel free to toss the legs straight down in any direction to really work different angles of your partner's abs.
Partner Leg Circles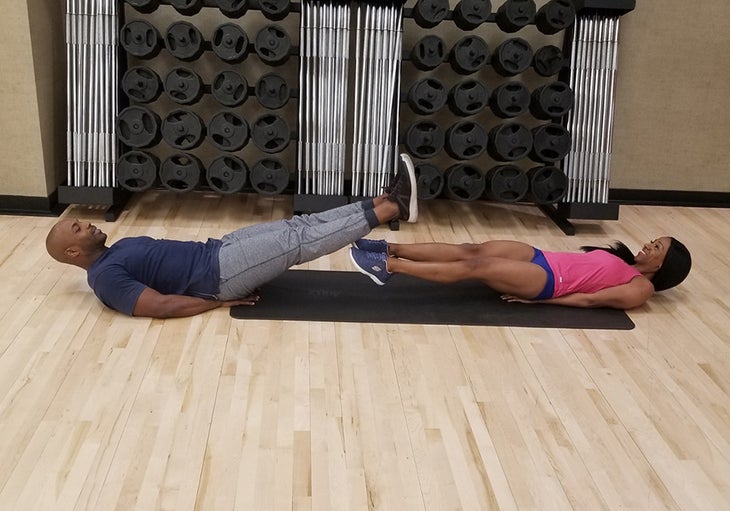 Lie on your backs across from each other with your legs extended out in front of you, with the soles of your feet almost touching. Place your hands under your glutes. Lift your legs straight up in the air and then lower them right to the point at which you feel your core engaged. From here, use your legs to create a circle going clockwise with your partner. One partner should be going clockwise while the other is going counterclockwise so your legs don't bump into each other. Make sure to switch directions with your partner halfway through.
Pro Tip: If you find this move too challenging to keep your legs straight, try bending your knees at a 90-degree angle.
Squatted Rotation Ball Pass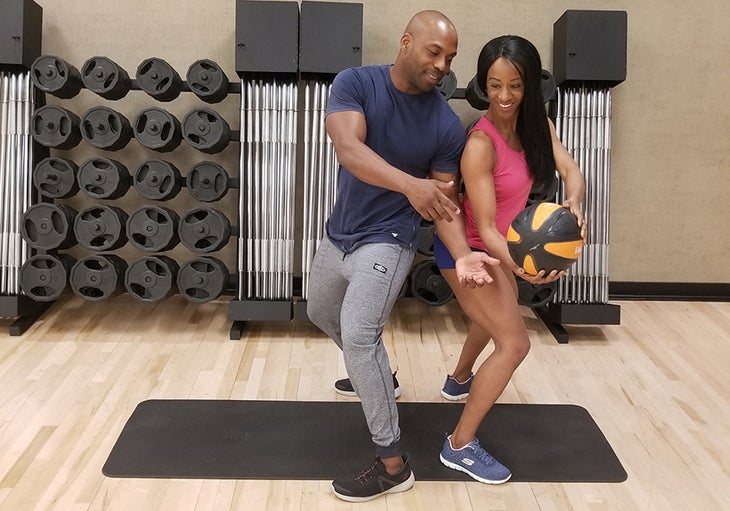 Standing back-to-back, drop down into a half-squat. Hold this position throughout the entire exercise. One partner will start with a medicine ball in her hand. Rotate from your upper torso and pass the ball to your partner on the right side, moving as quickly as possible. Then, halfway through, switch directions and repeat this movement.