Burn Fat With Treadmill Intervals
Try David Siik's precisely calculated treadmill system to engage your mind, preserve your joints and burn a ton of fat in less than half an hour.
Heading out the door? Read this article on the new Outside+ app available now on iOS devices for members! Download the app.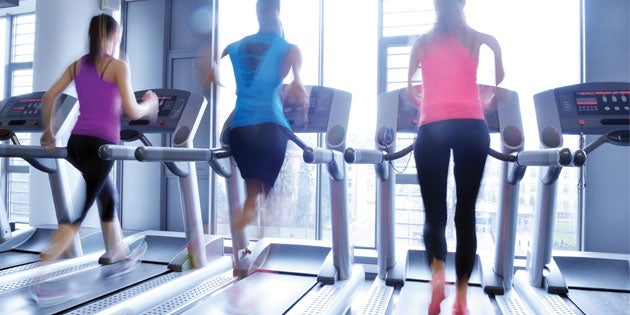 When you think of treadmills, you automatically think of algebra, said no one ever … except David Siik, creator of Equinox's Precision Running program and author of The Ultimate Treadmill Workout: Run Right, Hurt Less, and Burn More With Treadmill Interval Training (Adams Media, 2016).
"I was bothered that treadmill classes were popping up with zero concern for running science, so I developed a mathematical exchange between speed, incline and duration and came up with BITE — the balanced interval training experience," Siik says. "BITE is a complex pattern of intervals that are the most effective for strengthening your running, giving you the greatest fat burn with the least amount of stress on your body."
Siik worked out everything by the numbers, using an algorithm to calculate the correct speed, incline, duration and recovery on an individual basis. "The BITE method creates a buttery-smooth flow that at first glance looks like regular intervals, but when you try it, you're captivated by the composition," Siik says. "The flow is mathematically connected and feels different than other treadmill workouts."
Try his "evil twin" workout to see for yourself.
First, work out your PB — personal best — then do the speed calculation and plug in the numbers you come up with in the "your speed" column to the right. Then hop on the treadmill and take a BITE out of fat in less than 30 minutes!
Your one-minute personal best (PB)
This represents the top speed at which you can run for a minute. All BITE runs begin at an exact speed below this PB, taking all the guesswork out of your programming. "It will be exactly right for your ability every time," Siik says. This is what makes his program so effective, efficient and personal. If you don't already know your PB, either try it on the treadmill before beginning the workout or guesstimate the PB for your first try and make adjustments for next time according to your results.
BITE it off!
The Evil Twin Workout
Segment 1

Begin your run at 1.8 mph below your PB. So if your top speed is 9.0 mph, for example, then you begin at 7.2 mph. Do three sets of "twin" intervals with each one getting a little faster and a little shorter. Once you add speed to the interval (good twin), you maintain that speed on the incline (evil twin).
Segment 2

Repeat the first segment, but start at the speed you ended with for Segment 1, which should be exactly 1.0 mph faster. Your incline is a little less to balance out the increase in speed.
Segment 3

Now it's time to blend good and evil. Start on the speed you ended with for Segment 2, adding the speed of the good twin and the incline of the evil twin with each interval. By the last segment, you should be hitting your PB!
No Treadmill? No Problem!
Here's how Siik advises you to adapt his program outdoors:
Wear a watch with a timer so you can keep track of the intervals.
To monitor speed, simply increase to a perceived fast pace for the duration of the intervals.
To mimic the incline on the treadmill, find a hill that varies in steepness.
Easily monitor distance by training on a track. Bonus: Your incline is built in with the stadium stairs!
– Diane Hart