Killer High-Intensity Cardio Workout
Whether you're just starting on the road to fitness or you've been trotting it for years, we've got the perfect treadmill plan for you.
Heading out the door? Read this article on the new Outside+ app available now on iOS devices for members! Download the app.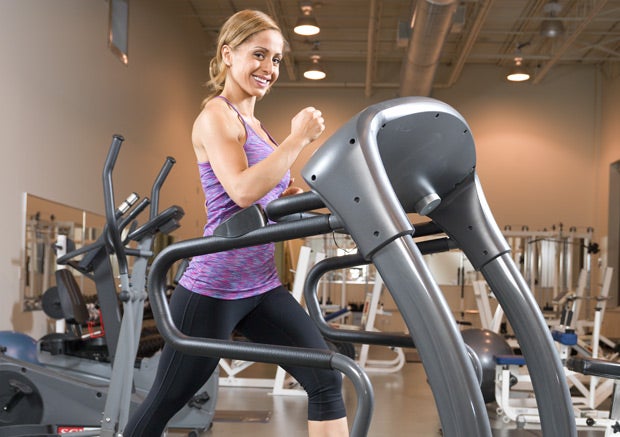 Those last few pounds just not budging? What you need is a brand new treadmill program, complete with high-intensity intervals to zap max calories in no time at all. Shocking your system with intermittent bouts of speed and effort will kick your metabolism into high gear, both during and after your workout.
Select the perfect cardio plan for you fitness level: you're a beginner if it takes you at least 20 minutes to walk a mile; you're intermediate if you can walk or jog a mile in 12 to 15 minutes; and you should try the advanced program if you can run a mile in 10 minutes or less. Do your program two to three times per week, balancing it out with one or two longer, lower-intensity programs.
Remember: These speeds refer to the preset levels on your machine; reduce the speed if you feel unsafe.
Safety note: For the sprint section (minutes 30 to 35 in the advanced program), stand with your feet on the side rails while you increase the belt speed. Support your body weight using the machine arms and start running on the belt; let go when your pace matches the belt speed. When your sprint interval is through, step onto the side rails to recover.
Beginner
| | |
| --- | --- |
| | |
| Time | Speed |
| 0–5 |  3.0 |
| 5–10 |  3.5 |
|  10–11 |  4.0 |
|  11–13 |  3.5 |
|  13–14 |  4.5 |
|  14–16 |  3.5 |
|  16–17 |  5.0 |
|  17–19 |  3.5 |
|  19–25 |  2.5 |
Intermediate
| | |
| --- | --- |
| | |
|  Time | Speed |
|  0–5 |  3.0 |
|  5–10 | 4.0 |
|  10–11 |  5.0 |
|  11–13 |  3.5 |
|  13–14 |  6.0 |
|  14–16 |  3.5 |
|  16–17 |  6.5 |
|  17–19 |  4.0 |
|  19–20 |  6.5 |
|  20–22 |  4.0 |
|  22–23 |  7.0 |
|  23–25 | 4.0 |
|  25–30 |  3.0 |
Advanced
| | |
| --- | --- |
| | |
| Time | Speed |
|  0–5 | 3.0 |
| 5–10 | 5.0 |
| 10–11 | 5.5 |
| 11–13 | 4.5 |
| 13–14 | 6.0 |
| 14–16 | 4.5 |
| 16–17 | 7.0 |
| 17–19 | 4.5 |
| 19–20 | 8.0 |
| 20–22 | 4.5 |
| 22–23 |  8.0 |
| 23–25 | 4.5 |
| 25–30 | 5.5 |
| 30:00–30:30 | 8.0–9.0 |
| 30:30–31:00 | Rest |
| 31–35* | Repeat the sprint intervals from 30–31 four times |
| 35–40 | 3.0 |