Total-Body Dumbbell Circuit
When time is tight, use these four exercises to get a whole-body workout.
Heading out the door? Read this article on the new Outside+ app available now on iOS devices for members! Download the app.
Do you always have a defined plan of action before you go to the gym? Despite your best intentions, there will always be times when planning gets cast aside and you are forced to come up with a workout on the spot. There is nothing wrong with walking into the gym without a defined plan. It can even lead to discovering new and effective exercises, but spending 20 minutes figuring out what you feel like doing is a waste of time.
Here is a simple, easy-to-remember plan for when time is short but you want to accomplish more than just breaking a sweat. This total-body dumbbell circuit trains all the major muscle groups and movements of the body in only four exercises. Repeated four to five times, it is a strong metabolic stimulus, working the short- and long-energy systems of the body, as well as training the muscles for endurance when fatigued.
"The Power of Four" Total-Body Workout
• You'll need one pair of 10- to 20-pound dumbbells, depending on your current strength level.
• Perform each exercise for a full 30 seconds, aiming to complete as many repetitions as possible.
• After completing one exercise, move on to the next. Rest 10 to 20 seconds in between.
• Upon completing one circuit, rest as long as needed for adequate aerobic recovery.
• To determine recovery, take deep breaths after each complete circuit and try to breathe through your nose. When your heart rate has dropped enough to be able to nose breathe only, you are ready to begin the next round.
Simultaneous Standing Shoulder Press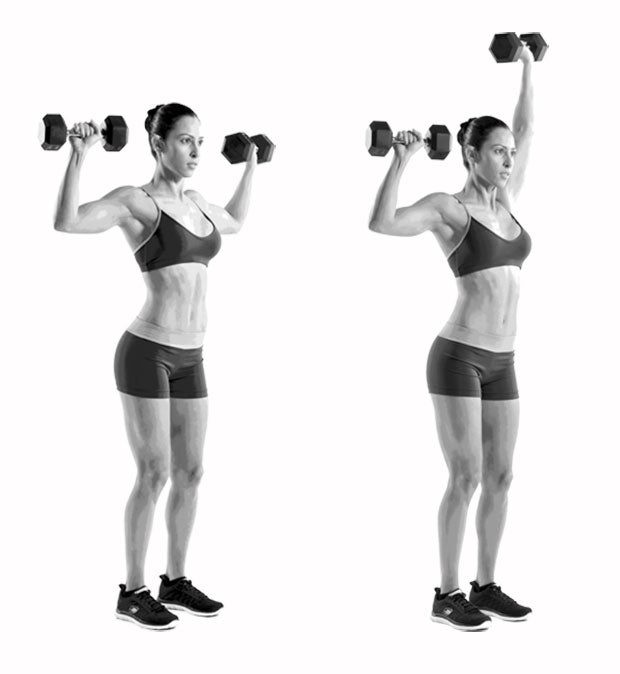 Muscles worked: deltoids, triceps and core
Start with holding a pair of dumbbells at shoulder level. Press the left-side dumbbell overhead until the elbow is almost locked out. As you lower the left dumbbell, press the right overhead. Repeat back and forth for reps, with one side lowering while the other side is pressing.
Tip: Create a slight bend in your knees and keep this position fixed for the entire movement. Do not dip down and use your legs to help drive the weight overhead.
Alternating Reverse Lunge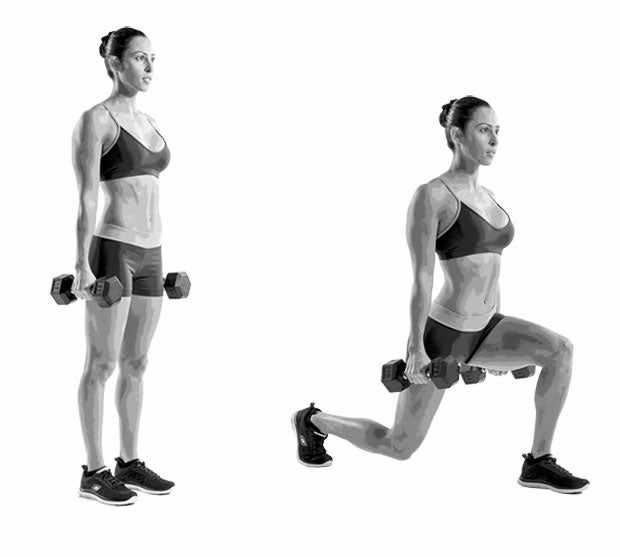 Muscles worked: quadriceps, glutes, hamstrings and core
Hold a pair of dumbbells at the sides of your body and let them hang at arms' length. Begin by taking a long step backward with the right leg and descend until the knee is 2 inches above the floor. Return to a standing position, then step backward with the left leg.
Tip: Keep the front foot firmly planted, and do not rush the movement and lose your balance.
Bent-Over Alternating Dumbbell Row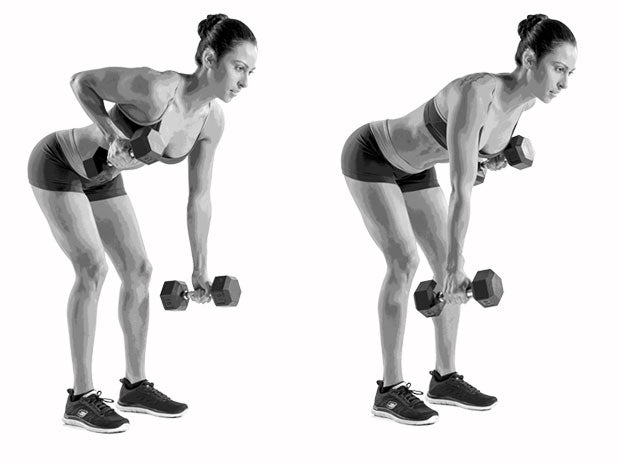 Muscles worked: upper back and midback (rhomboids and spinal erectors)
Hold a pair of dumbbells at the side of your body and let them hang at arms' length. Shift your hips backward, hinging at the waist and allowing the torso to tilt forward. Sit back until your upper body is at an approximate 60-degree angle with the ground. Let the dumbbells hang toward the floor, but be sure not to let your back round. From this position, pull the right-handed dumbbell to your waist. Hold it for a beat and then lower it back down. As it descends, pull the other dumbbell to your body.
Tip: Visualize pulling back with your shoulder blades and getting your elbow in line with your torso.
Dumbbell Burpee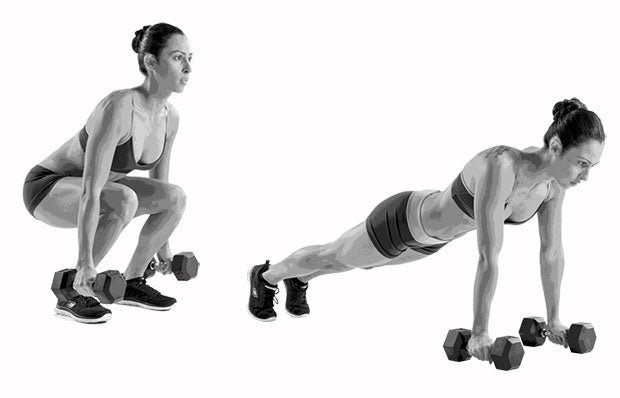 Muscles worked: glutes, hamstrings, quadriceps and core
Starting from a standing position with the dumbbells at your sides, shift your hips backward and drop down into a low squat. Keep your chest erect and the natural curve in your lumbar spine. Place the dumbbells on the floor about shoulder-width apart and then kick your feet back into a plank position with your hands supported by the handles and your shoulders directly over your wrists. Jump your feet toward your hands, landing back in a squat. Still holding the dumbbells, begin to rise and transition into a vertical jump, keeping the weights at your side the whole movement. Land softly and repeat.
Tip: The dumbbell burpee is best done with hex-style dumbbells that won't roll when placed on the floor.