Run For The Gold With Allyson Felix
Oxygen sat down with 3-Time Olympian and 6-time Olympic medalist Allyson Felix to get the inside scoop on preparing for the Olympics.
Heading out the door? Read this article on the new Outside+ app available now on iOS devices for members! Download the app.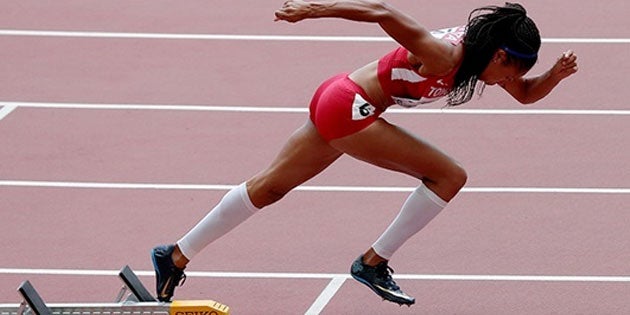 Whether you're a running fanatic or not, you can't help but appreciate the Olympic track and field events for their raw, unbridled power and crazy speed (plus, those bodies!!) Three-time Olympian and owner of one such killer bod, Allyson Felix, sat down pre-Rio to chat with Oxygen about her preparation for these, her fourth Olympic games, as well as a few personal details you won't get anywhere else!
Bonus: A mini workout created by yours truly in the spirit of Allyson's training to help you earn your own gold-medal glutes! Scroll down to get a good butt kicking!
Oxygen Magazine: Do you prefer the individual or team [relay] events?
Allyson Felix: I like both of them. The individual events are more special — you're out there by yourself and so it's all on you to get it done; those are more true to track and field. But the relays are so much fun! You're there in the Olympic Games and it's all about coming together with other people. That's so rare in our sport and that is why those are special.
Oxygen: What is your all-time favorite race?
AF: I would have to say the London 2012 Olympics in the 200 meters when I was able to win gold. It was a race that represented so much of my journey because I had missed the gold medal in two previous Olympics, so for everything to finally come together was great.
Oxygen: What is the best advice any coach has ever given you?
AF: To be patient. I think any time you do things [and train] the right way, it can take a long time. Patience is something that athletes hate to hear, but that's probably the best advice I've ever been given.
Oxygen: What is the best advice your mom/dad has ever given you?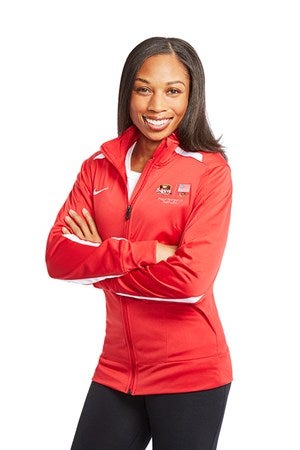 AF: To remember who I am, to remember how I was raised, to stay grounded, to stay humble and never forget where I came from.
Oxygen: What keeps you motivated on days you don't want to train?
AF: My goals — thinking about what I want to accomplish and knowing that in order to accomplish it, I have to get that work done. Also my competitors motivate me, because I know that they're working hard and I can't slack off if I want to be better than they are.
Oxygen: What is your training schedule like coming into Rio?
AF: I'm training about five hours a day. Five to six days a week I spend three hours on the track doing tempo or speed work, take a break, and then four days a week I spend about two hours in the weight room where I focus on my whole body.
Oxygen: What gym exercises do you use to supplement your running?
AF: Plyometrics and explosive power is always going to make you faster. So any type of jump — box jumps, box hops, angle jumps — are great training. Also, being in the pool is a great alternative when your body's feeling beat up — you can still get a lot done in there.
Oxygen: What do you do for recovery?
AF: I use ice baths, massage and chiropractic work to keep my body recovered. I also carry a foam roller, a stretch rope, a softball to massage my hamstrings and a lacrosse ball for my feet. I guess I have quite a few gadgets [laughs]!
Oxygen: What is your favorite race day food to eat?
AF: Oatmeal is my go-to, wake-up-and-start-my-day food.
Oxygen: How hard is it to eat when you're overseas?
AF: It can be challenging, for sure. I LOVE, of course I love, local food and to take part in the culture. But if I'm staying in a home then I will definitely cook for myself, and my coach is an amazing cook, so he cooks as well.
Oxygen: What are you looking forward to most about Rio?
AF: Of course, competing, I think that goes without saying, but also the whole Olympic experience. I love the opening ceremonies, I love everything that the Olympics has to offer, and I love being a fan of other athletes and watching and supporting them.
Oxygen: Anything else to add?
AF: This summer I've partnered with Folgers on their #OneCupAtATime campaign, which celebrates the coaches in our lives who have helped us achieve our goals. It's really cool to celebrate the influential people in my life, and though there are so many people I could talk about, I'll talk about my mom. She is that pillar of strength in my life — whether I win or I lose, and even if I never run again — her love and her support won't change. I definitely saw that this year when I was dealing with an injury; she was there for me around the clock, helping me ice and going to doctor's appointments – whatever it was, she was that person. I think a lot of times people who are in that support role are overlooked, so I'm happy to be able to celebrate her with this campaign.
Watch Allyson Felix compete on August 19th in the 4 X 400 relay on NBC.
Allyson Felix: Award winning stats
Olympic appearances: 2004, 2008, 2012, 2016
Olympic meals earned (so far!): 4 gold, 2 silver
PR 100 meters: 10.89 (2012)
PR 200 meters: 21.69 (2012)
PR 400 meters: 49.26 (2015)
World record: 40.82 in the 4 X 100 meter relay
Oxygen's Gold-Medal Glute Routine
Get off your duff and head to the gym or the track. Do a 5- to 10-minute warm-up that includes some light cardio and some dynamic stretches that target the lower body, hips and core, and get to it. The first three moves are warm-ups and movement prep exercises, the next three are power plyos and the final move is sprint — pull out all the stops here and earn your medal!
| | | |
| --- | --- | --- |
| | | |
| Exercise | Sets | Reps/Distance |
| High Knees | 2 | 50 yards |
| Butt Kickers | 2 | 50 yards |
| Pogo Hops | 2 | 50 yards |
| Vertical Jump | 2 | 5 |
| Broad Jump | 2 | 5/td> |
| Speed Skater | 2 | 10 each side |
| Sprints | 4 | 50–100 meters |