The Shoulder Exercise You Need to Push Past Strength Plateaus
If you've tried every trick in the book but can't seem to get past a shoulder strength plateau, this is the move for you.
Heading out the door? Read this article on the new Outside+ app available now on iOS devices for members! Download the app.
Have you tried every exercise you could find in pursuit of shoulder strength and definition, yet find yourself stuck on a plateau? Maybe you're doing delt raises, military presses, Arnold presses, barbell presses, push presses and more and physically can't increase the load any more while keeping good form. If you're wondering when that shoulder definition is going to show up or when you'll break through your strength plateau, we don't blame you.
For better overall shoulder strength, the secret lies in also training your core and shoulder stabilizers. And while planks are great for core stabilization, training shoulder stabilizers is a bit elusive. There are 10 major shoulder stabilizer muscles, and they all have different actions. 
The good news is you don't need to add 10 different exercises to your shoulder-day routine. Instead, there's one simple exercise that will help you immediately break through your plateau. This exercise will also serve as a great shoulder muscle activation warm-up for any workout, and it's an exercise no one showed me until years into my sports physical therapy career!
So, What's the Move?
It is known as the sphinx. All you need is a light workout band, or even just a hand towel.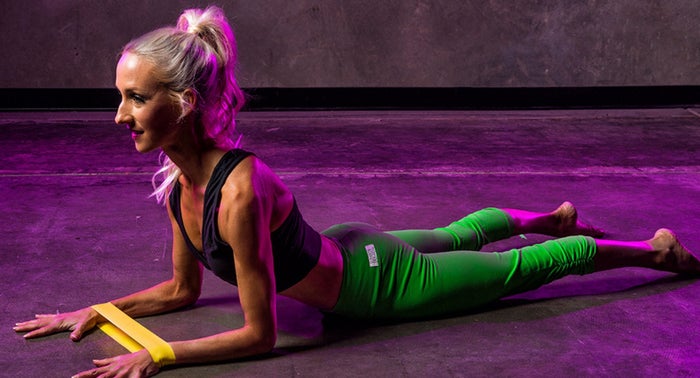 Here's how to perform the sphinx:
Step 1: Starting Position
Put your band or towel in one hand so you can reach it, then lie face down. 
Step 2: TV-Watching Position
Prop up on your forearms like a kid watching TV. Your elbows should be directly under your shoulders, and the fronts of your thighs should be on the floor. If this position is uncomfortable, you could stand facing a wall as if you are doing a plank on the wall. The exercise does not require you to arch your lower back. 
Step 3: Hand Placement
If you're using a small loop band, place it around the outside of your hands. If you're using a non-loop band or a towel, place your hands on it at shoulder-width.
Step 4: Gentle Band Pull
Without changing your grip on the band or towel, gently pull your hands away from each other. The distance between your forearms should not change more than a centimeter. Extra movement is not better. Like a plank, this is an isometric exercise; this means that you activate muscles without adding motion. 
Step 5: Engage Your Forearms
Now that you have the band in a gentle pull, actively press your forearms lightly into the floor or wall to help keep space between your shoulders and ears. Feel how some of the muscles in your shoulders engage.  
Step 6: Hide Your Heart
Maintain this position as you draw the center of your chest into your upper back, as if you are trying to hide your heart in your spine. This will allow your upper back to slightly round as your shoulder blades glide away from each other. This motion is different than shrugging. In this exercise you want to keep space between your shoulders and ears, instead of allowing your shoulders to elevate.
Your gaze can be at the wall in front of you, or directed toward the band or towel. Choose the focus that is most comfortable for you. 
Step 7: Active Hold
Actively maintain the position by continuing to press the forearms into the floor while you give the band or towel a gentle pull. Hold the sphinx position as long as you can, or up to 1 minute max. 
Get to Lifting!
That's it! The sphinx activates important muscles like the rotator cuff and a major muscle called serratus anterior, which secures your shoulder blades onto your ribs. Activating these muscles pre-workout helps your nervous system know that more muscles are available and primed for the lifts that follow. 
As you head back to your weights, try increasing by 1-2.5 lbs. Try to consciously feel the muscles you just activated as you recruit them to stabilize your lift. 
Pro tip to help you feel the stabilizer muscles as you lift: As your arms approach 90 degrees on a delt raise or overhead lift, think of the tips of your shoulder blades trying to move away from each other toward the sides of the room as you allow your mid back to expand. 
If shoulder strength or physique is your goal, help break your weight lifting plateau by doing the sphinx before each workout. Activating key shoulder stabilizer muscles pre-workout lets your brain know that there are more muscles available to safely help you surpass your strength plateau.