How to Prepare for a 10K
Learn how to fine-tune your fitness routines in the weeks before a 10k race.
Heading out the door? Read this article on the new Outside+ app available now on iOS devices for members! Download the app.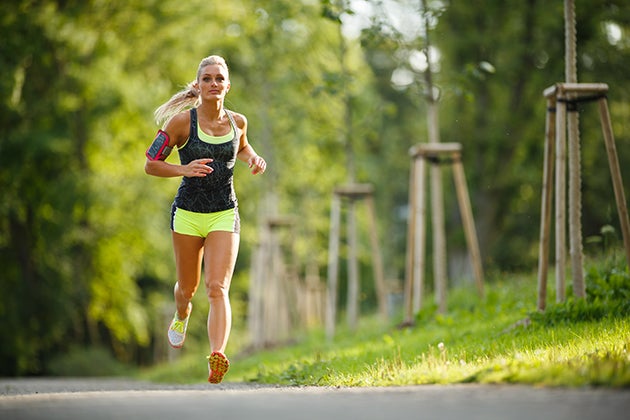 You did it. After countless hours in the gym running on a treadmill and weight training for stronger legs, you pulled the trigger and signed up for that 10K race. You're thrilled, and rightly so. But there's more to race prep than just getting in the miles — you need a well-rounded holistic approach so you can cross the finish line without being finished. The month leading in requires 100 percent commitment to be your best, and it's the recovery, "prehab" and overall lifestyle that will make (or break) you.
What's A Taper?
A true taper takes place over the course of two to six weeks after long-duration training. The taper is all about managing fitness and fatigue. It usually entails a gradual decrease in volume to reduce fatigue and allows you to peak at the appropriate time (race day). The workouts are shorter in duration but still include bouts of intensity (usually at goal race pace) to prevent you from getting "stale." There are also race simulation workouts cushioned by more recovery than seen in a base or build phase.
See AlsoHow To Pick The Right Training Shoe
In four weeks of preparation, you simply rest and freshen up the body the last week. Keep in mind: The exact structure of race week is dependent on whether it's a Saturday or Sunday race.
Be Good To Yourself
While the training is important to prepare the body for the race ahead, the recovery protocol is equally important. You cannot afford to drill your body into the ground day after day hoping to still be 100 percent (or simply walking) on race day. In the month leading up to your race, you should follow "microcycles" of one to two key training days followed by one to two recovery or rest days. Those rest days are structured to be super easy — don't cheat yourself by going too hard.
6 Steps To A Perfect Race
1. Sleep: Get at least eight to 10 hours per night. Ditch screen time in favor of quality sleep. Turn off Wi-Fi at night, block out your bedroom windows and power off all devices with digital lights in order to create a pitch-black room with no artificial light.
2. Diet/Nutrition: Clean eating is paramount for survival. Carb up around training times (mostly post-training). But it can be beneficial to be relatively low carb on most days and for certain workout sessions because that can help develop metabolic efficiency for better performance. Low carb (or no carb) can lead to poor health, higher injury risk and poor performance, including the inability to reach higher intensities.
3. Sports Nutrition: Depending on the length of your race, you may need nutrition during the event. It is important to practice this in your training (the longer weekend workouts especially) to train your gut to handle calories while exercising. Additionally, hydration is crucial in training and racing.
4. Supplements: In most cases, the supplements you take should be based on your unique needs. (How do you know what your needs are? Talk with your doctor.) But there are some standard supplements that will do you well: fish oil in triglyceride form to fight inflammation (increase to up to 5 grams two weeks before race day), an amino acid, vitamin D (1,000 to 4,000 IU), magnesium, a probiotic to keep the gut happy and a trusted multivitamin for insurance. Creatine may help, too.
5. No Stress: Clear the calendar, get organized, create a schedule for increased efficiency, and notify work and your family of what's up the next four weeks. Do everything you can to avoid any "fires" that will need "extinguishing" — this includes things out of your control but also those things in your control, like your mind. Your mental game must be strong, and you can't be worrying, stressing or second guessing at any point — this literally kills your fitness.
6. Recovery Tools: Schedule massage appointments (up to two times a week, if possible), employ active recovery such as yoga into your routine and foam-roll daily.