The 30-Minute Dumbbell Power Workout
This full-body dumbbell-only workout is fast and furious.
Heading out the door? Read this article on the new Outside+ app available now on iOS devices for members! Download the app.
If you're short on time, equipment, or both, I have something spicy for you. This full-body, dumbbell-only workout is fast and furious and keeps your heart rate and engagement high.
Dumbbells are so versatile and extremely functional, allowing for range of motion in several planes. Dumbbells also allow for full-body compound movements, even when you only have a few weight options.
The Warm Up
| | | |
| --- | --- | --- |
| Exercise | Sets | Reps |
| Shoulder Taps | 2 | 20 |
| Up Downs | 2 | 10 |
| High Plank | 2 | 20 seconds |
| Tempo Air Squats | 1 | 33 seconds |
Move through this warm up for quality, not speed. In the plank, make sure you keep your midline in neutral while pushing through the ground and squeezing your shoulder blades together.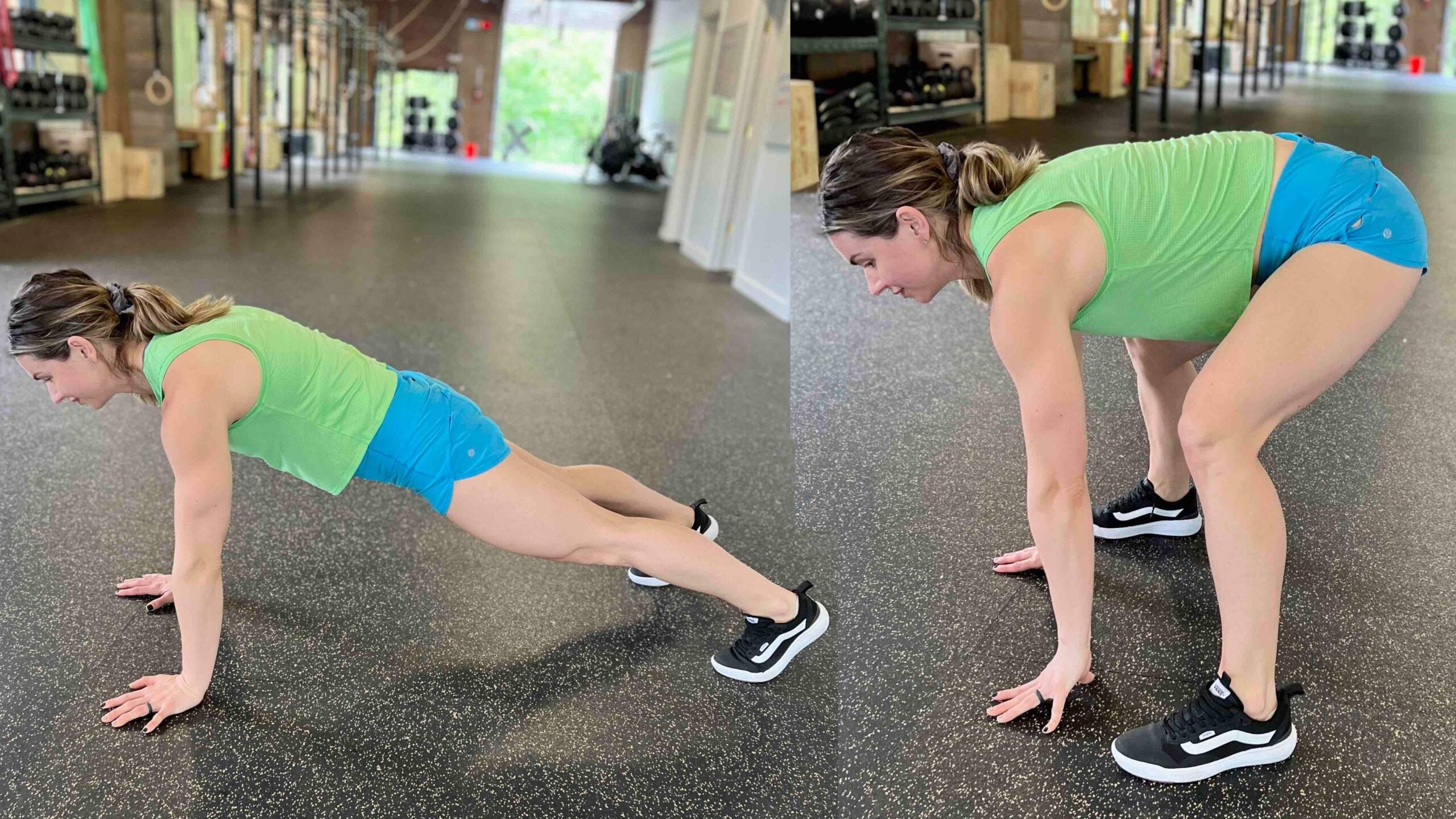 Perform the shoulder taps in the same manner, keeping your hips square to the ground. If you cannot do this without opening your hips, raise the surface to a bench, box, or even counter height.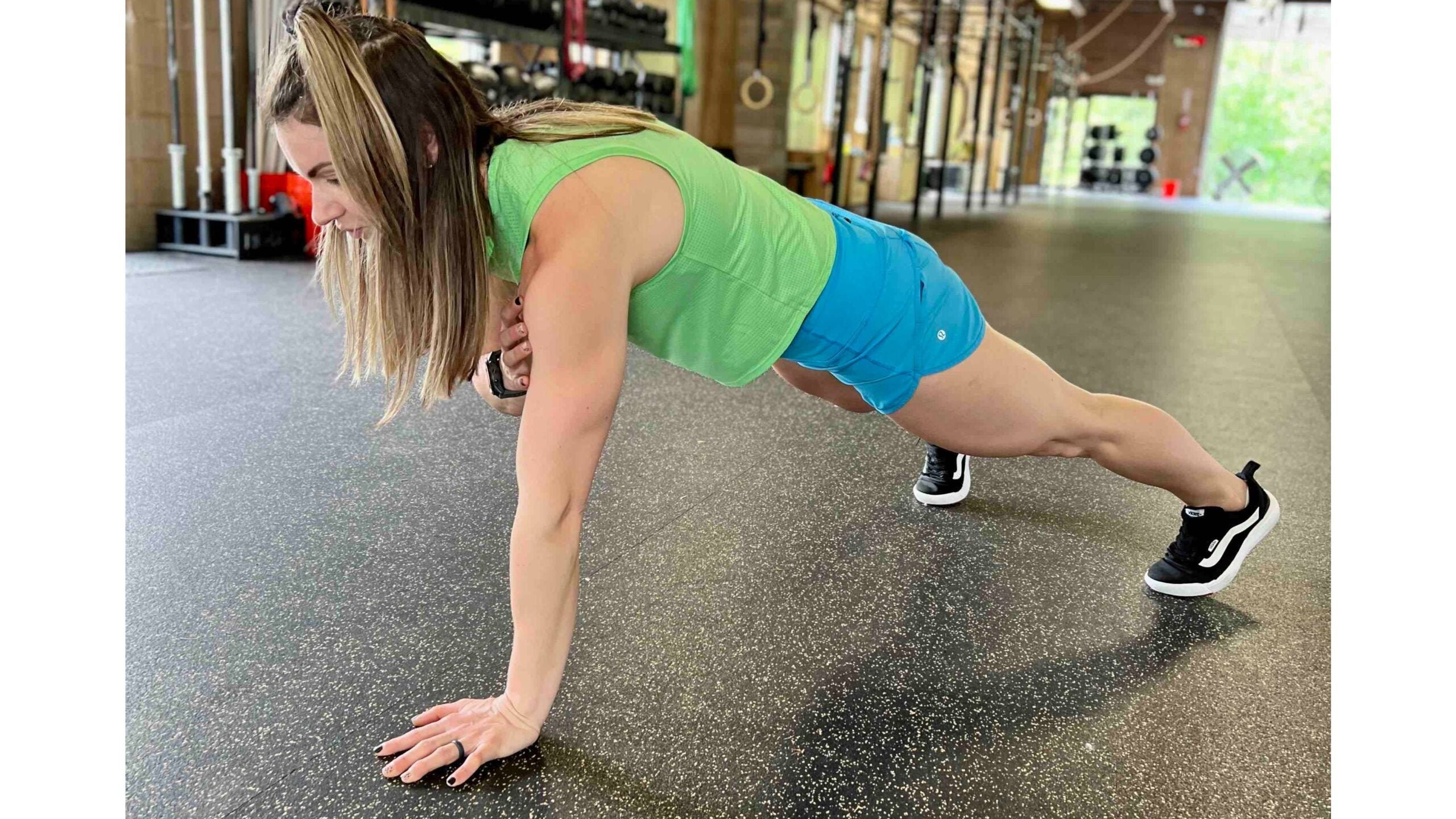 Move through your full range of motion on the tempo squats pausing in the bottom for three seconds and standing up all the way at the top fully opening your hips.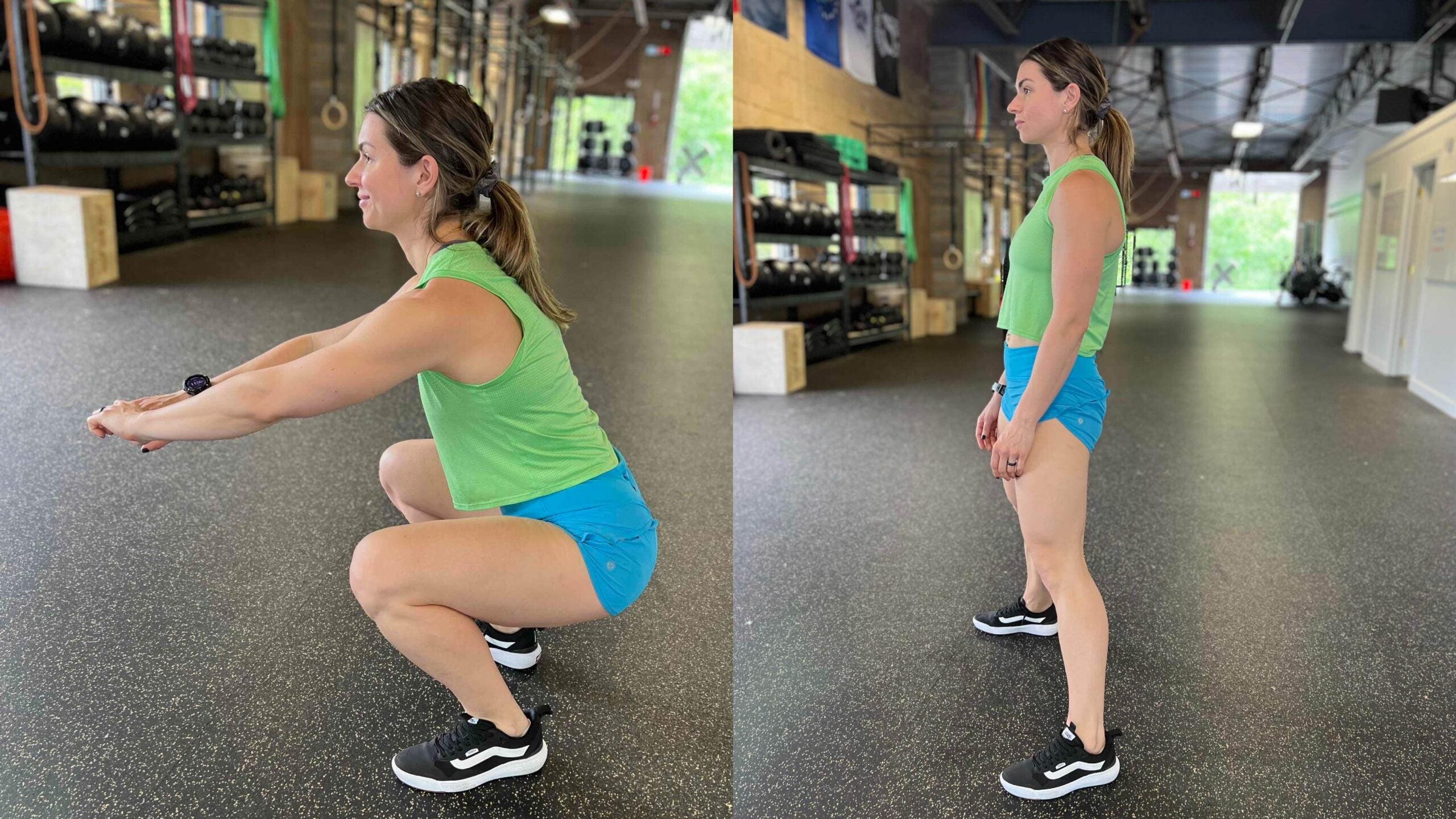 Strength Workout
Rest 30-60 seconds between sets.
| | | |
| --- | --- | --- |
| Exercise | Sets | Reps |
| Dumbbell Reverse Lunge | 4 | 12-15 per leg |
| Heel-elevated Goblet Squat | 4 | 18-20 reps |
| Wall Sit | 4 | 45-60 seconds |
Move through these lower-body exercises quickly, taking no more than 60 seconds of rest between sets. This should keep your heart rate high while allowing you to push the rep range to close to failure in order to build muscle.
Choose weights that allow you to keep no more than 1-2 reps in the tank. If your dumbbells are not heavy enough to accomplish this, increase the rep range to achieve this.
When completing the reverse lunges, keep your knee stacked over your ankle and perform a light controlled tap of your back leg to protect your joints. If your knee travels forward over your ankle, this could cause some pain/ discomfort in the front of your knee cap.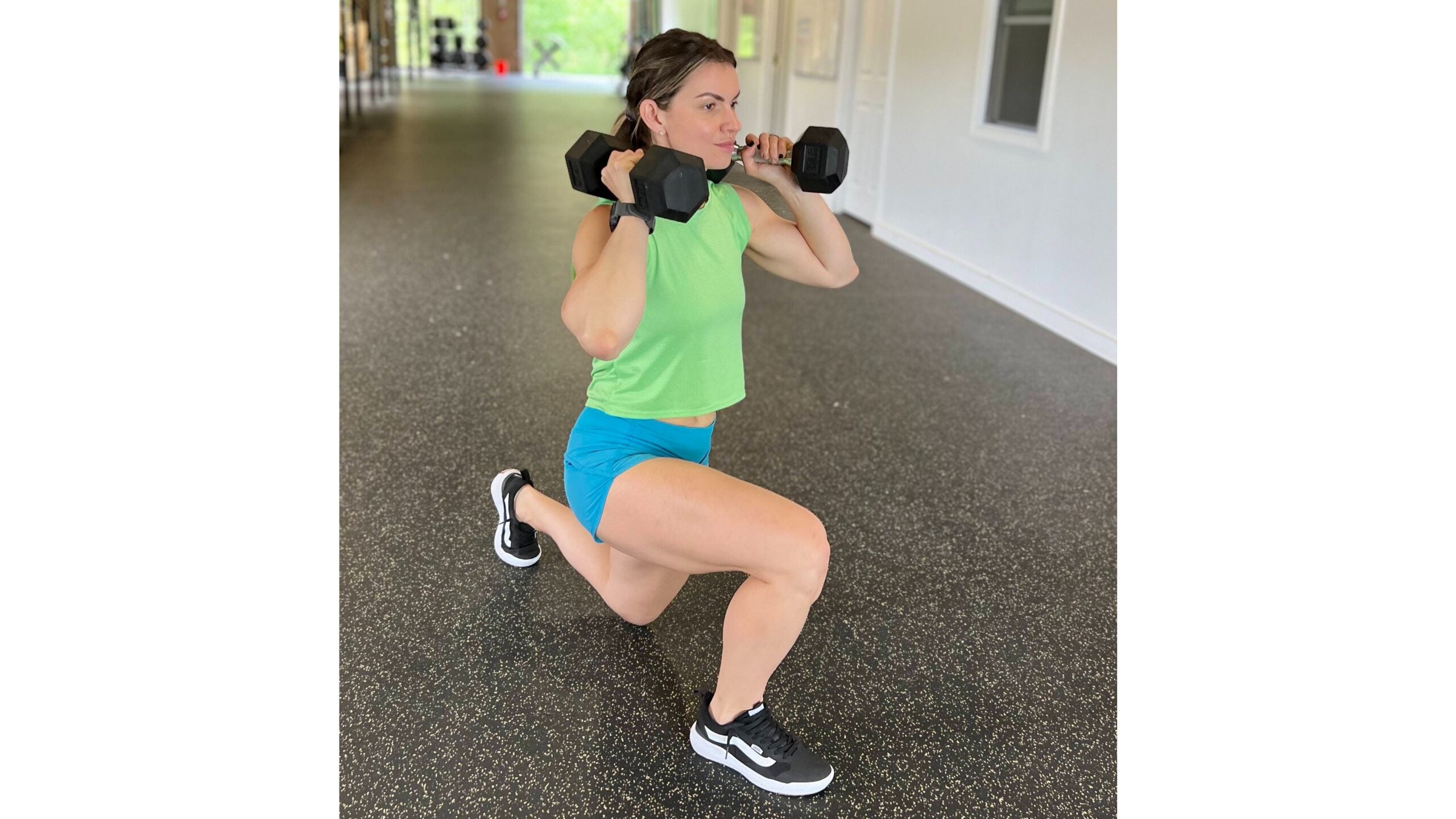 For the heel-elevated goblet squats, use a block or riser no more than four inches in height. This rise is meant to make this a quad dominant exercise and allow you to utilize a full range of motion, non-limited by decreased ankle flexibility.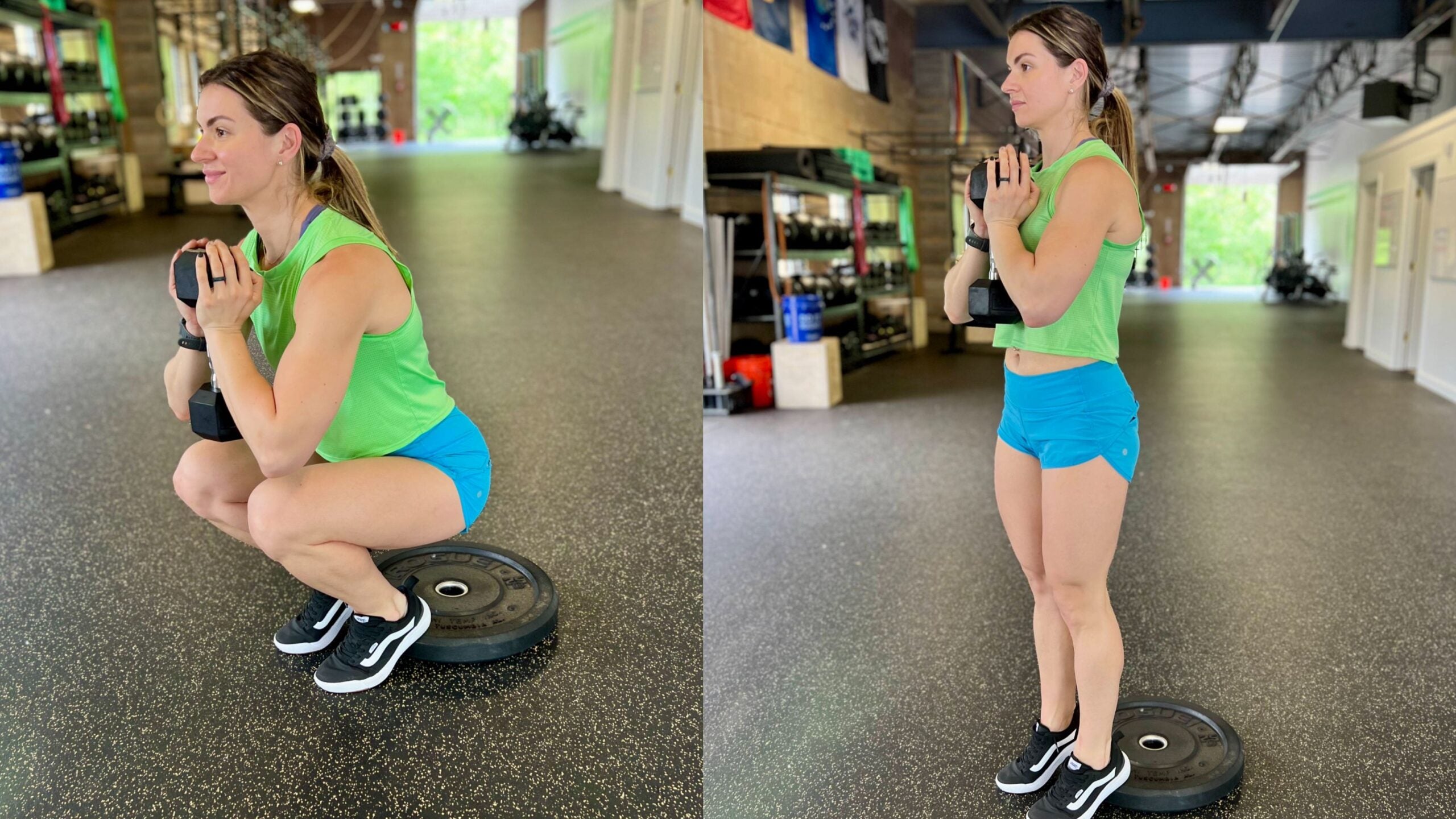 Use the wall sit as a little finisher for this strength piece, laying a dumbbell over your legs will make this infinitely more challenging. Try to sweat out a difficult 45-60 seconds set before taking a break.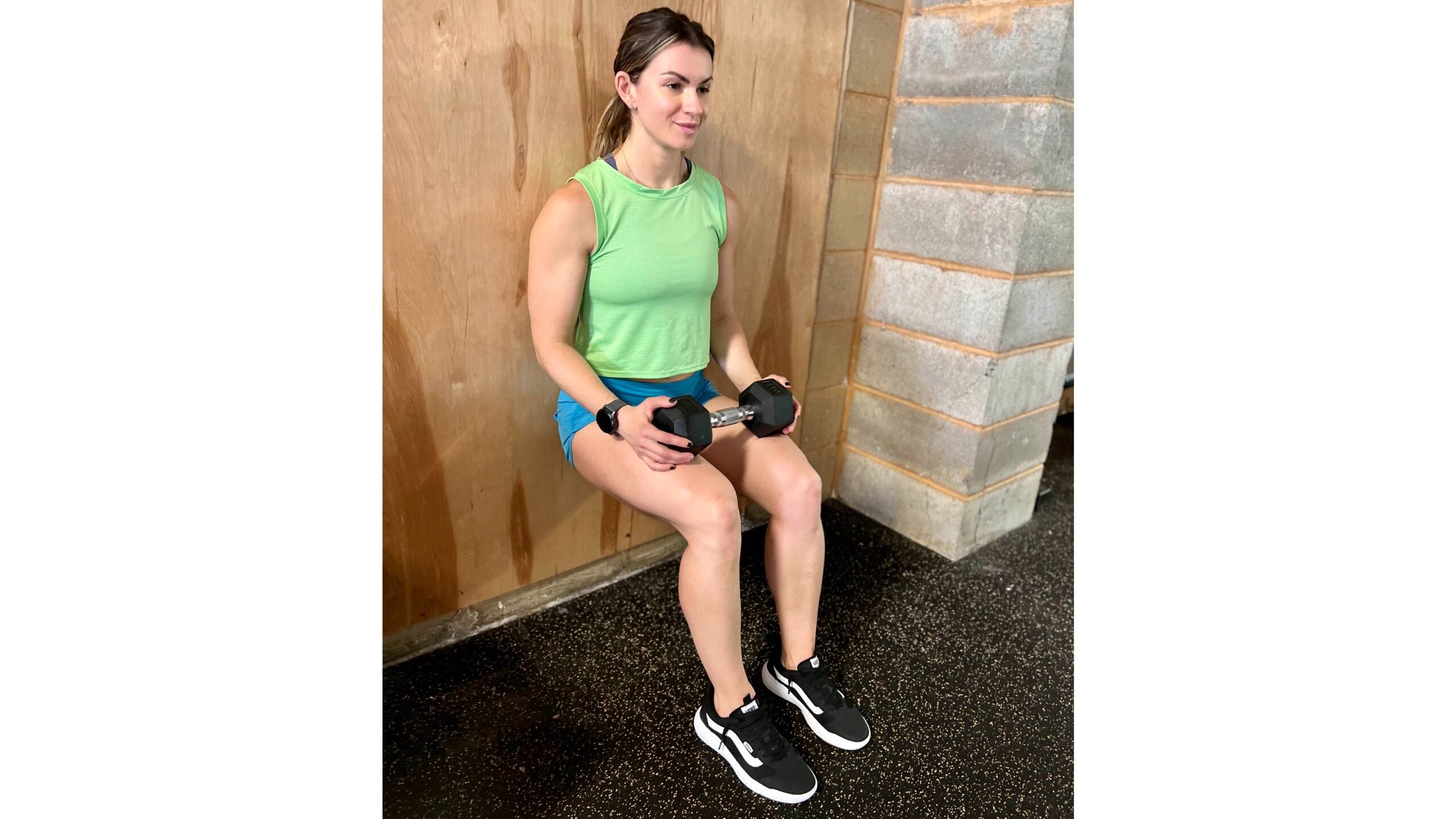 Metabolic Conditioning
| | | |
| --- | --- | --- |
| Exercise | Sets | Reps |
| Dumbbell Devil's Press | 4 | 10 |
| Burpees Over the Dumbbell | 4 | 10 |
| Dumbbell Swings to Shoulders | 4 | 20 |
Do not rest between these rounds. Choose one weight for the entire circuit that allows you to keep moving with minimal rest breaks. This workout should take 10-15 minutes in total. The weight you choose and your aerobic fitness level will have the most impact on how long this circuit takes.
This workout is meant to tax your shoulders. The devil's press followed by the burpees are very similar movements, so try to find a pace that you can maintain throughout the workout. The swings are just there to annoy you and further tax the shoulders — challenge yourself not put the dumbbell down for all 20 reps.
Dumbbell Devil's Press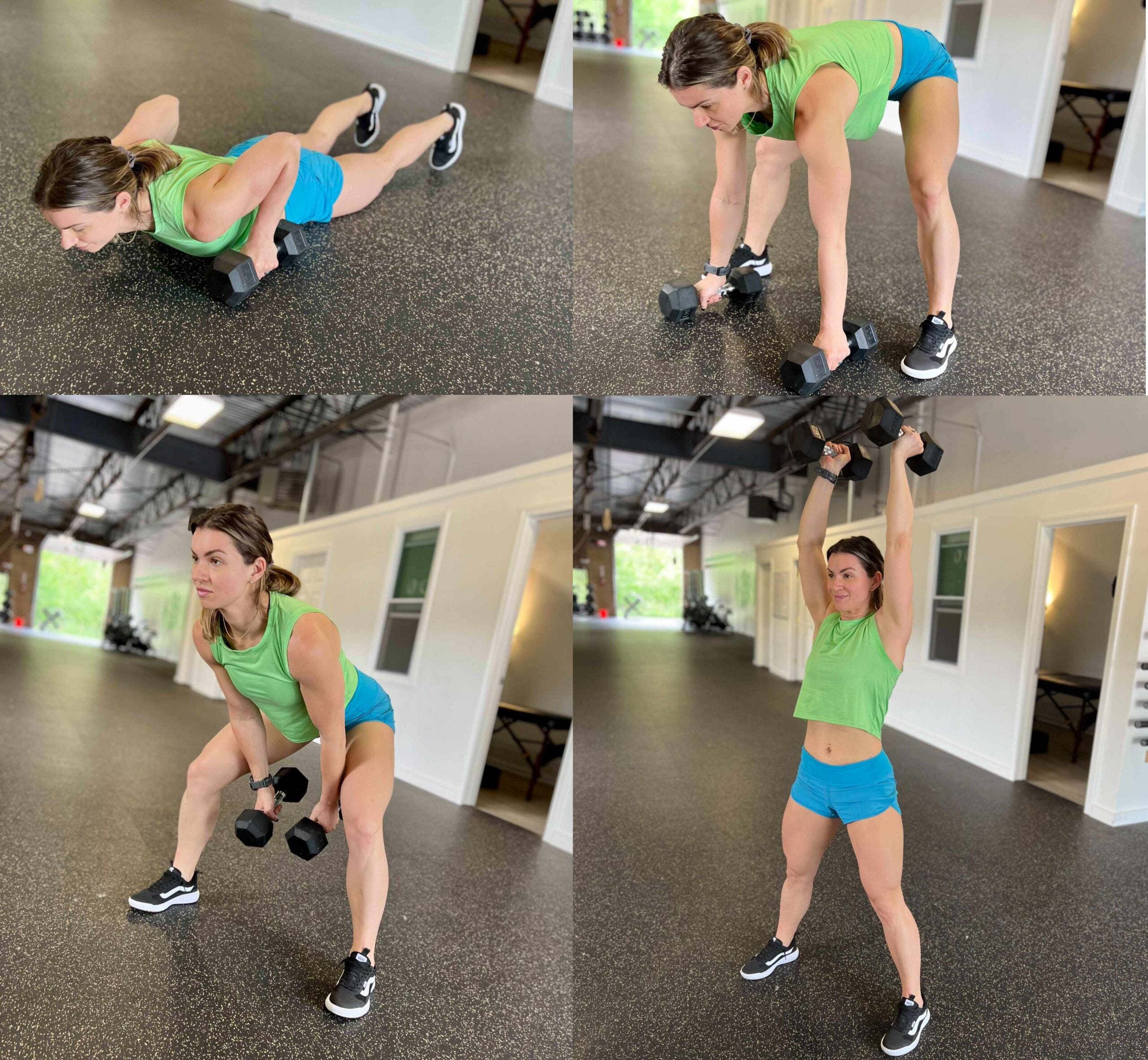 Dumbbells begin on the ground. From standing, lower down to the ground and grab the dumbbells. Perform a burpee with your chest touching the ground between the dumbbells. As you jump up to your feet, continue holding the dumbbells in each hand. From there, swing the dumbbells back into a hip hinge and drive them overhead simultaneously locking your elbows out fully overhead, next to your ears.
Burpees Over the Dumbbell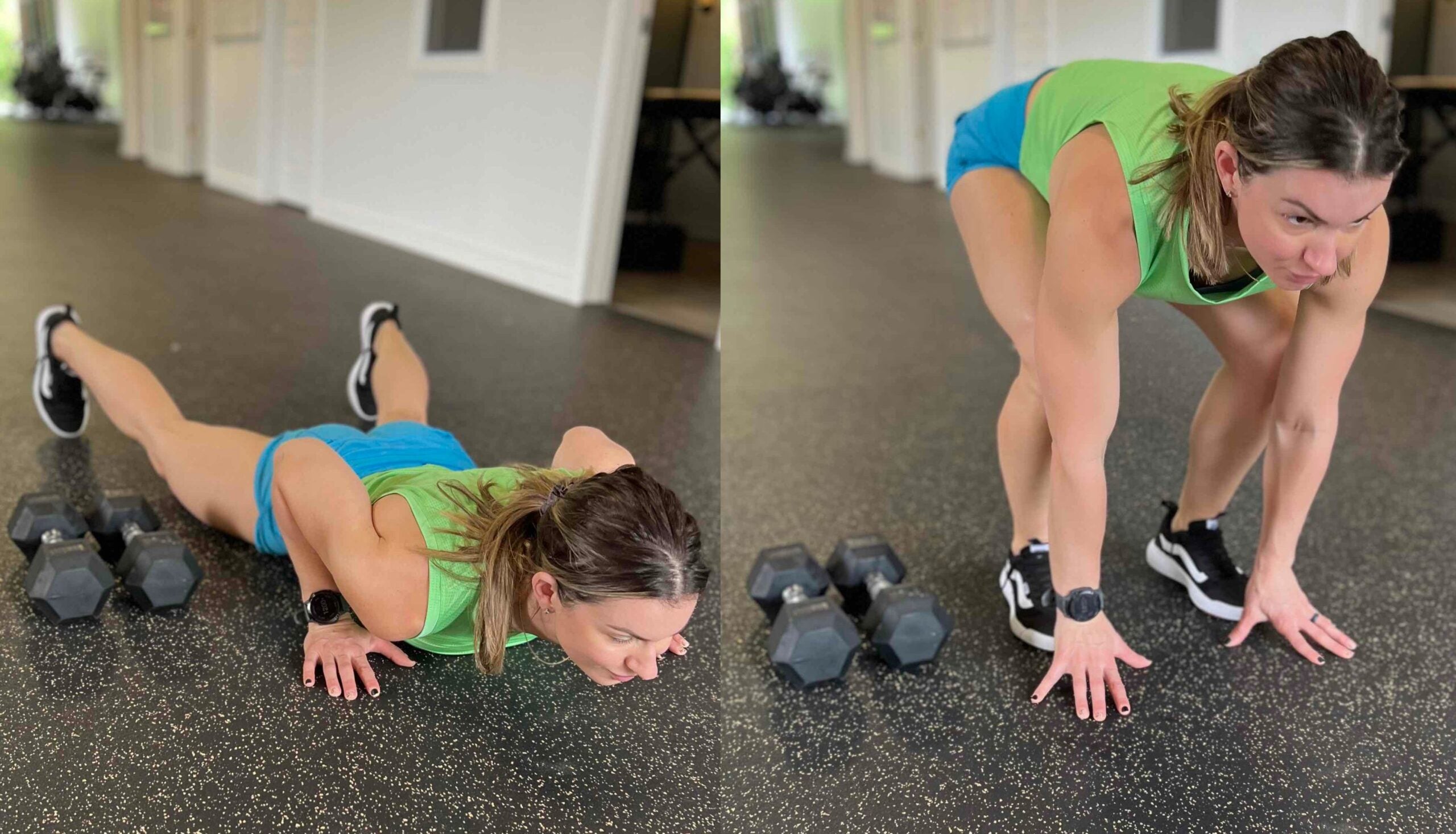 Place both dumbbells next to each other. Perform a burpee parallel to the dumbbells. Jump over the dumbbells with a two footed take off. Continue by performing a burpee on the opposite side. If jumping over is too difficult, perform a step over with a single foot take off.
Russian Dumbbell Swings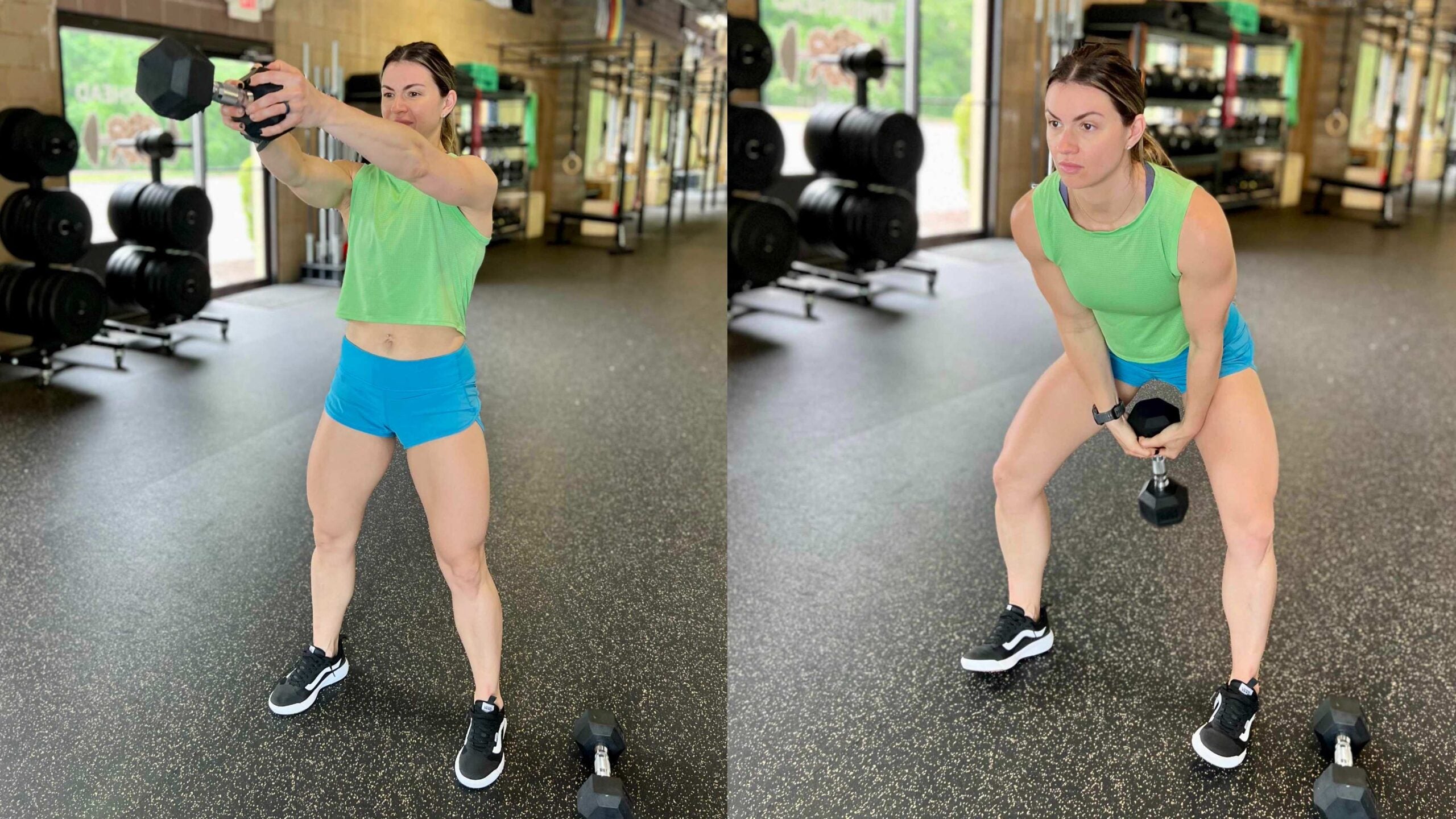 Utilize your hips on this one. Hip hinge and drive your heels into the ground while squeezing your glutes in order to generate power in the swing. This violent hip extension will bring the dumbbells to your shoulders. Use a heavier weight if going to shoulder height is very easy. It should be a challenge to hang on to all of these reps after the first two movements in this workout.