Three Cool Weather Cardio Options
Winter is here but that doesn't mean you have to coop yourself up in the gym. You can still do plenty of firming, lifting and swimming with these out-of-the-gym fall activities.
Heading out the door? Read this article on the new Outside+ app available now on iOS devices for members! Download the app.
Here are three heart-thumping non-gym options for working up a sweat.
Roller-Skating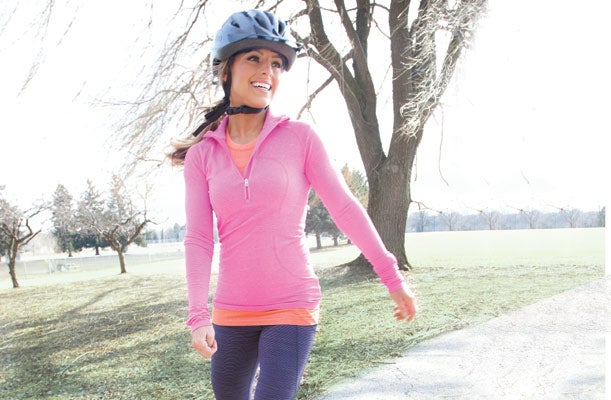 Rollerblading's retro cousin is currently making a huge come¬back: just look at the rise in popularity of the roller derby scene (admit it: you've seen Whip It 10 times). Though it looks like an easy-breezy activ¬ity, you can still score a serious scorch: a 130-pound woman can torch 190 calories in only 30 minutes. Add to that its other benefits – improved balance, stronger glutes and tighter abs – and lacing up your old four-wheelers just might become your new fave way to work up a sweat. Check out eBay, amazon.com or sporting goods stores for affordable options, both new and used.
Swimming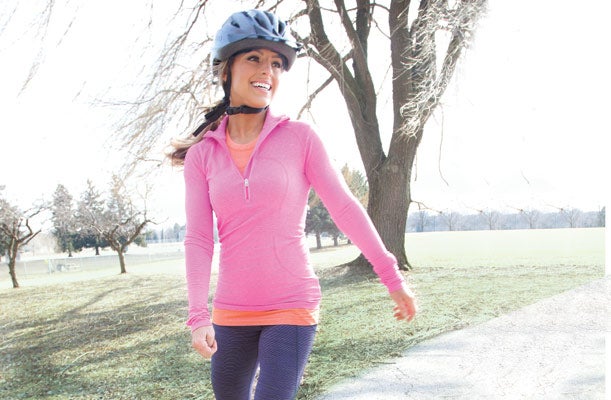 Most outdoor pools are closed at this time of the year, but you can always head to an indoor pool to work on your swimming skills. If you feel like – irony alert – a fish out of water, don't be discouraged: there are plenty of other ways to raise your heart rate besides butterfly and breast strokes. Hold on to the pool's edge and kick vigorously; try running in the shal¬low end; or stand in waist-high water and alternate lifting your knees in front of you. Treading water is both an upper- and lower-body workout, burning almost 10 calories per minute.
Stair Sprints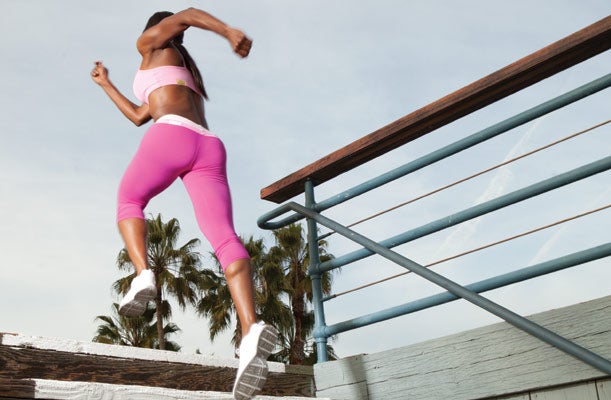 More than just the setting for one of film's most iconic workout scenes, stairs can serve as a full-body gym in a pinch. The following drills will carve your shoulders, arms, butt and hamstrings; find a stairway that doesn't see much traffic (get up early to beat the rush), and perform this circuit three or four times through. The payoff? Up to two hundred calories gone in less time than it takes to get to the gym.
0:00–1:00: Sprint up and down the stairs, hitting every step.
1:00–2:00: Do push-ups with your hands on the bottom step.
2:00–3:00: Hop up the stairs on one leg, holding the railing for support if needed, run back down, and repeat, switching legs every time you go up.
3:00–4:00: Face away from the stairs, place the toes of one foot onto the second step behind you, and perform split squats. (Switch legs halfway through your set.)
4:00–5:00: Go up and down the stairs as fast as you can, skipping every other step and holding the railing if needed.
5:00–6:00: Do triceps dips at the bottom of the staircase.