Train Like Maggie Dubrawski
Heading out the door? Read this article on the new Outside+ app available now on iOS devices for members! Download the app.
Maggie D's Personal Program
Here's a rundown of Maggie's typical weekly training schedule. She prefers to separate cardio and resistance training by doing cardio in the morning and resistance training in the afternoon on alternating days, and to save time in the weight room, she does compound exercises and supersets, aiming for three sets of 12 to 15 reps per exercise.
Monday: chest, triceps and core for 45 to 60 minutes in the afternoon.
Tuesday: run and bike for 60 minutes in the morning.
Wednesday: legs and core for 45 to 60 minutes in the afternoon.
Thursday: run and bike for 60 minutes in the morning.
Friday: back and biceps for 45 to 60 minutes in the afternoon.
Saturday: shoulders and core for 45 to 60 minutes in the afternoon.
Sunday: yoga in the morning or afternoon.
Tips for Amazing Abs
Train everything. An impressive six-pack looks best on a body with all-over definition.
Keep up with cardio. The key to any effective core program is an equally effective cardio component. It will provide that all-important calorie burn for a slender middle.
Eat consciously. Choose foods that agree with your system to avoid bloating. Maggie steers clear of pears, breads and pasta for that reason. Your trigger foods might be different though, so Maggie suggests eliminating and then adding one type of food to your diet every few days to help pinpoint culprits for bloating.
Rapid-Fire
Favorite body parts to train: "Right now, I love to train my shoulders and abdominals."
Least favorite body part to train: "When it comes to training arms, I generally have a low affinity for training the biceps; they get trained out of obligation."
Workout partner: yay or nay? "I like to train on my own – it's nice to work at my own pace. However, training with a partner offers that incredible feeling of getting two to three more reps (thanks to a spotter). I just can't achieve that feeling without some help."
Favorite exercise class: "I really enjoy the feeling of connectivity in a group yoga class."
Biggest motivation: "There are many motivating factors that help me focus on eating well and exercising. Feeling young and healthy inside; looking young and healthy on the outside; feeling strong, confident and agile. But beyond these physical factors, knowing I am doing something now to allow me to be a sprite and healthy older woman gives me great peace of mind."
[highlight color="black"]Favorite Move? The Twisting Plank[/highlight]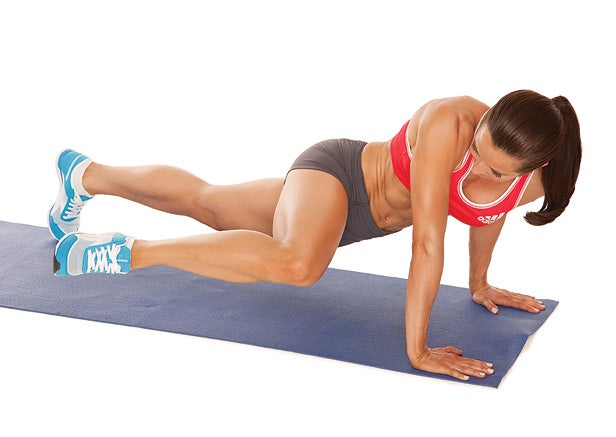 "This is a challenging move because you have to get your body into such a position that your knee is coming forward as you twist your torso, so you really feel it in your obliques. This move hits your arms and legs, gets in a bit of cardio, and provides a great burn in your abs," says Maggie about her fave move.
Target Muscles: transverse abdominis, internal and external obliques
Set Up: Get into a straight-armed plank, with your wrists under your shoulders and feet about shoulder-width apart.
Action: Bend one knee and direct it towards your elbow; at the same time, drop your opposite hip towards the ground. Return to the start, complete your repetitions, then repeat by twisting in the opposite direction.
Tip: Look to the side as Maggie is doing to make sure you are moving you knee as far as possible.