Tricks of the Trainers: Scissor Jack
This creative approach to the classic jumping jack is a metabolic dream.
Heading out the door? Read this article on the new Outside+ app available now on iOS devices for members! Download the app.
Change up your plain ol' jumping jacks with this move, devised by Tee Major, an ACE-certified group fitness instructor based in Santa Monica, California. "This move is a metabolic dream," Major says. "It shoots the heart rate up, demands a lot from your lungs and helps shred massive amounts of fat in a hurry." Use it as part of a metabolic-conditioning circuit, hitting it hard for 30 to 45 seconds per round.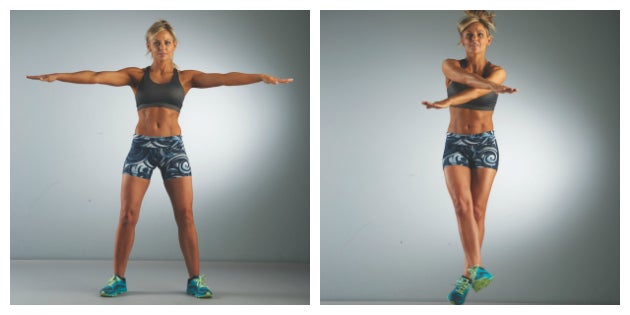 More:Reverse Plank Balance and Leg Raise
The Setup
Stand with your feet shoulder-width apart, toes forward and extend your arms out to the sides at shoulder height, palms down.
The Move
Jump up, and while in the air, cross your arms in front of your chest and scissor your legs underneath you. Before you land, open your arms and legs back out and land softly. Repeat right away.
Tip:With each jump, alternate which arm/leg is on top/in front. "Unless you have two left feet!" Major says, jokingly. "In which case stick with the same arm and leg until you get the hang of it."