From Pregnant to Physique Competitor
After gaining 60 pounds during her pregnancy, Leigha Coplen took her health back into her own hands.
Heading out the door? Read this article on the new Outside+ app available now on iOS devices for members! Download the app.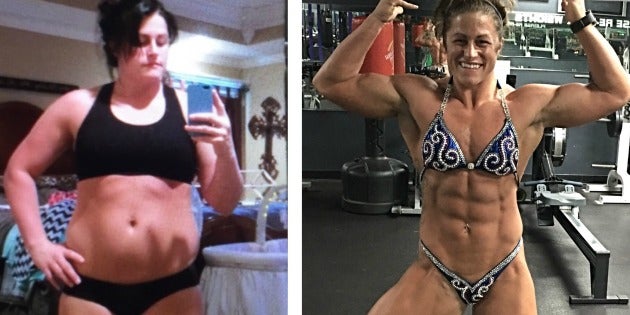 Name: Leigha Coplen | Age: 26
Old weight: 188 | Current weight: 148
Occupation: Personal trainer/gym owner
OXYGEN: What was your life like before your transformation?
Leigha Coplen: During my pregnancy, I gained 60 pounds. I lost every bit of my muscle tone and was very miserable. I was very depressed and struggled with my self-image.
OXYGEN: Have you had any significant life experiences that set you down that path?
LC: I was always athletic before I got married and had a baby. I was able to eat whatever I wanted and exercise and maintain a healthy balance. After I had my daughter, that completely changed. I found myself in a rut that I could not climb out of on my own.
OXYGEN: What was the turning point? How did you make the change?
LC: I decided that I could either be unhappy with myself and make those around me miserable or I could take action and change what I could. I decided to hire a personal trainer and learn what healthy balance my body needed to lose weight. I learned that having a balanced diet is just as important as busting your butt in the gym, maybe even more important.
I also decided to hire a trainer because I wanted to be able to help those and inspire those in my same situation. I became a personal trainer myself, and having a coach and personal trainer helps widen my knowledge.
OXYGEN: What is your current training/nutrition regimen? How has this helped you? Any favorite exercises?
LC: Currently, I weight train five times a week. I also teach several toning and Zumba classes a week. While on contest prep, I do cardio five times a week, as well. This has helped me attain my goal to compete in women's physique bodybuilding competitions. If I had to choose, I would say that my favorite bodypart to hit would be back.
OXYGEN: What would you impart on someone reading about your journey?
LC: Everyone has to start somewhere! It is more enjoyable to set small realistic goals and set out to meet them. Your age, body type, gender, race or ethnicity doesn't matter — if you set your mind to it and you are willing to work, anything is possible. Consistency is the No. 1 key!
OXYGEN: How do you stay motivated and on track?
LC: I set goals and GO GET THEM! I also take progress pictures and compare them to where I started. I am never looking back!