Tired of Being Tired
After years of feeling sluggish and unattractive, this mom took her physical and mental health into her own hands.
Heading out the door? Read this article on the new Outside+ app available now on iOS devices for members! Download the app.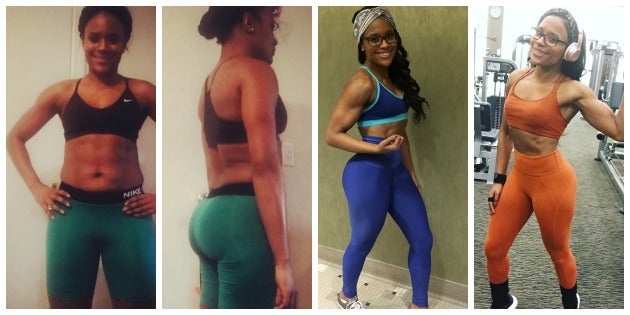 Name: Neusa Semedo | Age: 32

Old weight: 140 lb | Current weight: 125 lb
Occupation: Sales and marketing
OXYGEN: What was your life like before your transformation?
Neusa Semedo: My everyday life prior to my transformation has always prioritized my two children. As a single mom, I've tried to instill values of some form of daily exercise and clean eating. I remember starting out with a pep talk to myself as if I were my own best friend and eventually pushed myself beyond my expectations.
OXYGEN: Have you had any significant life experiences that set you down that path?
NS: After years of being a single mom, I felt a little unattractive, sluggish, unhappy and overweight. A change needed to happen, and from there, I started to educate myself. This is where I set down the path to the point of no return.
My real turning point was seeing the smile on my children's faces and the physical results. I had more energy and a willingness to want more, and I went after what I wanted. I never gave up even if others did.
OXYGEN: What was the turning point? How did you make the change?
NS: I was tired of being tired! Once I put it in first gear, the results made me want more. If you don't put in the work, you won't see the results. When you feel better, you look better and your attitude changes on every aspect of your life. This was a huge incentive to always want more.
OXYGEN: What is your current training/nutrition regimen? How has this helped you? Any favorite exercises?
NS: My current training consists of morning cardio sprints, a run or an elliptical session followed by push-ups, an ab circuit, an anterior workout, etc. My afternoon training consists of intensive weight training, and I would say my favorite exercise would be leg and back day.
My morning nutrition regimen consists of 1.5 gallons of water, four to six egg whites, ¼ cup of oatmeal, protein, BCAAs, glutamine and multivitamins.
OXYGEN: What would you impart on someone reading about your journey?
NS: Find yourself, motivate yourself, invest in yourself, become your own best friend and always believe in yourself. No matter where you end up, always remain true and humble to yourself and never forget where you came from.
OXYGEN: How do you stay motivated and on track?
NS: Results are everything! The feeling you get after you work out speaks volumes, and seeing your transformation is rewarding. The good vibes you get from family and friends is always positive, and it's rewarding when your children look at you and want to be like you. It's the best feeling and reward any mom could ask for.