Sponsored Story: Q&A With IFBB Pro and Fitness Model Nikola Weiterova
Read how this former Slovakian dancer became a fitness superstar in the United States.
Heading out the door? Read this article on the new Outside+ app available now on iOS devices for members! Download the app.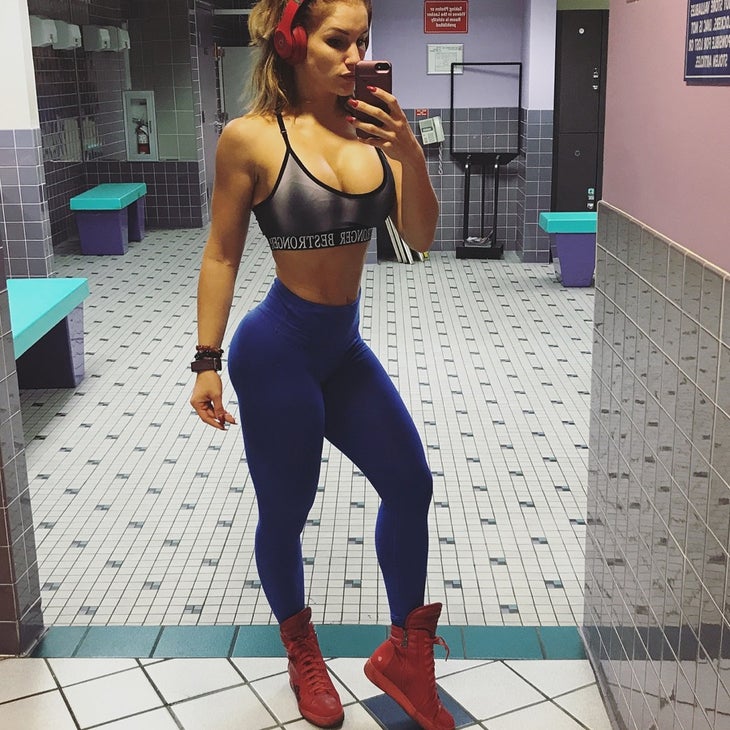 Name: Nikola Weiterova | Age: 26
Hometown: Las Vegas | Sport: IFBB pro
OXYGEN: What is your back story? Any standout achievements?
I was a professional dancer with my own dance agency back home in Slovakia. I wanted to participate in Miss Slovakia and wanted to lose some weight, so I got my first personal coach and started to work out. I signed up for my very first IFBB bikini competition and I won! I then won nationals twice, the European and world championships, and the Arnold Classic. This dream brought me to Ohio for the 2012 Arnold Classic where I won my category the same year as Ashley Kaltwasser. (She took overall winner, but I got my pro card as winner of my category.) I have competed in more than 25 IFBB pro contests since, and my biggest achievement came in 2014 when I competed in Olympia as the first woman from my country in this event.
OXYGEN: Is this your full-time job?
I do have a ton of fitness and lifestyle shoots, I compete and I am a sponsored Hi-Tech athlete. I cooperate with the FUSCO Team as an online coach (ambassador for USA). I do my own online coaching and nutrition plans, as well. I am working on my own apparel line, and I also cooperate with Fitness Mafia SK (Slovakia). I am living in Vegas, so I do work for a few agencies, as well.
OXYGEN: What do you think has set you apart from other athletes in your sport?
I am very competitive and I love to win, but at the same time, I learned what is actually important in life. I love this industry, but competing is not the only thing that makes you part of it. I love to educate myself and understand things — how the body works, what to do, how to improve, etc. Everything needs to be in balance, including free time where you are just you. You don't need to count calories all the time or tell yourself what you can and can't do. Life is not about that.
OXYGEN: What are some of your training rituals?
I love to train my glutes and butt. It can be one of the hardest workouts, but I guess that's why I love them. I train my butt three times a week. I start with 10 minutes of cardio and end with 15 minutes of cardio and stretching.
OXYGEN: What is your favorite exercise?
Like I said before, glute workouts are my favorites. I like kick bags or adductors.
OXYGEN: What's the best advice you've ever been given?
Follow your heart, listen to your body, and keep a personal and professional balance.
OXYGEN: What advice would you tell your younger self when you were getting into fitness?
Don't stress yourself. Don't rush yourself.
OXYGEN: How do you remain focused and driven in such a competitive sport?
This sport and this industry became a part of me and my lifestyle. I stayed hungry — not just to compete but I am working on my future every single day. I don't have idols or somebody who I totally adore or follow. It doesn't matter how many shows you have won, but instead, I appreciate life's story. For me, it's important to be better than yesterday.
OXYGEN: What's the one thing you always have to have on hand?
My valet, keys, phone and snack!
Learn more about Hi-Tech Pharmaceuticals and its complete line of innovative, science-based nutrition products here. Follow Hi-Tech Pharmaceuticals sponsored athlete and IFBB pro Nikola Weiterova on Instagram here.