Show Your Support
In honor of Breast Cancer Awareness Month, we've gathered 11 products that give back and inspire.
Heading out the door? Read this article on the new Outside+ app available now on iOS devices for members! Download the app.
One in eight women will be diagnosed with breast cancer this year, and chances are you or someone close to you has been affected by this disease. These philanthropic companies donate a good portion of their proceeds from these fun health and fitness items to breast cancer research, with the aim to save more lives in 2017 and beyond. Do a little early holiday shopping, or buy an item for yourself or a loved one just because, and help contribute to the cause.
KindNotes
Forty percent of all proceeds benefit the Susan G. Komen Foundation.

If you know someone who has crossed paths with cancer, KindNotes is an incredible way to remind them how supported and strong they truly are. The pink ribbon jar contains 31 sealed linen envelopes, each containing a touching message of inspiration, love and care. Personalize the notes yourself, or choose from ready-made messages.
$35, kindnotes.com
Portland Growler
Twenty percent of all proceeds benefit the National Breast Cancer Foundation.

Handmade in Portland and signed by the artist, this limited-edition pink growler with an optional pink ribbon lid comes in 32- and 64-ounce sizes. Fill it with freshly squeezed juice, sparkling spring water or cold-brewed coffee.
$59, 32-ounce; $69, 64-ounce. portlandgrowlercompany.com
Abeo SmartSystem 3400
The Walking Co. has partnered with City of Hope in the fight against breast cancer, and for the past six years, it has pledged a minimum donation of $25,000 each year to the cause.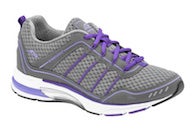 The perfect shoe for tooling around town, this lightweight, breathable sneaker has a mesh upper for moisture control, a padded tongue and collar for extra support, and a patented insole designed to reduce knee stress and pain.
$135, thewalkingcompany.com
Editor's note: For this in alternate colors as well as other shoe and boot styles associated with this campaign, go to abeofootwear.com.
Vim & Vigr Compression Socks
For every sock purchased, $5 is donated to the National Breast Cancer Foundation, (minimum donation $5,000).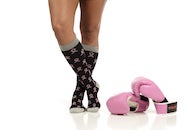 Michelle Huie, founder and president of Vim & Vigr, lost her mother to breast cancer when she was only 15 years old. In her honor, Huie designed this limited-edition compression sock, which helps boost circulation and aids in recovery from tough workouts.
$33, vimvigr.com
AmeriBag Healthy Back Bag
For every bag sold, $2 is donated to Breast Cancer Options, a local nonprofit that helped Margery Gaffin, AmeriBag's executive vice president and co-founder, during her treatment.

You can never have too many bags, especially those that give your back a break. This black-and-pink microfiber satchel has a long adjustable strap and can be worn cross-body, over one shoulder or retro fanny-pack style around your waist.
$35, ameribag.com
The Survivor Necklace
Twenty-five percent of all proceeds go to Breastcancer.org.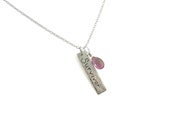 Words hold power, and this necklace from Isabelle Grace is perfect for the powerful survivor in your life. Stamped with "Survivor" on the front and "because I am" on the back, this 0.999 silver tag is accompanied by a pink topaz stone.
Editor's note: This is just one item in a very large collection of necklaces, bracelets, earrings and more, so visit its website for tons of options!
Vimmia Warrior One Pants
Twenty percent of all proceeds in this style benefit breast cancer research and treatment at Memorial Sloan Kettering Cancer Center.

Vimmia is known for its high-performance, four-way stretch compression wear, ideal for increasing circulation and accelerating recovery from difficult workouts. This limited-edition garment has a fashion-forward design, with pink camo highlights, mesh cutouts and color-blocked panels.
$143, vimmia.com
Trekz Titanium Pink Headphones
Twenty-five percent of all sales of this product go to Bright Pink,a nonprofit focused on the prevention and early detection of breast and ovarian cancer. AfterShokz will also donate 25 cents (up to $2,500 dollars) for each post of #AwareWithPink on Facebook, Instagram or Twitter.

These hot pink, Bluetooth headphones work through bone-conduction technology, transmitting audio directly to your inner ear through your skull. This is one of the safest ways to listen to music, since you're always aware of your surroundings.
$130, aftershokz.com
Liquido Esthesia Print Legging
Ten percent of total sales of garments in this print are donated to the Susan G. Komen Foundation.

Known for their buttery-soft fabric and head-turning patterns, Liquido released this limited-edition Esthesia print in honor of Breast Cancer Awareness Month. This nylon/spandex blend pant boasts SPF 50+ with UVA/UVB protection.
$84, liquidoactive.com
Charity Ties Bracelet
For each bracelet sold, $10 is donated to Bright Pink, a nonprofit focused on the prevention and early detection of breast and ovarian cancer.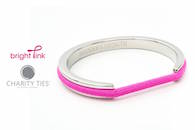 This lightweight Charity Ties bracelet from Maria Shireen functions as a fashion accessory and hair-tie holder, and it features a bright pink hair tie and an interior engraving, #BANDOFSTRENGTH, to remind you, or your loved one, of your inner power.
$45, mariashireen.com
Natalie's Orchid Island Orange Beet Juice
Forty percent of all sales go to The Pink Fund, which provides nonmedical financial support to help meet the basic needs of breast cancer patients, reducing stress and allowing them to focus on healing.

This all-natural, preservative-free blend is perfect both for survivors or those concerned with everyday health. Each bottle contains beet juice, which has been reputed to inhibit tumor growth, and orange juice, which is high in vitamin C to help with immune support. And specially for the month of October, each label has an inspirational quote from a breast cancer survivor to remind you of the strength and resilience of women worldwide.
$3, 16-ounce; $5, 32-ounce, orchidislandjuice.com