3 Chicken Soup Recipes for the Soul
Nourish your body, aid your digestion and increase your energy with these comforting and nutrient-dense soup recipes.
Heading out the door? Read this article on the new Outside+ app available now on iOS devices for members! Download the app.
Chicken soup can be a panacea for both colds and fevers. It's warm and hydrating and appears to prompt anti-inflammatory activity to help you rebound more quickly. Warm up to these delicious chicken soup recipes.
Veggie-licious Chicken Soup
Makes: 10 Servings
INGREDIENTS
1 small onion, finely chopped
1 cup carrots, chopped
½ cup celery, chopped
1 garlic clove, chopped
2 tbsp olive oil
1 cup mushrooms, chopped
½ cup shelled edamame
1 (15-oz) can black beans
½ cup corn (frozen, fresh or canned)
2 fresh tomatoes, diced
1 can stewed tomatoes
2 (15-oz) cans low-sodium, fat-free chicken broth
1½ cups water
½ tsp pepper
½ tsp seafood seasoning
3 boneless, skinless chicken breasts
DIRECTIONS
Slow Cooker
Place all ingredients except chicken in a slow cooker, stirring to blend. Lay chicken on top and push down slightly to cover with soup. Cook 5 hours on low heat.
Remove chicken from soup. Let chicken cool slightly, then shred. Stir back into soup and continue to cook 1 hour.
Stove-Top
Saute onions, carrots, celery and garlic in 2 tablespoons olive oil in a Dutch oven for 5 minutes. Add remaining ingredients except chicken and simmer until veggies are tender.
Add cooked, diced chicken to soup and simmer until chicken is heated through.
Nutrition Facts (per serving): calories 160, protein 17 g, carbs 19 g, fat 2 g, fiber 5 g, sodium 200 mg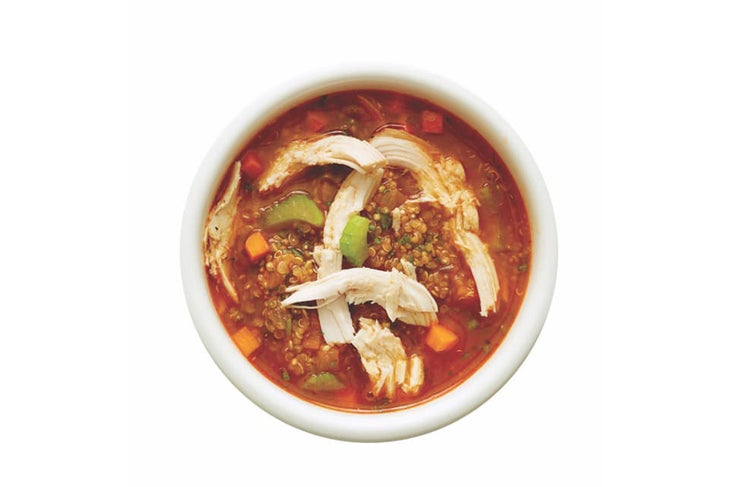 Quinoa Chicken Soup
Makes: 4 Servings
INGREDIENTS
1 tbsp grapeseed or canola oil
1 onion, chopped
2 medium carrots, roughly chopped
2 celery stalks, sliced
½ tsp salt
2 tbsp tomato paste
1 tsp Creole or Cajun seasoning
1 tsp dried thyme
1 carton (32 ounces) low-sodium chicken broth
¾ cup quinoa
2 cups shredded rotisserie chicken
1 cup roughly chopped parsley
DIRECTIONS
Heat oil in a large saucepan over medium heat. Add onions, carrots, celery and ½ teaspoon salt; heat 6 minutes. Stir in tomato paste, Creole or Cajun seasoning, and thyme; heat 30 seconds. Place broth and quinoa in a pan, bring to a boil, reduce heat to medium-low and simmer partially covered until quinoa is tender, about 12 minutes. Stir in chicken and warm through.
Place soup in serving bowls and garnish with parsley.
Nutrition Facts (per serving): calories 315, protein 29 g, carbs 29 g, fat 9 g, fiber 5 g, sodium 283
Chicken and Parsnip Soup
Makes: 4 Servings
INGREDIENTS
1½ tsp olive oil
¾ cup parsnips, peeled and thinly sliced diagonally
¾ shallots, thinly sliced
1 (4-oz) package gourmet mushroom blend, trimmed and sliced
1 clove garlic, minced
2½ cups fat-free low-sodium chicken broth
1 cup water
1 cup chickpeas, rinsed and drained
1 cup rotisserie chicken breast, shredded
½ tsp black pepper
¼ tsp salt
⅛ tsp hot sauce
1 sprig fresh thyme
2 tbsp fresh parsley, chopped
DIRECTIONS
Add olive oil to a medium saucepan and heat over medium-high.
Add parsnips, shallots, mushrooms and garlic and saute 3 minutes.
Add all remaining ingredients except parsley and bring to a simmer. Cook 10 minutes, or until parsnips are tender.
Remove from heat and stir in parsley.
Nutrition Facts (per serving): calories 204, protein 17 g, carbs 25 g, fat 4 g, fiber 5 g, sodium 607 mg