Alternatives for Your Morning Cup of Coffee
Whether you're allergic to coffee or just trying to kick the habit — there are other options out there for a morning pick-me-up.
Heading out the door? Read this article on the new Outside+ app available now on iOS devices for members! Download the app.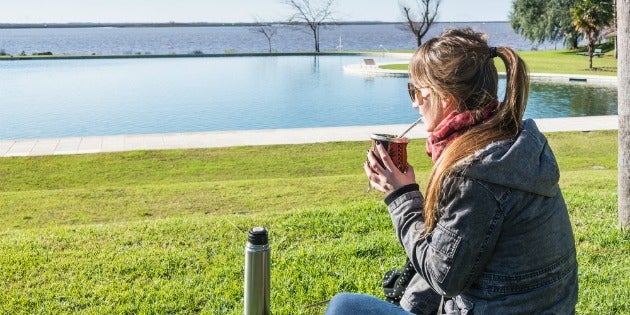 If you find yourself allergic or intolerant to coffee and tea (or trying to kick the habit), don't fret, you have options! Some of us can't get our day started without a stimulating beverage of choice, and coffee and tea are by far the winning options in our country. But this winter, you don't have to go without something warm in your cup.
Yerba mate and guayusa are both options for a healthy source of "pick-me-up" while avoiding coffee and tea. Both of these plants are from South America and herald a power punch of energy-stimulating benefits and nutrition. The leaves are loaded with polyphenols that provide anti-inflammatory and cancer-fighting benefits.
Both "teas" provide a balanced and clean source of energy while offering something new to your daily beverage routine. Rotate a cup in and bring forth your inner warrior before your day begins.
In addition to steeping these leaves and enjoying them plain or with your sweetener of choice, here are a few recipes that can add some flavor and variety in your cup. In all recipes, you can swap the yerba mate for guayusa or vice versa:
Yerba Mate Latte
Brew 8 ounces of yerba mate. Add 4 ounces of warmed almond, coconut or cow milk and honey or maple syrup. Top with milk foam. (Make the foam using a store-bought milk frother or by placing a small amount of milk in a jar, tighten the lid and shake vigorously, remove the lid and warm in the microwave for several seconds.)
Fruit and Yogurt Mate Smoothie
Prepare one serving of yerba mate and allow to cool. In a blender, add two frozen bananas, a cup of chopped strawberries, 2 cups of yogurt (any flavor) and enough ice to make the mixture frothy. Blend until smooth. Honey or fresh fruit juice (pineapple or apple are good choices) may be added to sweeten to your taste. Add the yerba mate and blend for one or two seconds to mix thoroughly. Pour into two tall glasses and serve.
Traditional Coconut Guayusa Sweet Tea
Prepare brewed tea using 2 tablespoons of guayusa leaves per 8 ounces of water. Place in a teapot, French press or coffee drip and strain the leaves out of the tea. Put the tea in a blender with 1 to 2 tablespoons of coconut butter, coconut oil or milk. Add brown sugar, coconut sugar or honey, to taste. Blend thoroughly until frothy. This is a favorite treat among many guayusa drinkers!