Baked Pumpkin Spice Oatmeal
Oats keep your muscle gains up and belly fat down. Here's a fresh take on a clean classic that will energize your workouts.
Heading out the door? Read this article on the new Outside+ app available now on iOS devices for members! Download the app.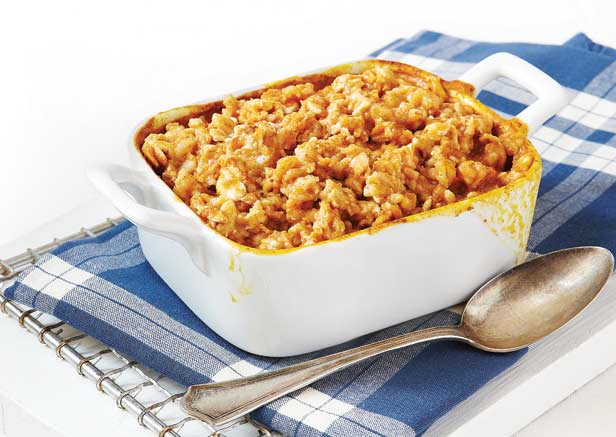 Makes 1 serving · Ready in 35 minutes
Ask any fit, gym-going gal what some of her favorite breakfast foods are and we bet that oatmeal places high on her list. Case in point: Jenny Grothe is a Utah-based figure competitor who lost 60 pounds over one year, crediting an oats-filled diet for her lean figure. So much so that she penned a cookbook about it titled 75 Ways to Love Your Oatmeal – Great Recipes that Keep You Lean (Sound Concepts, 2011), which the recipe below is from. "Oats are so basic, yet they provide the ample amount of sustainable energy my body needs for heavy weight-training sessions," says Grothe. "And they keep me sane because they taste incredibly good!"
Nutritional Bonus
Pumpkin is low in fat and calories and contains anti-aging alpha-hydroxy acids (AHAs).
Cinnamon keeps your hunger at bay by stabilizing fluctuating blood sugar levels.
Nonfat cottage cheese yields 14 grams of slow-digesting casein protein in just a half cup serving.
Oats whittle your middle with soluble fiber and keep your heart healthy with beta-glucan.
Ingredients
1/2 cup old-fashioned oats
1 cup water
1/4 cup pumpkin puree
2 tbsp nonfat cottage cheese
1/4 tsp baking powder
Dash sea salt
1/4 tsp cinnamon
1/2 tsp vanilla
1/8 tsp allspice
1 piece crystallized ginger, crushed (optional; available in the spice section at supermarkets)
Instructions
Preheat oven to 350°F.
Combine all ingredients in an oven-proof bowl. Stir to mix thoroughly.
Place in oven and let bake for 30 minutes. Remove and serve.
Nutrients per serving: Calories: 213, Total Fats: 3 g, Saturated Fat: 0.5 g, Trans Fat: 0 g, Cholesterol: 0 mg, Sodium: 103 mg, Total Carbohydrates: 38 g, Dietary Fiber: 6 g, Sugars: 9 g Protein: 9 g, Iron: 2 mg