Belly up to the Bar
Nutrition bars can be a good grab-and-go option for the fit girl on the move. Here's what's new with these portable snacks.
Heading out the door? Read this article on the new Outside+ app available now on iOS devices for members! Download the app.
Once upon a time there were only a couple nutrition bars on the shelves, and at best they were somewhat edible. But these days bars are big business, and the latest formulas do everything from fuel your body to amp your libido to rejuvenate your skin. Check out some of our favorites from the roster of new items on the rise.
Gomacro Thrive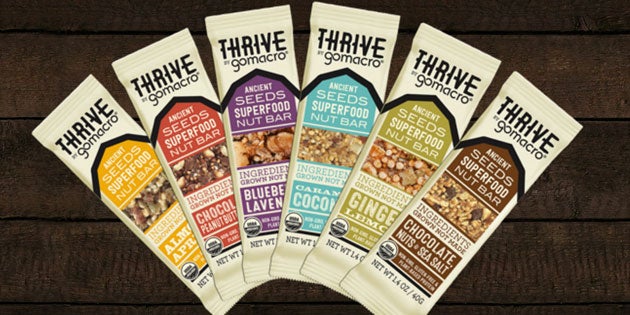 Gomacro.com, $2.19
With their signature Organic Ancient Seed Blend and all-organic, healthy ingredients such as sesame butter, ginger and nuts, these bars have plenty of healthy macros — the perfect between-meal snack or pre-workout energy boost.
Fave Flav: Blueberry Lavender
190 calories; 12 g fat; 1 g sat fat; 10 mg sodium; 19 g carbs; 3 g fiber; 6 g sugar; 5 g protein
All-organic
Non-GMO
Plant-based
Soy-free
Kosher
Vegan
Low-glycemic
Gluten-free
Power Players
1. Blueberries: Packed with antioxidants, fiber, potassium and phytonutrients, blueberries help lower cholesterol and decrease the risk of heart disease.
2. Lavender: This herb is used to calm the stomach and can help de-bloat you even at your puffiest.
3. Quinoa: This grain is a complete protein, has tons of fiber to reduce blood pressure, iron to keep red blood cells healthy and riboflavin to improve metabolism.
PHIVEbar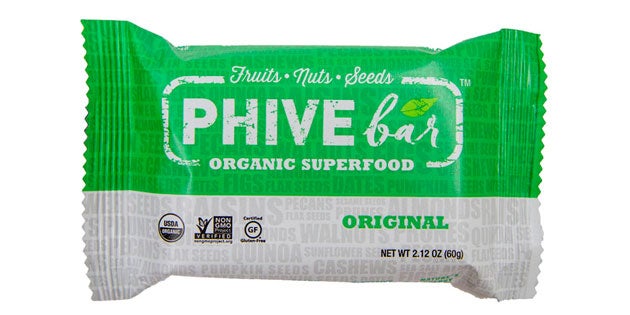 phivebar.com, Sprouts markets, $2.69–$2.99
Enter code Oxygen20 and get 20 percent off your order on phivebar.com!
Derived from an ancient recipe using a specific blend of fruits, nuts and seeds, these bars are "food with a purpose." This nutrient-rich bar can fuel your body and brain any time of the day while helping with digestion and detoxing.
Fave Flav: Original
240 Calories, 10 g fat, 1.5 sat fat, 60 mg sodium, 34 g carbs, 4 g fiber, 5 g protein
Organic
Non-GMO
Kosher
No sugar added
Gluten-free
All-natural
Power Players
1. Figs: This fruit is high in soluble fiber, omega-3 and omega-6 fatty acids, all of which help reduce your risk of heart disease.
2. Prunes: Prunes contain lots of fiber as well as a natural laxative called diphenyl isatin to help move things along in your digestive tract while lowering cholesterol, blood sugar and hypertension.
3. Pumpkin seeds: In addition to being chock full of antioxidants, pumpkin seeds also contain tons of magnesium, which is needed to create ATP (energy), and zinc to boost immunity and regulate sleep.
Probar Fuel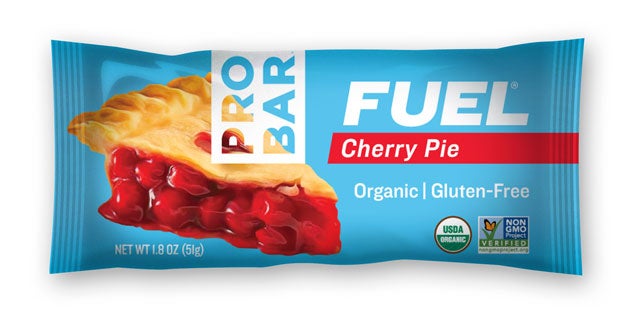 theprobar.com, $2.49
These bars are 100 percent plant-based and are derived from sustainable sources, making a small impact on the earth and a big impact on your body. With plenty of healthy carbs for energy, these are great bars to pack along for a day of hiking, biking or whatever other adventure awaits!
Fave Flav: Cherry Pie
190 calories, 4.5 g fat, 0.5 g sat fat, 34 g carbs, 6 g fiber, 22 g sugar, 3 g protein
Organic
Gluten-free
Plant-based
Non-GMO
Paleo friendly
Tree-free sleeve packaging
Power Players
• Cherries: Several studies connect cherry juice to lower levels of inflammation and belly fat, as well as a reduction in post-workout muscle pain.
• Dates: Dates contain a slew of vitamins including the spectrum of B-vitamins that give you a boost in energy. They also contain selenium, manganese and magnesium, all of which are required for good bone health. Bonus: They are reputed to cure a hangover!
• Cashews: These nuts are very high in copper, which is needed to produce hemoglobin, collagen, elastin and the protective coating on your nerve fibers.
Shanti Protein Bar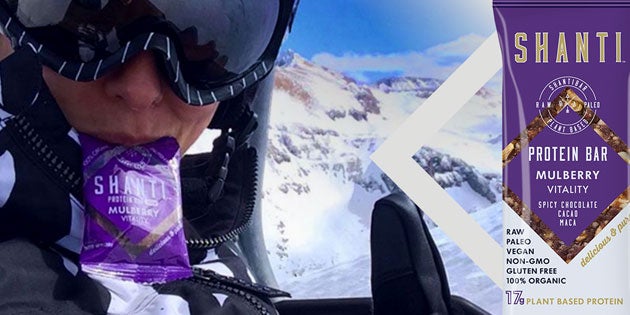 Shanti.bar, $2.99; box of 12, $35.99
Enter promo code ShantiBarOxy and get 20 percent off!
These raw, all-organic bars are packed with some of the hottest trending Superfood ingredients on the market, including acai, spirulina, goji berry, mulberry, chia seeds and maca, to name a few. Pick a bar to suit your needs: fat-burning, antioxidant, anti-inflammatory, even vitality. High-protein and nutrient-dense, these bars make a great snack any time of day.
Fave Flav: Mulberry Vitality
250 Calories; 11 g fat; 21 g carbs; 17 g protein; 11 g sugar; 5 g fiber
Raw
Organic
Vegan
Paleo-certified
Gluten-free
Kosher
Plant-based
Power Players
1. Mulberries: This tangy fruit contains high levels of iron to optimize oxygenation of cells, resveratrol, which decreases the chance of stroke and heart attack, and potassium, which helps keep bones strong.
2. Cayenne pepper: Capsaicin, the active ingredient in cayenne, has pain- and gas-relieving properties, and can help break up mucus, offering relief from colds and flus.
3. Maca: This ancient South American root has been used to cure everything from menopausal symptoms to impotence. It contains lots of essential fatty acids, is high in protein and contains oodles of vitamins such as B, C, E and zinc, which support energy, aid in recovery and boost libido.
Health Warrior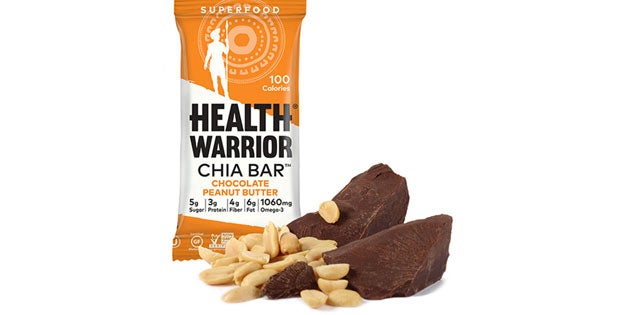 healthwarrior.com, $1.29
Enter promo code HW20OFF and earn 20 percent off all items!
The only bar on the market with chia seeds listed as the primary ingredient, these bars contain tons of fiber and more than 1,000 milligrams of plant-based omega-3s in every bar. Best way to eat: as an afternoon snack with a big glass of water. The chia seeds will expand in your gut, making you feel full and tiding you over until dinner.
Fave Flav: Chocolate Peanut Butter Chia Bar
100 calories, 6 g fat, 1 g sat fat, 4 0mg sodium, 13 g carbs, 4 g fiber, 5 g sugar, 3 g protein
Vegan
Non-GMO verified
Gluten-Free
Power Players
1. Chia seeds: Believe it or not, chia seeds contain more omega-3s than salmon, gram for gram! They are also super-rich in fiber, making them filling while improving digestive health, as well as protein, calcium, potassium, and protein.
2. Oats: Oatmeal contains tons of dietary fiber, which helps lower cholesterol, stabilize blood sugar, and boost the function and health of your GI tract.
3. Almonds: This tree nut is chock full of vitamin E (one ounce provides 37 percent of your RDA!), which helps maintain cell membranes while lowering your risk of heart disease, cancer and Alzheimer's.
Epic Bar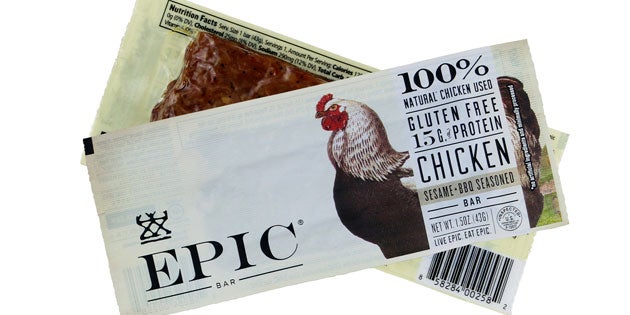 Epicbar.com, Whole Foods and REI, $2.79
Enter promo code EATEPICLIVEEPIC and save 20 percent until July 31, 2016!
These snacks are more than just jerky — they're high-protein, meat-based bars that are more "flavor-forward" than traditional jerky. With added nuts, spices and dehydrated fruit, they're great as a between-meal snack, or any time you need a protein boost.
Fave Flav: Chicken Sesame BBQ
120 calories; 4 g fat; o sat fat; 290 sodium; 5 g carbs; 0 fiber; 3 g sugar; 15 g protein
100 percent grass-fed meat
Hormone-free
Antibiotic-free
Gluten-free
Paleo friendly
Low sugar
Power Players
1. Hemp: This nut is high in gamma linolenic acid, which helps promote good skin health. It also contains high levels of arginine, an amino acid, which is used to produce nitric oxide in the body, helping lower blood pressure.
2. Sesame: These tiny seeds contain a lot of copper, helping reduce inflammation in joints, bones and muscles, and assisting with recovery. They also contain high amounts of zinc, which is thought to be good for sexual health as well as the production of collagen.
3. Ginger: The phenolic compounds in ginger help relieve GI issues while also preventing nausea. In some studies, ginger has also been shown to reduce inflammation and pain.
Primal Kitchen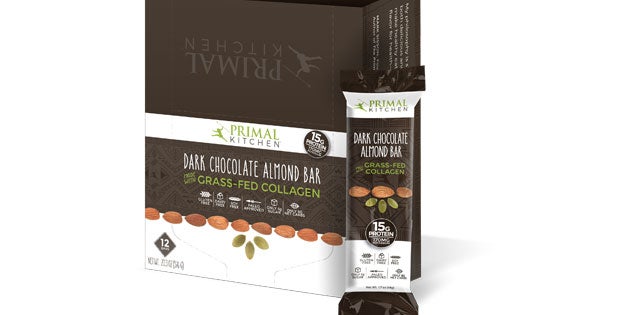 Primalblueprint.com, $2.99
Enter promo code OXYGEN and receive 15 percent off your order!
As we age, collage production declines, meaning reduced skin integrity and a weakening of the cartilage in your joints. This bar provides more collagen than a cup of bone broth, helping combat this decline and enhancing the repair process. The collagen is broken down into individual amino acids, which are easier to absorb and digest, making this the ultimate post-workout snack.
Fave Flav: Dark Chocolate Almond
230 calories, 15 g fat, 4 g sat fat, 70 mg sodium, 14 g carbs, 6 g fiber, 3 g sugar, 15 g protein
Gluten-free
Soy-free
Dairy-free
Non-GMO
Canola-free
Paleo approved
Power Players
• Grass-fed Collagen: Collagen has been shown to improve joint mobility, improve sleep quality, support the growth of skin, hair and nails, and enhance digestion.
• Cassava root: This tuber is similar to a yam, but has way more protein. It provides a source of prebiotic fiber which may aid in weight loss, as well as potassium which helps build bone mass.
• Monk fruit extract: This fruit has been used for thousands of years in Thailand and China as a low-calorie food additive (sweetener) as well as a medicinal remedy to help control blood sugar, boost immune function and reduce inflammation.
Vega Sport Protein Bar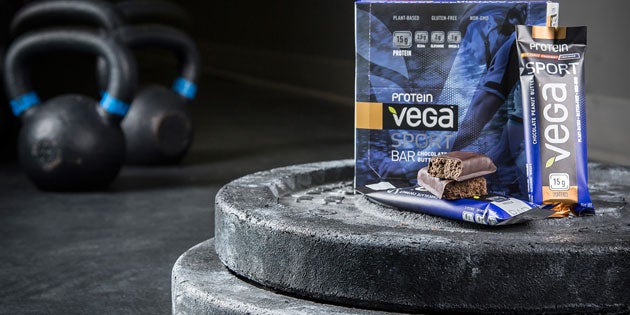 Myvega.com, Vitamin Shoppe, $3.99
Made with plant-based ingredients, this bar contains lots of BCAAs and glutamine derived from clean, whole food ingredients — perfect as a post-workout snack to accelerate and facilitate muscle repair.
Fave Flav: Chocolate Mint
240 Calories, 8 g fat, 3.5 g sat fat, 40 mg sodium, 30 g carbs, 3g fiber, 19 g sugar, 15 g protein
Minimally processed
Vegan
Plant-based
Gluten-Free
Non-GMO
Dairy-free
Soy-free
No artificial colors, sweeteners or ingredients
Power Players
1. Sacha Inchi oil: Sacha inchi — aka the Inca peanut — and has been a food source in the Amazon for thousands of years. Its oil is rich in omega-3 and protein, and helps lower cholesterol, improve bone and joint health, protect against sun damage and maintain healthy skin and hair.
2. Inulin: This prebiotic fiber helps nourish the beneficial bacteria in your gut, promoting digestive health and satiety while also regulating blood sugar.
3. Peppermint: Besides being a refreshing flavoring, this herb has long been used to help digestion and alleviate heartburn. It is also purported to help alleviate nausea, constipation, cramps and gas as well as muscle pain, headache and inflammation.