Cherry Limeade Recovery Shake
Pucker up with this recovery shake made using tart cherries and whey protein.
Heading out the door? Read this article on the new Outside+ app available now on iOS devices for members! Download the app.
Choose Cherries: A recent study out of Texas A&M University discovered that tart cherries can reduce inflammation, muscle damage and muscle soreness when consumed after an intense workout. They are also a natural source of melatonin, a hormone that regulates your body clock and may help you get a better night's rest.
Likeable lLimes: These little green fruits are a powerhouse of nutrients and amplify flavors. Squeezing half a lime into your favorite smoothie will give you a boost of protective phytonutrients, antioxidants and vitamin C.
Sweet as Honey: When it comes to postworkout carbs, honey is at the top of the charts. Studies show that ingesting whey protein with honey after a workout can replenish glycogen stores and promote muscle protein synthesis.
Whey to Go: No matter your training style, tossing a scoop of whey protein in your shake postworkout means amino acids will be shuttled to your muscles ASAP, resulting in faster recovery and improved strength.
Cherry Limeade Recovery Shake Recipe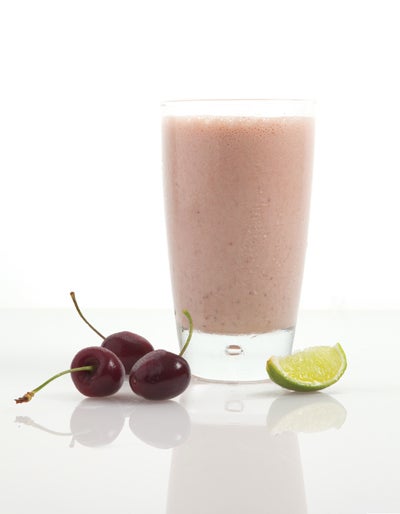 Makes 1 serving
Ingredients
½ cup fresh or frozen cherries pitted and sliced
squeeze ½ lime
2 tablespoons honey
1 scoop vanilla whey protein powder
½ cup milk of choice or water
½ cup ice
Directions
Place ingredients in a blender and blend until smooth. Enjoy.
Nutrition facts (per serving, using nonfat milk): 331 calories, 2 g total fats, 1 g saturated fat, 0 g trans fat, 28 g protein, 102 mg sodium, 54 g total carbohydrates, 2 g fiber, 48 g sugar*
(*To reduce the amount of sugar, use less honey.)