Creamy Orange Smoothie
Swap your sports drink for this postworkout creamy, high-protein treat.
Heading out the door? Read this article on the new Outside+ app available now on iOS devices for members! Download the app.
Creamy Orange Smoothie
Makes 1 serving
Ingredients
½ cup fat-free Greek yogurt
1/3 cup orange juice
¼ teaspoon freshly grated orange rind
½ ripe banana, sliced (frozen works best)
1 scoop vanilla whey protein powder
1 teaspoon pure vanilla extract
ice, if desired
Directions
Place all ingredients except ice in a blender and combine, blending until smooth. Add ice, if desired, and continue blending for desired consistency.
Nutrition facts (per serving): calories 258, total fat 0 g, saturated fat 0 g, protein 34 g, sodium 150 mg, carbs 29 g, fiber 2 g, sugar 21 g
Prep tip! Using frozen banana slices eliminates the need for ice cubes.
Body Benefits
Go bananas! A longtime favorite of athletes, bananas beat out a carbohydrate sports drink in several ways, studies show. Bananas provide antioxidants not found in sports drinks and contain a healthier blend of sugars.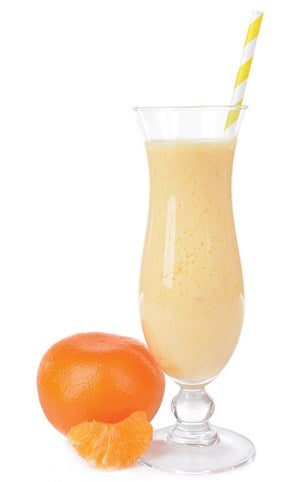 Juicy benefits! Losing fluids through sweat requires replacing them, usually by consuming an electrolyte-rich drink after your workout. Studies show you're actually better off downing orange juice instead. Its high levels of electrolytes trump even the top brands of sports drinks.
Whey to lose weight! Whey protein and Greek yogurt add up to nearly 35 grams of protein, a level shown to prevent body-fat gain, put the kibosh on hunger pangs and stabilize blood sugar so you stay fuller longer.
Vanilla joy! Eating vanilla yogurt has been shown to make people feel happy, especially when it's low-fat, when compared to fruit-flavored yogurts. In addition, natural vanilla extract also contains antioxidants, which may help in eliminating free radicals.