Help! My Husband Is Addicted to #ChunkPorn!
Heading out the door? Read this article on the new Outside+ app available now on iOS devices for members! Download the app.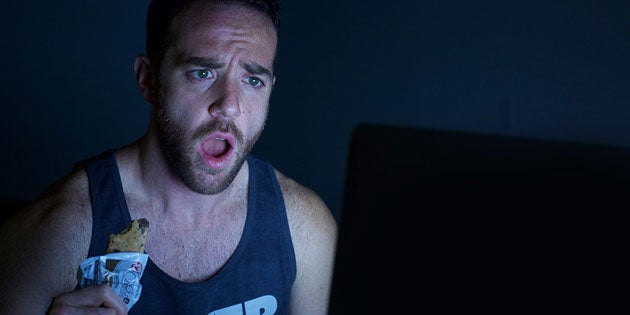 As I scrolled through the feed, there was pic after pic of the sluttiest chocolate, graham cracker and even mint chunks all up in my business. That's when it hit me … my husband is addicted to #chunkporn.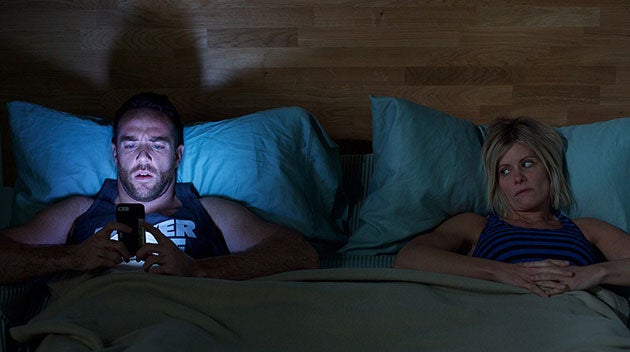 Immediately after I saw his phone, I tiptoed out to the kitchen … and, of course, he was going to town on a Quest Bar. Don't get me wrong, I'm all for cheating clean and Quest Bars are fantastic, but they're setting unrealistic expectations for other bars out there. It's like, we get it, your bars are the "Sofia Vergara" of the protein bar world, with lovely lumps in all the right places. But when you set the bar so high (pun intended), it creates situations like this — men and women going behind their spouse's back to get their fix! I didn't lose my temper; instead, I crept back into bed and put his phone back where I found it.
Fast-forward to the following Tuesday. I was working late, and I texted him to let him know that I'd be home around 9 p.m. and that he should have dinner without me. Something felt fishy because I saw on our iMessage thread that he read the text. (Full disclosure, I turned that feature on without him knowing so I could see if he was ignoring me. We've all done it!) Twenty minutes passed and still no response. He was clearly preoccupied, knowing that I wasn't going to be there any time soon. So I told my boss I didn't have the documents I needed on my work computer and that I'd finish from home. I was speeding so fast that I almost got in three accidents on my way to catch him in the act.
I parked a block away and went around to the back of our house to mask my approach. I slipped off my shoes and ninja'd my way to the home office, and sure enough, there he was: lights down, the soft blue glow of the computer screen illuminating his face. I couldn't believe it. He had something like 20 tabs open in the browser and was double-tapping his way through chunk porn like it was no big deal. The best part, in his non-mouse hand, he had an unwrapped S'mores Quest Bar open without a single bite taken from it! "HI HONEY!" I yelled and he quickly closed the laptop, falling out of the chair, but I already caught him, bar-handed.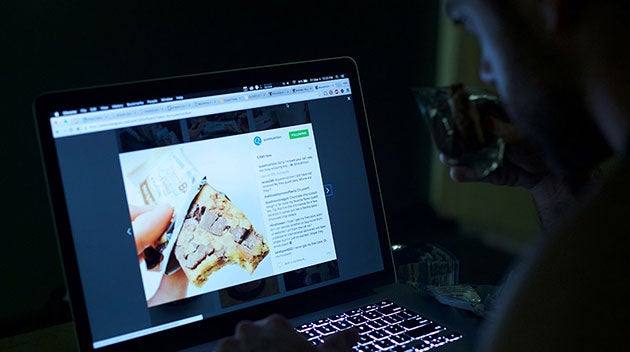 "It's not what it looks like!" he pleaded.
"It looks like you were indulging your cravings without me!" I yelled. But then he did something I didn't expect. He hung his head low and reached out to hand me the S'mores Quest Bar. I took it and inspected it, and sure enough, there were these supermodel-like chunks jutting out at me like a delicious insult. So I did what any good wife should do in that situation and made him watch me eat the whole bar. And you're damn right I savored every bite.
I asked him to open the laptop again and show me what he was looking at, and that maybe we should look at it together. He didn't know what to think of that. He smiled and pulled up another chair. Rather than stay mad at him, I tried to understand his obsession. And after spending just a few minutes clicking through chunk porn sites and hashtags, I completely understood the hold it had over him because I was craving another bar just minutes after finishing that first one.
That's when I realized that he and I were looking at the situation the wrong way. This wasn't something I needed to chastise him about because he and I have the same urges. I'm just better about when I act on mine. I think the real issue was that I couldn't share in something that meant so much to my husband. He was ashamed to let me know just how much he loved inclusions in his protein bars. So I took the moral high ground. We embraced and agreed to include each other whenever we felt the urge to go chunking.
Now we don't use pictures or videos online but seek out the best bars in real life to share them together because chunk porn is good, but the real chunks are so much better. I'm happy to report that we started a support group for couples like us and that sometimes we have chunk parties at our house where things get a little crazy! I'm not afraid to admit that I love seeing Quest Bar wrappers all over my kitchen table the next morning.
Today, we couldn't be more in love and I feel like I did was when we were first married. I guess the lesson, ladies, is to really open those lines of communication. It's far more empowering to arm yourself with understanding instead of doubt and confusion when it comes to relationships. Let your voices be heard, and remember that it's not cheating if you cheat clean together!