Mini Chocolate Souffles
Sweeten your Valentine's Day with this decadent-tasting (but guilt-free) chocolate dessert.
Heading out the door? Read this article on the new Outside+ app available now on iOS devices for members! Download the app.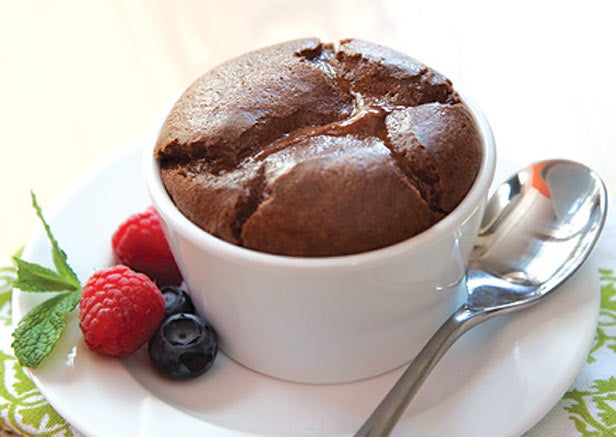 Ready in 30 minutes • Makes 4 servings
Ingredients
Olive oil non-stick cooking spray
1/4 cup unsweetened cocoa
1 1/2 tbsp white wheat flour
1/2 cup low-fat milk
6 tbsp honey, divided
1/2 tsp pure vanilla extract
2 large egg whites
1/8 tsp cream of tartar
Instructions
Preheat oven to 350°F. Lightly spray the bottoms of 4 single-serve ramekins (souffle cups).
In a heavy saucepan combine the cocoa and flour. Add milk and 3 tbsp of honey and whisk smooth.
Cook, stirring, over low-medium heat until thick, approximately 2 minutes. Stir in vanilla and set aside to cool slightly.
Place egg whites and cream of tartar in a small mixing bowl and beat until soft peaks form. Gradually beat in remaining honey and continue beating at high speed until stiff peaks form.
Fold 1/4 cup of the egg whites into the chocolate mixture to lighten; then gently fold in remaining whites. Divide mixture evenly into the prepared ramekins. Place ramekins on a baking sheet and bake 15 minutes, or until puffy and set. Serve immediately.
Related:Sinfully Clean Chocolate Brownie
Egg whites are a great low-calorie, fat-free protein source, containing 4 grams of protein per large egg, with only 16 calories apiece! Make this recipe healthier: Use smaller ramekins to reduce serving size, and serve smaller souffles with fresh berries to add fiber and vitamins.
Nutrients per serving: Calories: 140, Total Fats: 1 g, Saturated Fat: 1 g, Trans Fat: 0 g, Cholesterol: 1 mg, Sodium: 37 mg, Total Carbohydrates: 33 g, Dietary Fiber: 2 g, Sugars: 28 g, Protein: 4 g, Iron: 1 mg