4 Super-Easy Seafood Recipes
No matter how you cook it, protein-packed fish is one of the cleanest, nutrient-rich choices for active women. Here are four simple but tasty recipes.
Heading out the door? Read this article on the new Outside+ app available now on iOS devices for members! Download the app.
High-protein, low-fat, quick-cooking and versatile, fish may be the perfect food for active women. White fish including cod, halibut and tilapia are rich in protein and very low in calories, while fattier varieties such as salmon, tuna, trout and mackerel contain particularly high amounts of anti-inflammatory omega-3 fatty acids. "Omega-3s are most important for women who train regularly," says Amy Goodson, MS, CSCS, Dallas Cowboys sports dietitian. They not only ease muscle damage and inflammation during exercise, but omega-3s also possess anti-aging properties that may counteract age-related muscle loss, according to a study published in The American Journal of Clinical Nutrition. The study shows omega-3s stimulated muscle synthesis (repairing and building) in older adults, while corn oil supplements had no effect.
The specific omega-3 fatty acids found in fish, docosahexaenoic acid (DHA) and eicosapentaenoic acid (EPA), are considered essential dietary nutrients since our bodies cannot make these types of fats, says Lori Zanini, RD, dietitian with HealthCare Partners and spokeswoman for the Academy of Nutrition and Dietetics. "Aside from muscle growth, eating 8 ounces of fish weekly may help reduce the risk for heart disease." Omega-3 fatty acids found in fish help reduce inflammation and slow the formation of fatty plaque in arteries, according to an international study funded by the National Institutes of Health. Plus, eating a high-protein meal after a workout in general ensures your body has enough protein to keep on building muscle throughout the day.
Low-Fat Fish Chowder in a Flash
Body Benefit: Cod is high in niacin, also known as vitamin B-3, which helps the body convert carbs into energy and keeps the nervous system functioning properly.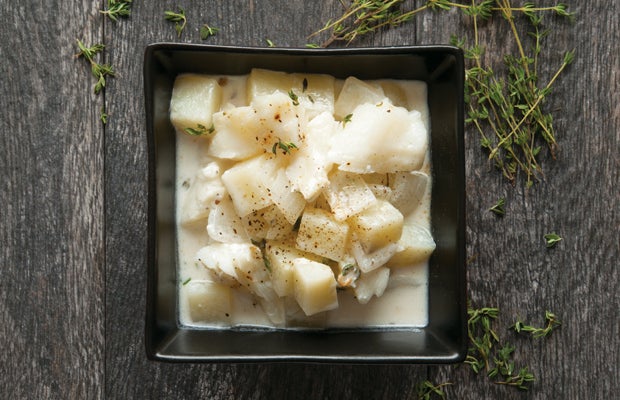 Makes: 2 servings
Serving size: 1½ cups
Total time: 30 minutes
Hands-on time: 20 minutes
Ingredients
Nonstick pan spray
½ large onion, diced
¼ teaspoon dried thyme
½ pound boneless skinless cod fillet (fresh or frozen and thawed)
1 large potato, scrubbed and diced
1 cup non-fat skim milk
Instructions
Coat a medium saucepan with nonstick spray and place over low-moderate heat.
Add onions and thyme and cook, stirring frequently, until onions soften, approximately three minutes.
Add 1 cup water and bring to a simmer; reduce heat to low, add cod fillet (cut in half if large) and simmer until fish becomes opaque and is cooked through, approximately five minutes. Transfer cod to a bowl.
Bring heat back up to medium, add potatoes and cook until potatoes are tender, approximately 10 minutes.
Stir milk into the pot and return to a simmer. Return fish to the pot and heat through, approximately two minutes, breaking up larger pieces. Season to taste with salt and pepper, and serve.
Nutrition Facts (per serving): calories 292, total fat 1 g, saturated fat 0 g, 0 trans fat 0 g, sodium 137 mg, carbohydrates 43 g, fiber 5 g, sugars 9 g, protein 28 g
Slimming Sea Scallops & Veggies
Body Benefit: Magnesium, found in scallops, plays a role in more than 300 enzyme systems in the body, including nerve impulse and muscle contraction.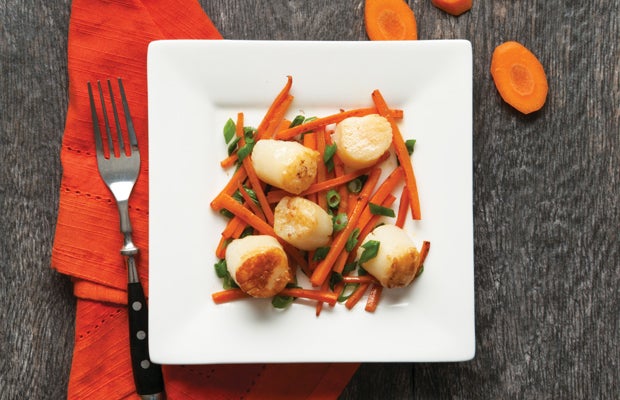 Makes: 2 servings
Serving size: 5 scallops + 2 green onions, 1 carrot
Total time: 20 minutes
Hands-on time: 20 minutes
Ingredients
2 teaspoons olive oil
4 green onions, thinly sliced
2 carrots, cut into fine matchsticks
10 large sea scallops
Juice of ½ lemon
Instructions
Heat oil in a medium skillet over moderate heat.
Add onions and carrots and sauté three minutes, until onions wilt and carrots become crisp-tender. Remove vegetables from pan.
Add scallops to the pan and cook until slightly browned, approximately two minutes per side (do not stir or flip back and forth).
Return vegetables to the skillet and squeeze the lemon juice over all; continue to cook until scallops are cooked through, approximately two more minutes. Serve with brown rice.
Nutrition facts (per serving): calories 277, total fat 10 g, saturated fat 1 g, trans fat 0 g, sodium 328 mg, carbohydrates 19 g, fiber 5 g, sugars 7g, protein 27g
Power-Packed Tilapia Tacos
Body Benefit: Vitamin B-12 found in seafood helps the body make red blood cells and keeps your energy up.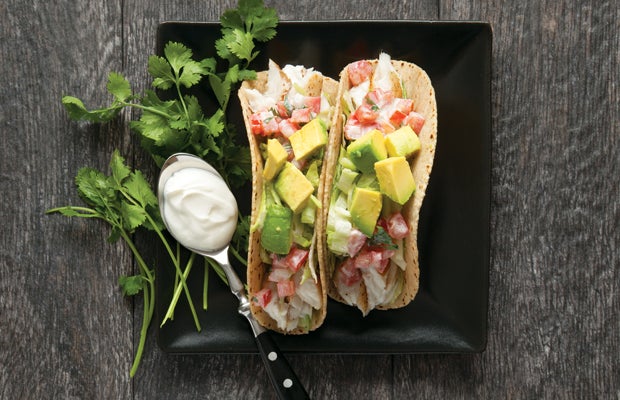 Makes: 1 serving
Serving size: 2 tacos
Total time: 15 minutes
Hands-on time: 15 minutes
Ingredients
6 ounces boneless and skinless tilapia, cut into 2-inch pieces
1 teaspoon olive oil
1/3 cup Greek yogurt
1 tablespoon fresh salsa
2 whole-grain tortillas
Optional toppings: shredded lettuce or cabbage, cilantro, avocado
Instructions
Preheat broiler and position the top rack on the highest level.
Place tilapia on a foil-lined, rimmed baking sheet and brush with olive oil; season to taste with salt and pepper.
Place fish under broiler and cook until lightly browned and fish is opaque throughout, approximately five minutes.
Meanwhile, mix yogurt and salsa in a small mixing bowl.
Divide the fish between the tortillas, top with the Greek yogurt and salsa mixture and your choice of optional additions. Serve immediately.
Nutrition facts (per serving):calories 467, total fat 12 g, saturated fat 3 g, trans fat 0 g, sodium 619 mg, carbohydrates 38 g, fiber 2 g, sugar 7 g, protein 51 g
Curried Shrimp & Tomato Kebabs
Body Benefit: Shrimp is high in selenium, a mineral involved in protection from oxidative damage and infection.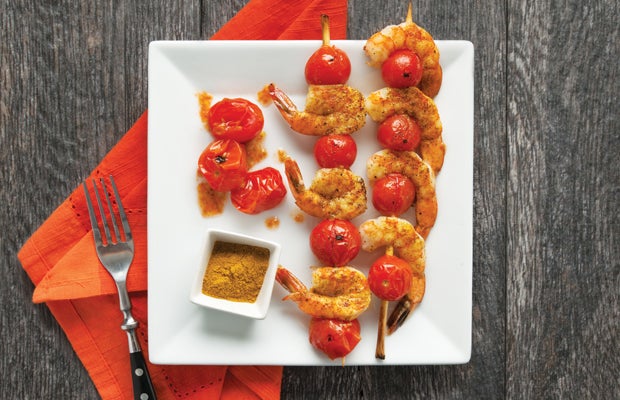 Makes: 4 servings
Serving size: 4 ounces shrimp (approximately 4 to 6 shrimp), plus 4 tomatoes
Total time: 20 minutes
Hands-on time: 15 minutes
Ingredients
1 pound frozen, uncooked large shrimp, thawed
2 teaspoons olive oil
1 tablespoon curry powder
Pint of cherry tomatoes
Juice of 1 lime
Instructions
Preheat broiler to high and arrange an oven rack on the highest level; line a rimmed baking sheet with foil.
In a small bowl, toss shrimp with olive oil and curry powder.
Thread shrimp and tomatoes alternately on kebab sticks until all fish and vegetables are used up, and arrange kebabs on the foil-lined pan; place any odd pieces directly on the foil.
When broiler is ready, place kebabs under the broiler and cook one to two minutes (depending on the size of the shrimp); turn kebabs and finish cooking on the opposite side. Serve immediately with cooked quinoa or other whole grain.
Nutrition Facts (per serving): calories 168; total fat 5 g; saturated fat 1 g; trans fat 0 g; sodium 180 mg; carbohydrates 8 g; fiber 1 g; sugars 3 g; protein 24 g