Tropical Thunder Protein Shake
Rev up your metabolism with this fat-torching postworkout protein shake.
Heading out the door? Read this article on the new Outside+ app available now on iOS devices for members! Download the app.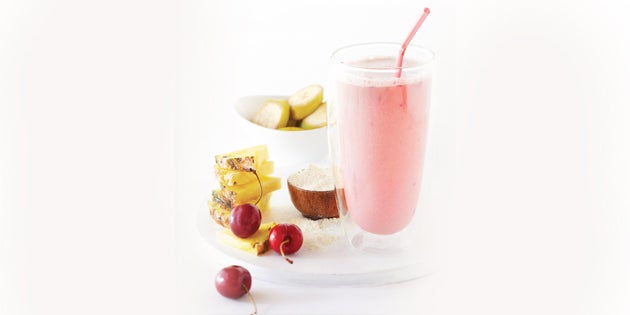 This shake is perfect as a breakfast option or a postworkout recovery meal. Pineapple juice delivers bromelain, a digestive enzyme that helps break down protein and acts as an anti-inflammatory. And milk-derived whey protein contains leucine, an amino acid that helps your body preserve calorie-burning muscle while dieting. Cherries and pineapples contribute to this shake's sky-high Vitamin C content (85 percent of your daily value). Research has suggested that there is a chemical in body cells that mobilizes Vitamin C to burn fat at a faster rate.
Tropical Thunder Protein Shake Recipe
Ready in 5 minutes • Makes 1 serving
Ingredients
1 cup pineapple juice
3–5 cherries, pitted
1 peeled banana, sliced into coins
1 tbsp low-fat yogurt
1 scoop vanilla whey protein powder
Directions
Toss all ingredients into a blender and purée until it reaches desired consistency.
Nutrients per serving: Calories: 370, Total Fats: 3 g, Saturated Fat: 2 g, Trans Fat: 0 g, Cholesterol: 35 mg, Sodium: 55 mg, Total Carbohydrates: 68 g, Dietary Fiber: 4 g, Sugars: 46 g, Protein: 20 g, Iron: 1 mg